Videogame Heavyweights Seek Fresh Start at E3 Powwow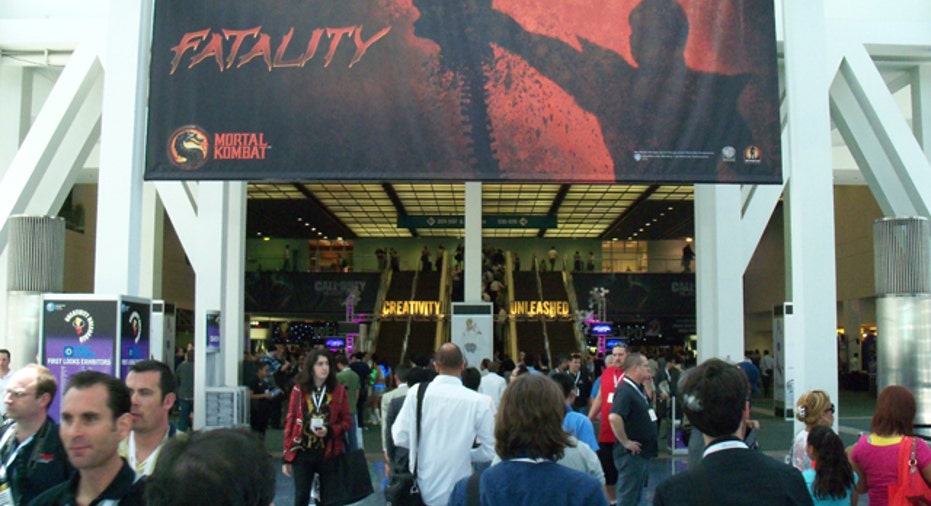 Comeback stories will be the unofficial plotline of next week's Electronic Entertainment Expo, the annual event where the videogame industry shows off a dizzying display of new games, consoles and assorted gadgets.
About 45,000 reporters, industry types and analysts will converge on Los Angeles for the E3 conference, sprawled across a space the size of eight U.S. football fields.
This year's conference, running June 7-9, comes as the industry tries to cope with the rapid growth of online and mobile gaming -- and as two of its stalwarts find themselves on unsteady footing.
Nintendo, once a leader in hardware sales, is struggling to win users from Microsoft Corp and Sony Corp and is coming off a disappointing launch of its 3DS handheld device. In a bid to return to the top, it will be unveiling a new video game console designed for the home.
Sony, meanwhile, will try to erase the black eye caused by a data breach that exposed the personal information of more than 100 million of its video game users.
Both Japanese companies will be hosting press conferences ahead of Tuesday's official start of E3.
Nintendo so far has released few details about its new device, but it is widely expected to feature HD graphics, a special controller, motion sensors and technology that allows it to run old Nintendo games.
The introduction of a new home console -- the first in five years -- could jump-start the struggling $65 billion global video game business, industry executives said.
"I see the coming of a new Nintendo device as a positive for the industry because it's pushing everybody to perform," said Yves Guillemot, chief executive of French video game publisher Ubisoft.
"It is going to push Sony and Microsoft to act," he said.
Sony launched its PlayStation 3 home console in November 2006 while Microsoft's Xbox 360 console, launched in November 2005. Both consoles have been selling steadily and neither hardware maker has said they have immediate plans for new systems, unlike Nintendo.
To refreshen their consoles, Sony and Microsoft each introduced new motion controllers that let users watch themselves play sports and dance on their TV screens.
SONY MOVES ON
Sony faces a different sort of hurdle following a major data hacking incident in April. Since the attack, critics have slammed Sony for failing to protect its networks and then waiting up to a week before alerting its customers.
Sony's online gaming system, the PlayStation Network, was offline for about three weeks and some parts of it are still not working in certain countries. Lawmakers, regulators and law enforcement officials in many countries are investigating the attack.
There is little chance Sony can avoid fallout from the crisis at E3.
"Sony's presentation is going to have to deal with mea culpa of the hacking and reassuring consumers that their information is safe," said MKM Partners analyst Eric Handler. "You can't just brush it under the rug."
When it manages to turn talk away from the attack, Sony will focus on plugging its not-yet-released handheld device, called the NGP, or Next Generation Portable. The sleek 5-inch touchscreen device has Wi-Fi and 3G network connectivity, and front and rear-facing cameras. Sony is expected to release details of the NGP's pricing, launch date and games at the conference.
"We think our security is as strong as ever," said John Koller, Sony's director of Hardware Marketing. "Consumers are going to come back in droves and frankly we have strong offerings at E3."
ONLINE GAMING
Another dominating topic at E3 will be everything and anything having to do with online gaming -- the wide range of games played over the Internet, including on Facebook, via home computers, consoles, and on mobile devices. Online and digital games will generate sales of $18 billion this year, up 15 percent from a year ago, according to DFC Intelligence.
Ahead of the show, Electronic Arts Inc said on Friday it was launching an online games service called "Origin," which lets consumers buy and download PC games directly from the publisher online, as well as track all of their games across different platforms.
The company's high-profile titles "Battlefield 3" and "FIFA 12" will be available on the service when they come out.
EA said the new service will be the only way to download one of its most hotly anticipated games "Star Wars: the Old Republic" due out later this year.
Given the success of upstarts like Zynga, simpler social and mobile games can no longer be ignored by E3, an event that typically has been a showcase for the industry's major players. This year, a number of the traditional game publishers are expected to make announcements about social or mobile games.
"This new tendency of having more social games that are played with friends and family will tremendously impact the existing business," said Ubisoft's CEO Guillemot.
But some parts of E3 cannot be predicted, said Mike Gallagher, chief executive of the Entertainment Software Association, the trade group that puts on the show.
"What E3 brings is the surprise."