Vick Attempts Marketing Renaissaince to Match Football Comeback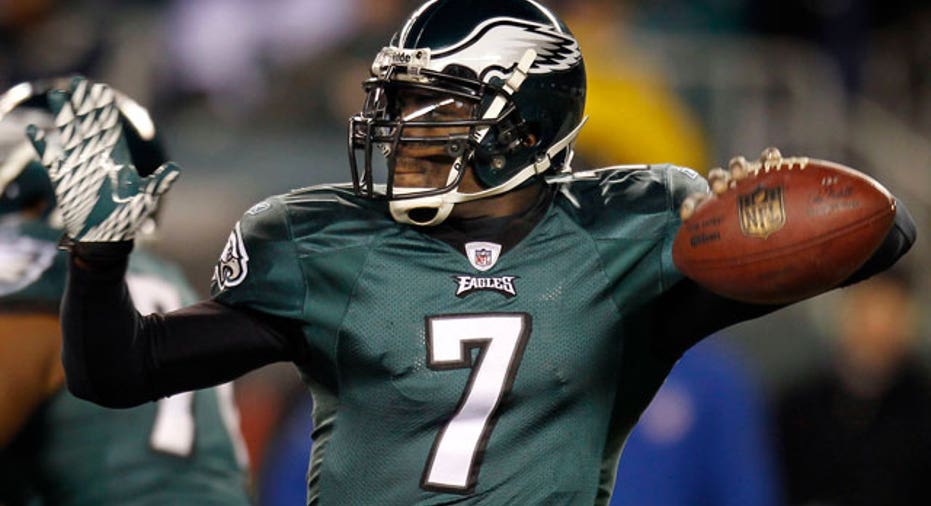 Picture this Super Bowl spot. The camera pans from the image of a smiling infant to a spoonful of Gerbers baby food and then on to the gentle hands of the adult feeding him: Michael Vick.
The shock value generated by a controversial ad like this would be fitting of the remarkable resurgence of Vick, who just two short years ago was one of the countrys most hated athletes after pleading guilty to federal dog-fighting charges.
Can you imagine what kind of publicity that would get? said Rob Frankel, the marketing guru who envisioned the baby food ad. I swear to God thats what I would do. Everybody knows in the back of their mind this guy used to tear apart dogs and here he is spoon feeding a baby.
Frankel predicted a shock promo like this one would garner twice the amount of publicity that the dollars could buy.
Thanks to an MVP-caliber season and a bit of good luck, Vick is enjoying an unlikely renaissance. He reportedly has a $100 million contract extension in his hands, several sports-related sponsorship deals and even sat near the top of fan-voting for the cover spot on the extremely popular Madden football video game series.
In reality Vick is probably a long way from a mainstream product endorsement. But America's love for a compelling comeback story makes it plausible in the next few years so long as he continues his on-the-field prowess and stays out of trouble off of it.
Everything that has happened to Michael Vick could not have been scripted better for him, said David Schwab, managing director at celebrity consulting firm Octagon First Call.
Comeback Story
A baby-food commercial may seem a little far-fetched, but it would certainly be a high-profile way for Vick to reenter the mass market sponsorship world after spending years as a pariah.
They would come stampeding to his door after that, said Frankel.
Following his guilty plea in August 2007, Vick was dropped by Nike (NYSE:NKE) and a slew of other sponsors. In his prime, Vick had marketing deals with Kraft Foods (NYSE:KFT), Coca-Cola (NYSE:KO) and AirTran, which is now owned by Southwest Airlines (NYSE:LUV).
The fact that a mainstream endorsement is even being discussed is noteworthy considering the depths of Vicks popularity.
Just before heading to prison, Vick had a 13% positive QScore with the general public, according to Henry Schafer, executive vice president of The Q Scores Company. His negative ratings were off-the charts at 61%, meaning nearly two-thirds of the U.S. public disliked him.
Thanks to his strong play as quarterback of the Philadelphia Eagles, Vick's negative has retreated significantly to 49%.
He appears to be on the right track, said Schafer. From this point forward, I believe his scores will improve as long as he keeps his nose clean.
In another sign of fans ability to forgive and forget, Vick finished second in fan voting to become the cover athlete of Madden12, the blockbuster video game published by Electronic Arts (NASDAQ:ERTS).
I was actually blown away by that, said Kevin Adler, president and founder of Engage Marketing, a Chicago-based sports and entertainment marketing firm.
While not nearly complete, the bounce back is a testament to Vicks prowess on the field and the perception that Vick is more sincere than other fallen celebrities in apologizing for his indiscretions.
America loves a comeback, said Frankel. All you have to do is fall from grace, show contrition, make an effort and, just like Rocky getting up off the mat, theyre going to root for you to win.
Mass-Market Appeal?
Since coming back, Vick has signed deals with companies mostly restricted to the sports performance space, including Nike in June and sports nutrition vitamins and minerals company Fuse Science.
The question is whether Vick will ever be able to land deals where the big bucks are: the mass market products world dominated by the likes of Peyton Manning.
In the very, very short term, I think his marketability remains relatively limited to the endemic athletic performance brand space, said Adler. I think there is a possibility -- and I state this cautiously -- that he may return to some level of interest to some portion of mainstream brand America.
The numbers suggest Vick has a long road ahead of him before he gets back to that level.
Vicks Nielsen/E-Poll N-Score, which measures the appeal of athletes, leaped from a quite-low 8 in July 2010 before the season started to as high as 25 in January and then dropped back down to 13 today. While that 25 marked an improvement, it pales in comparison with his high-level of 60 in 2005 and Mannings incredible 262 score. However, it is well above the NFL average of just 10.
Similarly, Vick registers a paltry 11 in the E-Score Celebrity survey, which measures celebritys marketability and appeal. He scores high in negative attributes such as cold and creepy and low in trustworthy and can identify with.
Still, there a number of other athletes who have enjoyed lucrative marketing comebacks, including Lakers superstar Kobe Bryant, who has been among the NBA leaders in jersey sales for the past several years despite a high-profile sexual-assault allegation in 2003 that was subsequently dropped.
This year Bryant ranked No. 6 in Sports Illustrateds list of the worlds top earning athletes, hauling in $34.8 million, including $10 million in endorsement deals with companies like Coca-Cola and more recently Turkish Airlines.
However, Adler concedes that given his past some portion of mainstream marketing will consider Michael Vick radioactive.
You have to balance whos hot right now against who else is hot who may have less issues, said Adler.
If Vick is to secure a mainstream marketing deal, its likely it wont be for at least another year. Its also likely that even then leading brands may shy away.
I think small brands are always more likely to take chances than big brands, said Ronn Torossian, CEO of 5W Public Relations, who has represented Roy Jones, Jr. and Tiki Barber.