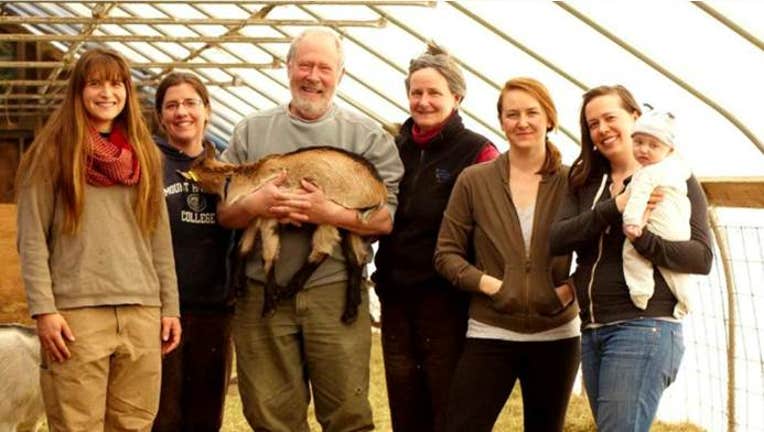 It's a sweet victory for caramel-makers Fat Toad Farm: a $25,000 grant from FedEx.
On Tuesday, FedEx announced the Brookfield, Vermont-based small business is the winner of the second-annual FedEx Small Business Grant Contest. The 7-year-old family-run business makes fresh-off-the-farm goat's milk caramel sauce, similar to dolce de leche.
The contest, which kicked off in early January, required small businesses to get as many votes as possible. Fat Toad Farm co-owner Judith Irving says she harnessed the power of social media to increase votes.
"I shared it on our Facebook and Twitter, and friends of friends' Facebooks," says Irving. "My mother voted a lot!"
From there, Irving says Fat Toad made it to the next round, which narrowed the competition to 100 small businesses. For that level of competition, Irving says the Fat Toad team wrote an essay on community involvement. They are founding members of a local co-op focused on sustainable farming, and they also help recent-immigrant farmers in the Burlington area raise goats.
Last year's winner, Nicole Snow of Darn Good Yarn, says her business has doubled since she won the $25,000 grant. Irving has similarly high hopes: She says she wants to build a hay barn on the 5-acre farm and spend time with a QuickBooks specialist to become a more data-driven business.
"The list gets longer every day!" says Irving, discussing her plans for the grant money.
Fat Toad Farm products are sold online, as well as in Whole Foods stores in the North Atlantic, Midwest and Southern California regions. The all-natural caramel sauces are also sold across the country in over 300 specialty food retail stores.