Verizon to Offer Family Data Plans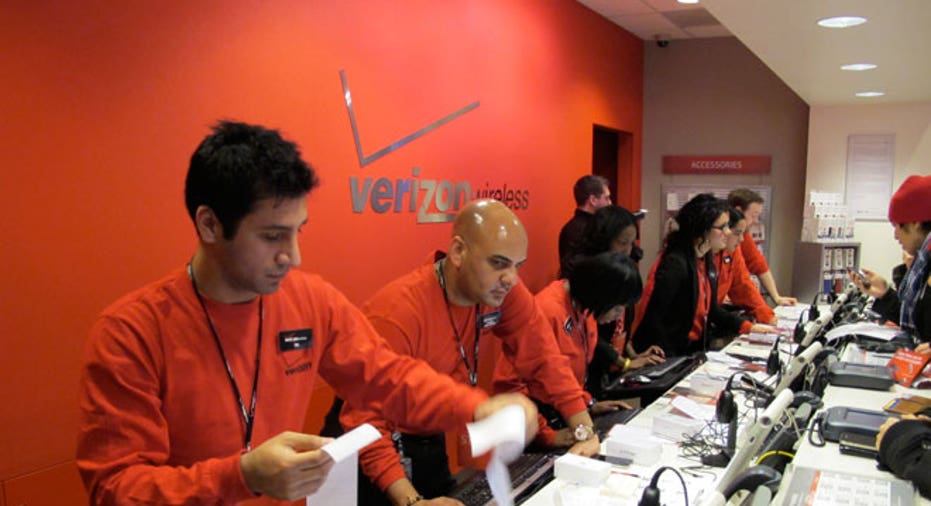 Verizon Wireless will offer family plans for data services supporting multiple devices including smartphones and tablet computers, according to a top executive of parent company Verizon Communications.
Verizon Wireless plans to kick off pricing changes this summer by eliminating smartphone plans that allow unlimited Web access for a flat fee. It will replace them with tiered pricing that forces heavy data users to pay more for mobile data.
After this change, which forces heavy data users to pay more, the company will look to soften the blow by offering more options such as family plans for data services, Chief Financial Officer Fran Shammo told the Reuters Global Technology Summit.
While families can share a bucket of minutes for phone calls today, each family member with a smartphone has to pay $30 per month each for data services. If they own a tablet computer they pay another separate data fee.
"We had individual minutes for individual users. Then we eventually got to what we call family share where everyone in the family shares the same minutes," Shammo said.
"I think it's safe to assume that at some point you are going to have mega-plans (for data) and people are going to share that mega-plan based on the number of devices within their family. That's just a logical progression," he said, but did not provide a time frame for such mega-plans.
HIGH-SPEED IPHONE?
Like its rival AT&T Inc, Verizon is limiting usage of data services to avoid putting a strain on its network or increasing network costs out of proportion with monthly fees.
But since they are also dependent on data services for revenue growth, operators are still figuring out how to cap usage in a way that makes data services affordable enough for consumers to use devices other than phones on their network.
In February Verizon ramped up its competitive efforts against AT&T by launching a version of the Apple Inc iPhone, which had previously been exclusive to AT&T.
While Verizon has sold fewer iPhones than some analysts expected, Shammo said he was happy with sales of the "six-month-old phone" that only works in some countries.
When the next iPhone model launches Verizon will be able to offer it at the same time as AT&T. Verizon's version will also work in as many countries as AT&T's iPhone, which has global coverage, Shammo said.
Some customers held off on buying the first Verizon iPhone because they were waiting for a model that supports Verizon's high-speed wireless service, which runs on a new technology called Long Term Evolution (LTE).
Shammo said that even if the next iPhone does not support LTE, Verizon will have enough high-speed alternatives to sell.
"I think it's a bigger issue for Apple than it is for us," he said. "Depending on where Apple plays, that's where we'll sell."
PREPAID "IMPORTANT"
For voice services Verizon focuses mainly on postpaid customers who pay monthly bills and commit to a long term contract. It is also experimenting with prepaid services, where customers pay in advance but do not commit to a contract as this is the one area in voice services that is growing.
Until now Verizon's prepaid services have been uncompetitive with more specialist rivals and have made the biggest in-roads in the market by renting network space to prepaid provider Tracfone, a unit of America Movil.
The company has yet to decide if it will expand nationwide with a $50 per month prepaid plan it is testing in Florida and elsewhere, according to Shammo. He said Verizon would do what it "needs to do" in prepaid.
"We've always said we're a postpaid company," he said. "That doesn't mean that prepaid is not important to us."
Expansion of the prepaid plan would put Verizon into direct competition with smaller rivals such as MetroPCS and Leap Wireless.
Verizon Wireless is currently the top U.S. mobile provider but it will be leapfrogged by AT&T next year if AT&T gains regulatory approval for its $39 billion plan to buy T-Mobile USA, a unit of Deutsche Telekom.
Verizon is the majority owner of Verizon Wireless, its venture with Vodafone Group Plc.