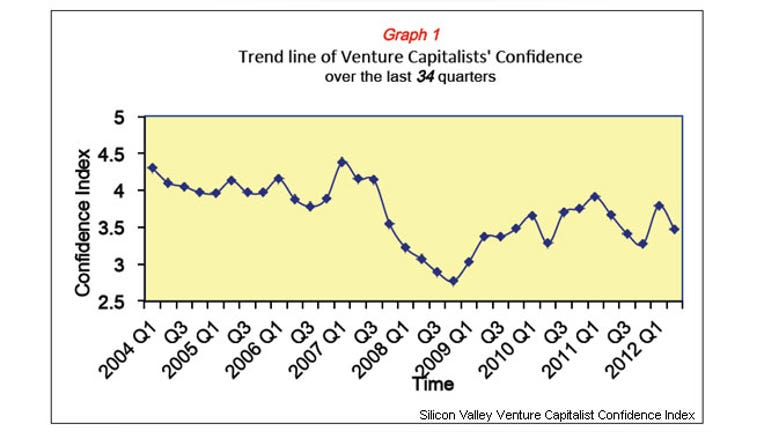 Facebook's (NASDAQ:FB) $16 billion initial public offering was supposed to be a crowning achievement that would open the investing floodgates to early-stage technology firms.
Two months after that debacle, it's become clear the Facebook IPO and the deepening eurozone debt crisis have combined to significantly erode confidence among Bay Area venture capitalists.
Confidence in the second quarter dipped 8.4% to 3.47 on a 5-point scale in the Silicon Valley Venture Capitalist Confidence Index, which was released on Tuesday.
"A choppy market and uncertainty means corporate buyers freeze and the IPO market window closes. That's just not a good thing for venture capitalists," said Jeffrey Bussgang, a general partner at Flybridge Capital Partners, an early-stage venture capital firm with $560 million under management.
Facebook Fallout Contained
Survey respondents said the decline in confidence was partially due to Facebook's May 18 IPO, which was marred by technical glitches at Nasdaq OMX Group (NASDAQ:NDAQ) and concerns the offering's $104 billion valuation was too rich.
Investors who bought Facebook's shares on the open markets near their $38 IPO price are still well underwater: the social network was recently trading at $28.92 -- representing a 23.9% discount.
Mark Cannice, a professor at the University of San Francisco who conducted the survey, said he anticipated Facebook to have been a bigger contributor to the decline in VC sentiment.
"It certainly wasn't helpful but it doesn't seem to be as big of an impediment as we might've expected," said Cannice.
"The Facebook IPO might have flopped but the disruptive trends around mobile, cloud and social remain very much intact," Venky Ganesan, managing director at Globespan Capital Partners, which has over $1 billion under management, responded in the survey.
IPO Market Reopens
Bussgang echoed that sentiment, saying venture capitalists saw the fiasco as a "poorly managed" offering but not one that signaled a change in the way social media or the capital markets are viewed.
Both Nasdaq and Morgan Stanley (NYSE:MS), Facebook's lead underwriter, have caught flak for their handling of the IPO.
It also helps that the IPO market appears to have reopened after about a 30-day shutdown in the aftermath of the Facebook offering.
"There have been a lot of terrific IPOs since then and before then," said Bussgang.
For example, last week travel search engine KAYAK Software (NASDAQ:KYAK) leaped into the public markets with a strong debut rally of 28%. This offering, which was delayed in part by the Facebook fallout, was on the Nasdaq Stock Market and run by Morgan Stanley.
Likewise, security software maker Palo Alto Networks (NYSE:PANW) enjoyed a healthy return of 27% on its first day of trading last week after increasing its IPO price.
Europe Erodes Sentiment
While the Facebook effect has certainly eaten into confidence, venture capitalists appear more fazed by the intensifying crisis in Europe.
The eurozone turmoil not only spells trouble for the growth prospects of young companies, but also impairs the ability of VC firms to receive a return on their investments through sales or IPOs.
Deepak Karma, a general partner at Canaan Partners, a venture firm with $3.5 billion under management, said in the survey that his confidence in the entrepreneurial environment was hurt by "macroeconomic headwinds in Europe and Asia."
Jitters about the eurozone, especially Spain, have sent the Dow diving almost 500 points over just the past three trading days.
"I think people are really uneasy with what's going on in Europe and with the future macroeconomic picture in the U.S.," said Bussgang. "There is a surprising number of venture capitalists in the U.S. interested suddenly in Spain's borrowing rates."
Long-Term View Less Gloomy
Survey respondents also expressed regulatory concerns, pointing specifically to the high threshold for medical-device makers to bring new products to market. Some venture capitalists said the tough regulatory environment is sapping investment in this sector.
Despite the Facebook debacle and deepening concerns about Europe, Cannice said in the report that the VC industry could see a "brighter outcome for the balance of 2012."
He pointed to "a more welcoming exit market" as well as a focus on positive technology trends like cloud computing, mobile offerings and social media.
"The venture capital business model for most sectors appears vibrant and should remain so for the balance of 2012," Cannice said.