Vadio Raises $2M to Bring Old-School MTV Experience Online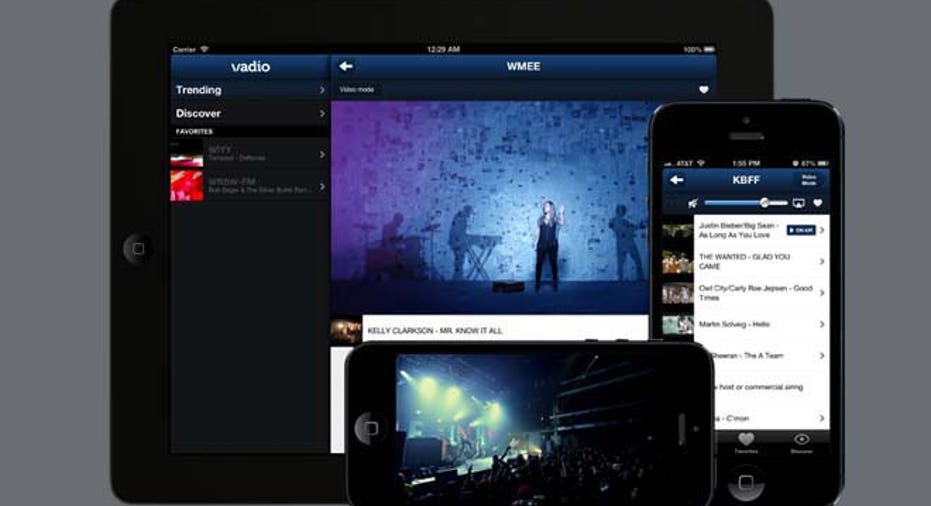 While the music industry continues to wrestle with new technologies, one startup is looking to disrupt the evolving space.
Vadio wants to mix the old-school MTV music-video experience in with today's streaming platforms, like Pandora (NYSE:P) and Spotify. The music video and online ad distributor on Thursday announced a $2 million seed round in funding from music, entertainment and tech industry heavyweights, in addition to landing a partnership with video-hosting platform Vevo. The Portland, Ore.-based company's goal is to marry the curating capabilities of existing audio platforms with music videos on the back-end.
"Music videos are one of the most popular and engaging forms of content online, but they have yet to be available where consumers prefer to access music — online streaming platforms — creating a big disconnect," Vadio co-founder and CEO Bryce Clemmer said in a statement.
"[Vadio is] in conversation with pretty much all the major streaming platforms in the world at this point," Clemmer told FOXBusiness.com. "Why reinvent the wheel when you can help evolve and empower the [brands] that are out there? We view it as a solution for the industry as a whole."
He said the funding round and Vevo deal will help the company scale more quickly, as well as "deliver a cutting edge experience for everyone — ranging from music fans to streaming services to radio stations and record labels." He also said that booming growth in digital audio and video consumption shows that on the Internet, "anything that can become visualized is going to be."
Vadio backers include media maven Ed Wilson, YouTube vice president Dean Gilbert, Lollapalooza co-founder Marc Geiger (also current head of William Morris Endeavor) and former Vivendi Universal Net USA CEO Robin Richards (also founding president MP3.com), and startup accelerator Amplify.LA.
"The genius of Vadio is their tech approach. They're a tech company that chose not to be a destination, but to be a distribution engine," Vadio early investor and music industry veteran Robin Richards told FOXBusiness.com. "Vadio is the closest thing I've seen in this industry to something everybody wants."
How Vadio's Tech Works
Think of it as what the original iterations of MTV and VH1 would be like in the era of online music streaming and on-demand radio — essentially, TRL all the time. Under the current set up, online radio and music streamers listen to songs while static images, usually album covers, are displayed. With Vadio, these music platforms will have the ability to integrate videos into their existing services, and turn a profit through ads.
Vadio's technology is set up to detect what songs are playing, and swap in its respective music video, all in real-time, with all rights managed. Vadio says it can also create a live video stream, for instance during a radio broadcast, that shows video of the DJ when songs or ads aren't playing. The company says the technology can also be embedded into native mobile apps.
As for revenue stream, Vadio says it will split total monthly revenue with the partner company.
"When you can add video to music, it enhances the experience," Richards says. "And this technology can be distributed to all companies… which means they can scale very quickly."
Who Will Bite?
The technology Vadio has developed, Clemmer explains, will provide "stronger engagement opportunities" and better chances for monetization. Plus, by linking up with Vevo, Vadio has access to its library of music videos, live concerts and original programming.
Music data analytics firm Next Big Sound's CEO Alex White says when measuring data across major social networks, "the volume of viral videos is absolutely staggering; the top streamed videos are all music videos."
Digital media entrepreneur and angel investor Miles Spencer likens Vadio's business plan to MTV in the 80's, saying that in terms of ad sales in the digital age, he's "not surprised they're chasing video."
In fact, Spencer says, "video content has the best CPMs by far."
Investopedia says the most common way to price web ads is as CPMs, explaining that publishers prefer CPM advertising as "they get paid for simply displaying the ads." According to recent Nielsen data, 76% of online ad campaigns were successful at reaching the intended audience.
Still, the question remains how many platforms, and in turn, how many users will bite.
Spencer sees potential for a niche, as he doesn't expect users to be watching as they drive, or from work—which is prime music streaming time.
"I think it's a subset, but not a super set of people who will be interested," he says.
Clemmer argues it's not so much about people taking to it or not, but "more a question about engaging actively or passively." He says, however, there is not enough data yet to tell, but is confident streaming platforms will become completely visual and interactive, and will do so "in an elegant and seamless way." ("There's a reason YouTube is the largest music destination in the world," he says.)
Trying to disrupt any industry with new technology is challenging, but, Spencer counters, CPMs aren't everything. Even if the technology Vadio offers is nearly perfect, it all hinges on how solid the integration with the publisher is, and the game plan for monetizing inventory.