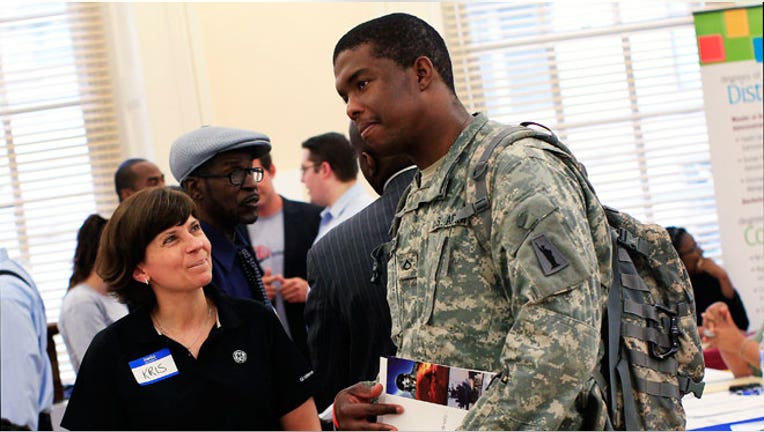 Dear Real Estate Adviser, I'll be retiring from the military after 20-plus years and transitioning into the civilian work force. I've been told I should buy a home now before I get out because my risk profile will be re-evaluated after a year, as if I was just getting out of college. Given that and the current housing market, what's my best move? -- Todd U.
Dear Todd, First, kudos to you for your service to our country. You can likely take advantage of some much-deserved financial perks as a result of it.
Even after active duty ends, most of our honorably discharged veterans are eligible for Department of Veterans Affairs home loans. This allows participants to borrow up to $418,750 -- and even more in counties with higher average home costs -- with no down payment and no private mortgage insurance required. Visit the VA's website for more details. The VA also caps closing costs, origination fees and appraisal fees on VA home loans to help you contain costs.
And no, your credit history -- which I presume you have after 20 years in the military -- does not reset a year after military retirement. However, there will be some unique differences in your treatment through the various loan programs. With a VA home loan, you must show good credit for the past 12 months, unlike with private lenders who will venture back much further into your past, particularly if there has been a bankruptcy. Service members without a solid credit history cannot be denied a VA loan, which isn't the case with private lenders.
While you are guaranteed a VA home loan, you aren't guaranteed the loan amount you necessarily want. Many ex-military members qualify only for entry-level or move-up homes. Also, know that the VA charges a 2.15% "funding fee" on its no-down-payment loans, which can make some non-VA home loan programs competitive with the VA. So shop around.
A VA loan, however, is not a guarantee of the cheapest rate. At present, borrowers eligible for home financing through the VA and??Department of Agriculture, or USDA,??programs -- the latter of which is also government-backed -- may do better with the USDA version for zero-down loans. However, USDA financing is not available for refinances.
But at 5% down and 10% down, VA home loans are typically the lowest-price option -- but only marginally so. At 20% down, conventional loans tend to slightly edge out VA rates. The rates, however, are subject to change.
As you've no doubt discovered by now, life in the private sector also doesn't guarantee you an income. Hence, it's probably a good idea to start the loan-qualification and home-search processes now if you can, even though you may not know where you want to settle. When you get preapproved for a mortgage loan amount, it allows you to target your housing search accordingly and makes you more nimble when action is required.
Your concern over the state of the current market is quite valid. It is more likely, though certainly not a given, that you'll be buying closer to the bottom of the market than the top. Study the market dynamics of your targeted area closely, checking average days on the market, or DOM, of for-sale homes, foreclosure rates, current versus historic median selling prices, local income levels, unemployment rates and expansion-contraction of major employers.
Also realize that with any no-down-payment program, assuming you go that route, there will be less of your skin in the game. So a drop in home values could put you in the position of owing more on the house than you could get by selling it -- a scenario that's become all too familiar in recent years. And don't forget to plan for all those fiscal changes that will occur after you leave the military. You won't be getting that tax-free basic allowance for housing, or BAH, anymore, and you may be paying state income tax for the first time since you entered the service.
Prevailing wisdom says you should not??commit to a monthly mortgage payment that exceeds 35% to 45% of your gross income. You should also be sure to budget about 20% of the cost of your monthly mortgage for home maintenance and repairs and a bit more for homeowners association dues, homeowners insurance and property taxes. By the way, if you want to buy from military homeowners, you may want to visit MilitaryOwners.com or MilitaryHomesForSale.com.
Good luck in life after the military and fulfilling the American homeownership dream!
Bankrate's content, including the guidance of its advice-and-expert columns and this website, is intended only to assist you with financial decisions. The content is broad in scope and does not consider your personal financial situation. Bankrate recommends that you seek the advice of advisers who are fully aware of your individual circumstances before making any final decisions or implementing any financial strategy. Please remember that your use of this website is governed by Bankrate's Terms of Use.
Copyright 2012, Bankrate Inc.