USDA Requires Reporting of Swine Virus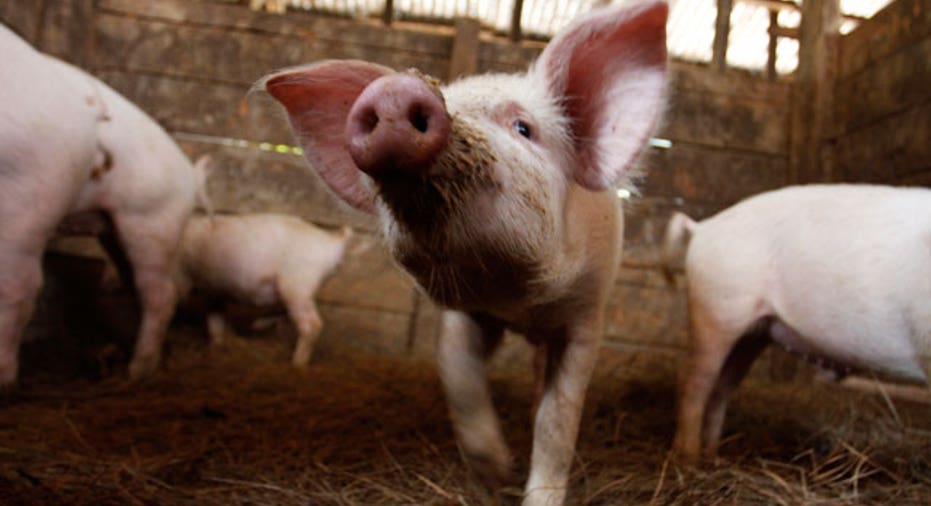 U.S. pork producers will now be required to report instances of a deadly swine virus that has spread rapidly and widely among domestic pig supplies, according to new regulations announced Friday by the U.S. Department of Agriculture.
Porcine epidemic diarrhea virus (PEDv) was first diagnosed in the U.S. about a year ago and has since killed millions of baby pigs. The outbreak has significantly cut into hog supplies and pushed pork prices to record highs.
The USDA said in a statement that it's requiring reporting due to "the devastating effect on swine health" since the virus was first confirmed in the U.S. last year. The virus causes severe diarrhea and vomiting.
Until Friday, PEDv  was not a reportable disease under international standards because the virus only affects pigs and does not pose a risk to people and is not a food safety concern.
The USDA also said Friday it will require the tracking and reporting of swine delta coronavirus, another disease that has been confirmed in at least 10 pork-producing states.
"Today's actions will help identify gaps in biosecurity and help us as we work together to stop the spread of these diseases and the damage caused to producers, industry and ultimately consumers," said Agriculture Secretary Tom Vilsack.
In addition to requiring reporting of PEDv, the USDA will also require tracking movements of pigs, vehicles, and other equipment leaving premises where the virus has been confirmed. But transporting the pigs will still be allowed.
It's uncertain how the virus entered the country, and pork producers have struggled to find ways to contain it. Through April 12, the National Animal Health Laboratory Network, which tracks diseases, reported the total number of positive tested cases for PEDv at 5,790 in 29 states.
PEDv is nearly always fatal in piglets and has been difficult to track in part because veterinarians are not required to alert government officials of its presence.
Tom Burkgren, executive director of the American Association of Swine Veterinarians, told Reuters earlier this week that mandatory reporting might not have much of an impact on the future spread of the virus.
"You've got a very widely distributed disease," he said. "At this point in the outbreak, I think we'd have to see some really good reasons to start reporting it."
The veterinarians' association has been publishing weekly data on outbreaks based on voluntary reports since PEDv was first discovered in the U.S.
Mandatory reporting is required for viruses such as African swine fever and foot-and-mouth disease. The USDA can quarantine animals with African swine fever and restrict the movement of infected animals.