US Representative Ryan Announces Candidacy for House Speaker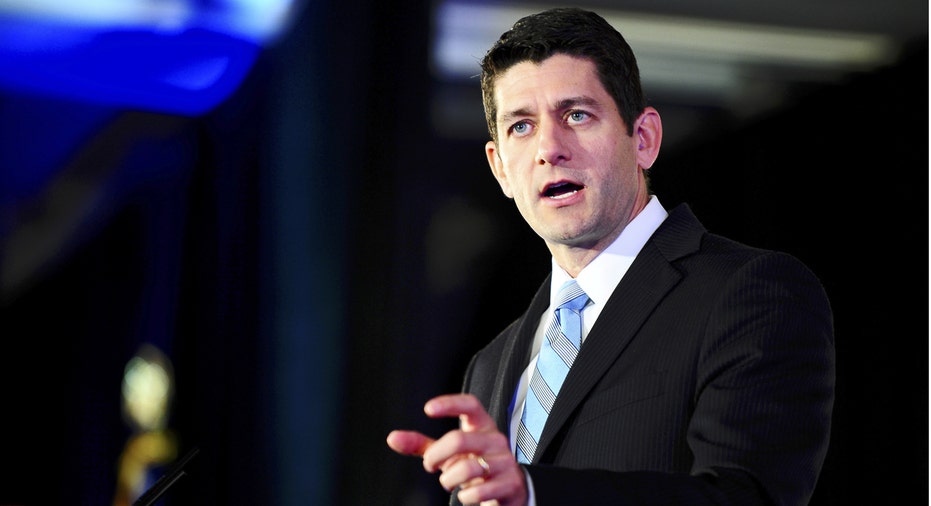 Rep. Paul Ryan officially declared his bid for House speaker Thursday after consolidating the support he needs to be elected by his colleagues next week.
In a letter to colleagues, Mr. Ryan put aside his earlier hesitation to relinquish his dream job as chairman of the Ways and Means Committee and said he was "ready and eager to be our speaker."
"I never thought I'd be speaker," the Wisconsin Republican said. "But I pledged to you that if I could be a unifying figure, then I would serve--I would go all in."
Earlier Thursday, Mr. Ryan had locked up support from the remaining two of the three factions he said would be necessary for him to launch his House speaker candidacy--the Tuesday Group, which represents centrist Republicans, and the Republican Study Committee, a large, conservative group.
Mr. Ryan's candidacy, however, was made possible by an unspoken truce with hard-line Republicans about how the House will operate on his watch: The rules, processes and style that govern the chamber and the relationships among the leaders, committees and rank and file.
The House Freedom Caucus wanted Mr. Ryan to commit to changing the chamber's rules in a way that would give rank-and-file lawmakers a greater voice. Mr. Ryan wanted an ironclad endorsement from the caucus, and an agreement to change a procedural tool that enables lawmakers to oust the speaker.
Neither side got any guarantees. Instead, they agreed to operate on faith--no easy leap for a conservative conference filled with lawyers who prefer promises in writing, or for a speaker-to-be whose legacy will depend on being able to unify the Republican conference.
"We're putting a lot of trust into what he has said, and we hope not to be disappointed," said Rep. Raul Labrador (R., Idaho), a lawyer and Freedom Caucus member who plans to vote for the 45-year-old lawmaker but said he was concerned that the informal accord was built on faith.
Mr. Ryan earned credibility when he told Republicans at a meeting this week--in the presence of House Speaker John Boehner (R., Ohio)--that he had been frustrated when leaders circumvented committees and brought their own bills to the floor. Conservatives said that made it easier to go along with what they say was Mr. Ryan's request to start with a clean slate, instead of plunging into a fight about past slights.
"Just the fact that there was such a crisp, empathetic understanding of how the rules were not working was really helpful," said Rep. Dave Schweikert (R., Ariz.), a co-founder of the Freedom Caucus.
But in an institution built on history and precedent, the past casts a long shadow. One thorny issue is Mr. Ryan's stance on bringing bills to the House floor that have the support of a majority of Republicans. The rule is often referred to as the "Hastert rule" on Capitol Hill because it was instituted by former GOP House Speaker Denny Hastert.
Rep. Dave Brat (R., Va.) said Mr. Ryan assured members of the Freedom Caucus on Wednesday that he would only bring major pieces of legislation to the floor if they had the support of the majority of the 247 Republicans.
Rep. Carlos Curbelo (R., Fla.) said Mr. Ryan assured the Tuesday Group, "that he has not made any agreements or concessions with anyone--and that includes us."
In his letter to colleagues, Mr. Ryan pledged to live up to informal promises. "We can make the House a more open and inclusive body--one where every member can contribute to the legislative process," he wrote. "We can rally House Republicans around a bold agenda that will tackle the country's problems head on."
The fight about internal procedures isn't simply navel-gazing. Congress must raise the debt limit again by Nov. 3, and House GOP leaders are unlikely to be able to do so without relying on mostly Democratic support. That may occur under Mr. Boehner's watch, but it probably will fall to Mr. Ryan to keep the government running when its current funding expires on Dec. 11.
Last month, 151 Republicans opposed the latest measure to keep the government funded, which passed with the support of 91 Republicans and 186 Democrats.
Another test will be the budget. Congressional leaders are hoping to reach a two-year budget deal with President Barack Obama by mid-December that could ease spending caps established in 2011.
Many Republicans want to increase military spending, but could balk at any deal that also boosts domestic spending.
Conservatives will be watching to see how Mr. Ryan handles the negotiations. They say they have assurances that he only would bring up a budget bill that has the support of at least 124 House Republicans.
"He said for all major bills that the Hastert rule would be applied--that definitely would include the budget in my mind," Mr. Brat said.
Mr. Ryan also has been concerned about a procedural tool, known as a "motion to vacate the chair," that can remove the speaker, arguing that it is an unfair weapon to dangle over the head of a leader. Conservatives see the procedure as a mechanism embedded in the origins of the Congress. It isn't clear he was successful in winning that argument.
"I think that the conference itself is going to try to make some changes, but I think they are going to get some strong opposition from us," Mr. Labrador said.
Some conservatives, however, remain skeptical.
"It sounds like he wants to run the place very much like Boehner has run the place," said Rep. Thomas Massie (R., Ky.), who plans to vote for Rep. Daniel Webster (R., Fla.)
Mr. Massie said he was concerned to hear Mr. Ryan describe the party's infighting as a "cancer" that could spread to the Senate or the presidential campaign.
"What's happening in the Republican party is healthy and if he's trying to suppress the expression of grass roots America here in the House of Representatives, then I'm very concerned," Mr. Massie said.
The GOP is scheduled to hold an internal election next week. The House floor vote is set for Thursday.
Write to Siobhan Hughes at siobhan.hughes@wsj.com