UPS Struggles To Keep Up With Order Surge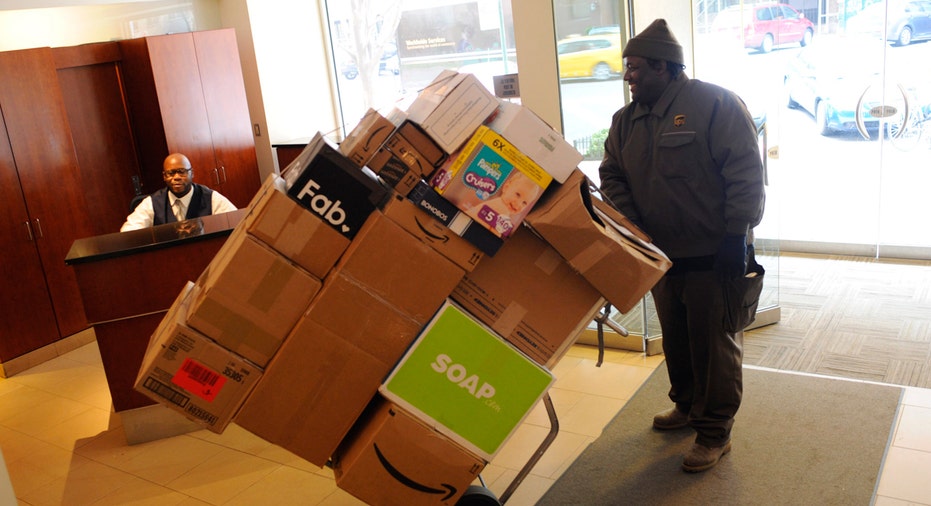 United Parcel Service  is straining to handle a surge in online sales that has resulted in more holiday volume than it had expected, causing a wave of disruptions that could spell trouble for the holiday season.
On-time delivery rates for UPS ground packages based on their normal shipping transit times last week fell to 91%, according to an analysis of millions of packages by software developer ShipMatrix Inc. During the same week last year, the on-time rate was 97%, which is UPS's usual average during nonpeak months. FedEx Corp.'s early numbers were also lower than usual at an estimated 95%.
UPS has been slammed with unexpectedly high volumes, extra pickups and not enough staff and equipment to handle all of the packages in some locations, according to people familiar with the matter.
"Volumes are coming in much higher than planned," said John Haber, CEO of Spend Management Experts, who advises retailers on shipping matters. "You can only process so much volume so quickly."
UPS this week assigned managers from corporate headquarters in Atlanta and elsewhere to work at delivery centers in Austin, Texas, Latham, N.Y., and other locations to handle the additional packages.
A UPS spokesman said that" UPS did experience some high impact areas" driven by volume in some places that came in at "levels greater than the original peak plan for those locations."He added that it is typical that retailers may have more volume than they expected, and UPS sends management teams each year to those sites affected.
Online sales surged more than expected over the Thanksgiving holiday weekend and into last week. Consumers spent an estimated $4.45 billion online on Thanksgiving and Black Friday, with Black Friday sales rising 14% from a year ago, according to Adobe Systems, which tracks purchases across 4,500 U.S. sites.
Most of the problems surfacing so far involve UPS, which does more residential deliveries than FedEx and has been trying to contain costs. It is unclear how much difficulty FedEx and the U.S. Postal Service are having handling the loads.
FedEx said that a record number of holiday shipments fueled by e-commerce are flowing through the company's network, and that its employees are delivering "outstanding service" to its customers. The U.S. Postal Service said it has invested in its infrastructure, expanded delivery times and is delivering on Sunday to keep packages moving.
UPS and FedEx are trying to a avoid a repeat of 2013, when their systems were so overloaded at the last minute that they couldn't deliver everything on time. But they also are wary of overdoing it like UPS did last year when it overspent and over-hired commensurate to the volume.
Both years, UPS ran over cost estimates by $200 million.This year it has increased capacity by 6% by modernizing its hubs among other things, and it has planned to keep seasonal hiring to the same levels as last year and bring on extra workers as needed, as well as reducing Black Friday operations.
Not all shipping consultants reported problems with UPS. While Spend Management Experts, retail consultant Kurt Salmon and package auditing firm Intelligent Audit reported that their customers are experiencing significantly greater than average service disruptions when shipping with UPS over the past two weeks, Shipware LLC said its customers have experienced on-time UPS delivery rates of more than 97%, while FedEx was at 96%.
Andrew Barrall, an Albany, N.Y., resident, ordered two garage-door openers from Home Depot on Thanksgiving, and was still waiting for one that was finally delivered by a UPS employee who identified himself as a manager on Tuesday, Mr. Barrall said. It was "delivered at 8:30 p.m. in a rented truck -- one week after arriving at the delivery facility 5 miles from my house," he added. Drivers were out on Sunday, too, he said.
UPS also quietly changed the length of time it takes to deliver some packages this holiday season, sparking consumer unhappiness, said Satish Jindel, president of ShipMatrix.
UPS put a small notice in its customer magazine that it would extend the time it would take to deliver a "limited" number of ground packages with transit times of three days or more by one day between Nov. 23 and Dec. 30.
(END) Dow Jones Newswires