Union files for vote by workers at Mississippi Nissan plant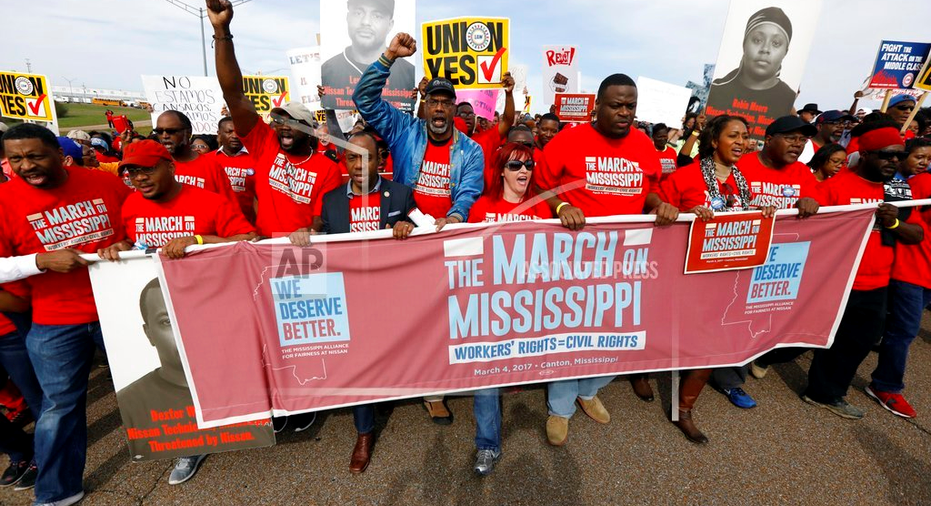 The United Auto Workers filed petitions Monday to force a unionization election at a Nissan Motor Co. plant in Mississippi after a yearslong pressure campaign to build support.
Sandra Hightower of the National Labor Relations Board confirmed that the board received the UAW's election petition in its New Orleans office.
The UAW declined comment but has scheduled an event Tuesday at its office near the plant in Canton, just north of Jackson. That union has long struggled to unionize foreign-owned auto plants across the South, and Monday's move sets the stage for a key showdown.
The union has worked for years to build support for a vote among the 6,500 workers at the complex. They and community allies also have pushed Nissan to stay neutral in a vote, claiming the company has intimidated workers. The labor board has backed some of those claims in litigation that remains pending.
Nissan spokeswoman Parul Bajaj reiterated the company's stance that workers get to choose whether they have a union but management opposes representation.
"While it is ultimately up to our employees who will represent them, we do not believe that UAW representation is in the best interest of Nissan Canton and its workers," Bajaj said.
The pro-union campaign has sought to link support for the union with civil rights for African-Americans. Workers at Nissan's plant in Smyrna, Tennessee, rejected the UAW in 1989 and 2001 votes, but no election has been held at the Mississippi plant in Canton. The Mississippi campaign has featured support from NAACP and actor Danny Glover, as well as a rally this March headlined by U.S. Sen. Bernie Sanders, a Vermont independent and former Democratic presidential candidate.
Bishop Thomas Jenkins of New Dimensions Church in Jackson recorded a video and spoke at a Sunday workers meeting at the UAW office. He said he has long advocated for better wages and working conditions in Mississippi.
"We've been talking about this for a long time," Jenkins told the AP in a phone interview Monday. "It's time to go forth."
The union lost a vote among all workers at Volkswagen AG's plant in Chattanooga, Tennessee, but then won a vote among 160 maintenance workers. That was the first-ever win for the UAW at a foreign-owned auto plant in the American South. German-based Volkswagen had refused to bargain with those workers, saying representation decisions should be made by the entire hourly workforce.
Hightower said the UAW had asked to represent all production and maintenance workers at the plant, a group that could also include contract workers employed by two other companies. She said the labor board would seek to schedule an election "as soon as possible." However, she noted that pending unfair labor practice complaints filed by the UAW could block the vote. The UAW filed a new round of charges June 26.
Thirty percent of workers must sign petitions seeking an election. Hightower could not immediately say how many workers have signed.
"We have a pile of paper," she said. ___ Follow Jeff Amy at: http://twitter.com/jeffamy . Read his work at https://www.apnews.com/search/Jeff_Amy .