Uneven Recovery Pinches Retailers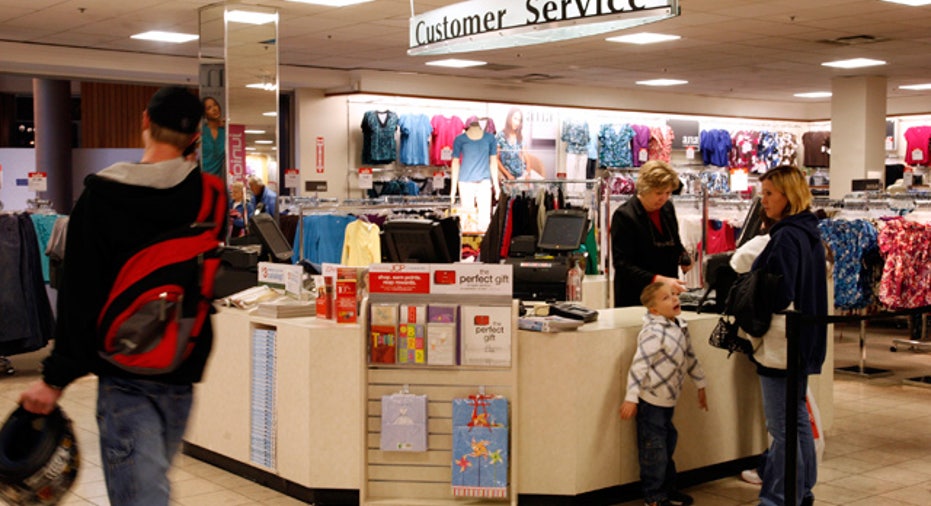 From Wal-Mart Stores Inc and Gap Inc to Macy's Inc and McDonald's Corp, chains that cater to middle- and lower-income Americans say they are feeling the pinch of an uneven economic recovery.
A host of retailers have reported tepid sales lately, highlighting the stress that consumers are feeling because of higher payroll taxes, expensive gasoline and a slow job market four years after the U.S. economy started to rebound.
"Everyone wants to talk about recovery - it's like the unrecovery," Susquehanna Financial Group analyst Bob Summers said following the Wal-Mart results. "The demographic that they cater to, not only has it not seen improvement, I would argue that things have gotten worse."
Look no further than Macy's for a snapshot of the consumer. For its namesake mid-tier department stores, Macy's reported the first decline in same-store sales in nearly four years this week, and said shoppers had been gravitating to its less expensive items. That's a contrast with Macy's upscale Bloomingdale's, which came in with strong results.
The trend also turns up in results posted on Thursday by Wal-Mart, which emphasizes low pricing. Its U.S. sales at stores open at least a year unexpectedly fell 0.3 percent last quarter, a second decline in a row, prompting the world's largest retailer to lower its sales forecast for the year.
Last week, a group of U.S. retailers including Costco Wholesale Corp and Gap reported modest gains in July same-store sales, thanks largely to bargains.
Adding to the pressure, Macy's said many shoppers are redirecting their spending to their cars, housing and home improvement.
Automakers reported a 14 percent U.S. sales increase in July from a year earlier, industry consultant Autodata Corp said.
Wall Street analysts expect home improvement chain Home Depot to report same-store sales rose 7 percent, the biggest gain of any major retailer Thomson Reuters tracks.
Outside of home improvement and cars, many retailers say economic conditions were less than ideal.
In July, U.S. employers slowed their pace of hiring, with the number of jobs outside of farming increasing less than economists expected.
The average price for a gallon of gasoline in the United States was still high: at the end of July, it was $3.67 compared to $3.51 a year earlier, according to the Lundberg survey.
As of May, 47.6 million Americans, or one in seven, received food aid - highlighting the ongoing strain on Americans struggling to make ends meet. That was 1.1 million more than a year earlier, and 7 million more than in 2010.
Real wages are also stagnating: they fell 0.1 percent between June 2012 and June 2013, according to the U.S. Bureau of Labor Statistics, excluding inflation and civil servants and military personnel.
"The consumer doesn't quite have the discretionary income, or they're hesitant to spend what they do have," Wal-Mart Chief Financial Officer Charles Holley told reporters on a call.
A recent government report showed 5.7 percent of Americans who had jobs in July could not get enough hours to qualify as full-time workers, the same percentage as in June.
While the unemployment rate has fallen steadily over the last year, the share of part-time workers who want more hours has barely dropped, according to BLS statistics.
"Workers are not doing well," said Elizabeth Ashack, an economist at the BLS. "They're losing ground because wages are not growing in real terms."
Teen employment levels are down this summer, and that may be contributing to same-store sales declines at Aeropostale Inc and American Eagle Outfitters.
SPENDING ON ESSENTIALS
The latest batch of retail reports shows the ways in which customers are pulling back again.
Macy's said shoppers at its namesake chain were holding back on anything nonessential, adding it didn't expect to make up the sales shortfall this year and cut its forecasts.
Kohl's said comparable sales had slid for purchases paid for with a credit card, transactions typically made by people on a budget. And both Wal-Mart and Costco said sales of higher-ticket items such as electronics and games have been soft.
Several companies have said shoppers are waiting longer to buy back-to-school items, suggesting they are waiting for deals and that they see no urgency to hit stores.
This week's results may presage more of the same next week, when big chains like Target Corp, J.C. Penney Co Inc and Sears Holdings Corp report earnings.
In May, Target cut its profit forecast after weak sales, and this week Wells Fargo lowered its profit estimates for the discounter saying Target was unlikely to have been spared by the pullback in spending.
The S&P Index retail was down 1.9 percent on Thursday, and many retail experts predicted it will be slow going for the industry for a while.
"The U.S. consumer is weary in this turnaround. It has been quite anemic, relatively speaking. I think many of them just don't see it on Main Street," said Eric Beder at Brean Capital LLC. (Reporting by Phil Wahba, Atossa Araxia Abrahamian and Dhanya Skariachan in New York, Jason Lange in Washington and Lisa Baertlein in Los Angeles; Editing by Edward Tobin and Lisa Shumaker)