Under Armour, Fanatics Cash In On 'Star Wars' Craze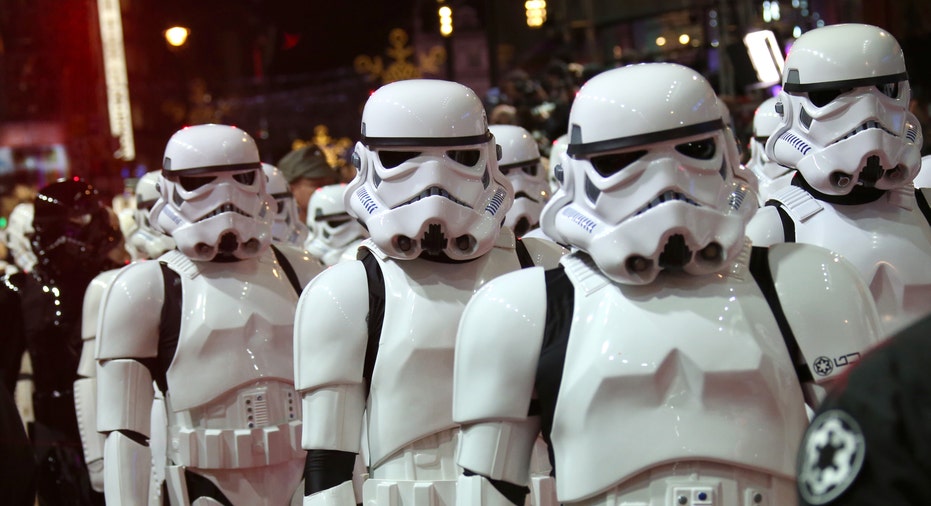 Disney Inc. (NYSE:DIS) isn't the only company looking to cash in on "Star Wars'" long-awaited return to movie theaters on Thursday. Burgeoning apparel brand Under Armour Inc. (NYSE:UA) and online retailer Fanatics Inc. each unveiled "Star Wars"-branded sportswear in the weeks ahead of "The Force Awakens'" release.
"Stars Wars: The Force Awakens" has been well-received by critics at early screenings, and tracking numbers suggest it will generate a massive windfall at the box office. The film's total haul could approach or surpass $2 billion, according to various estimates, with hundreds of millions more in sales of licensed merchandise. The massive consumer interest led several companies, including car manufacturer Dodge (NYSE:FCAU) to footwear brand Crocs (NASDAQ:CROX), to launch product tie-ins to coincide with "Star Wars'" release.
Dubbed "Alter-Ego: The Imperial Collection," Under Armour's line of "Star Wars" apparel rolled out in November and quickly became one of its most successful licensed product campaigns, a company representative told FOXBusiness.com. Previously, Under Armour released a line of Marvel gear to coincide with the release of "The Avengers: Age of Ultron" last May.
This sort of cross-promotion is rare in the sports apparel landscape, but a "smart move" by Under Armour, according to Matt Powell, vice president of NPD Group's sports industry analysis division.
"Under Armour was very successful with their comic hero series so I would expect Star Wars to be equally successful," Powell said. "It's only a small part of their total business so I do not expect a major lift from Star Wars, but it has created some publicity for the company."
Under Armour has developed a reputation for innovative products and marketing strategies amid rapid growth in recent years. The Maryland-based brand surpassed Adidas as the United States' second best-selling sportswear company in late 2014 and set a financial target of $7.5 billion in revenue by 2018.
Customers seem to be drawn to the Dark Side. "Imperial Collection" apparel that features "Star Wars" villains, such as Darth Vader and the "Death Star" spacecraft, has sold particularly well, while certain men's and boy's products have sold out entirely, an Under Armour representative said.
Click-through rates on Under Armour's "Star Wars" marketing emails – a key measure of an e-commerce campaign's success – are twice the normal rate. Under Armour declined to provide specific sales figures before the end of the holiday season.
Fanatics, which sells more than $1 billion in apparel annually and touts itself as the largest online retailer of sports team merchandise, has experienced similar success. T-shirts featuring college sports logos and "Star Wars" characters have "seen a tremendous response from fans," according to Jack Boyle, Fanatics' President of Merchandising.
"In just a few weeks, we've sold through the majority of the items, with T-shirts leading the way in popularity," Boyle said. "Sales have increased each week leading up to the movie premiere this weekend."