UGGS to Maserati: More Companies Look to Get Piece of Wedding Industry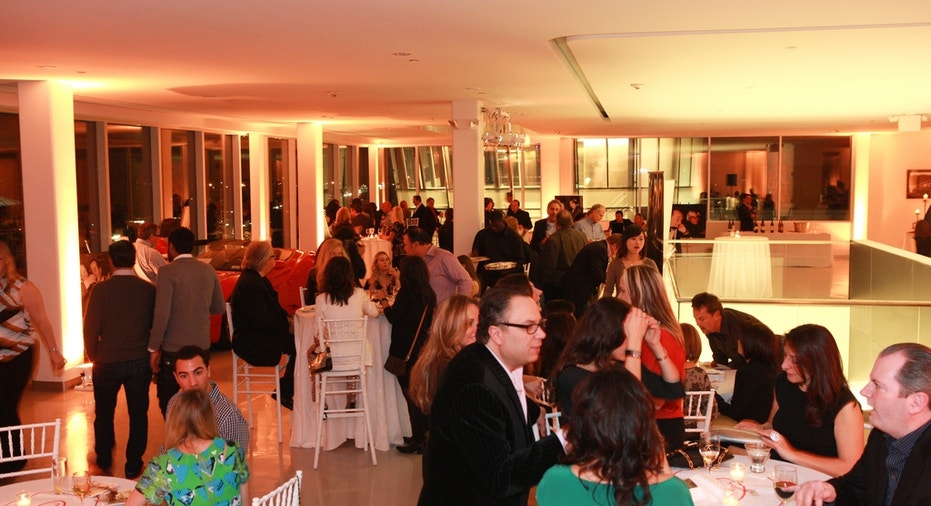 Stuffy bridal boutiques and overpriced wedding reception halls should look out: Today's bride can buy her dress at the same shop she buys her favorite jeans and plan the reception at her local car dealership.  A growing number of companies are saying "I do" to bridal-themed offerings, and with the wedding industry worth $74 billion per year, experts say it's a smart move.
Ten years ago, wedding-only retailers were in control of what brides enjoyed on their special day. Today, brands  are realizing that brides want to be surrounded by their favorite products when they take to the aisle, says Anja Winikka, director of the Knot.com.
"The truth is, you don't plan your wedding in a vacuum. You don't turn into a different person when you start planning your nuptials," says Winikka. "Brides want their special day to be a reflection of them in every way, from the dress to the shoes to the venue. If a bride uses a brand in her day-to-day life, why wouldn't she use it for her wedding?"
One brand that recently took the plunge into wedding products is shoe company UGG with it's "I DO Wedding Collection," which includes two boots and a flip-flop ranging in price from $80 to $225.
According to UGG, the wedding line stemmed from consumer demand.
"Brides have been incorporating UGG footwear into their wedding for some time now, special ordering footwear in wedding color ways for the entire bridal party. UGG is simply giving consumers what they want," wrote an UGG spokesperson in an e-mail to FOX Business.
UGG says that brides are increasingly gifting its footwear to bridal party members and wearing them to pre and post wedding events.
UGG is hardly the first clothing brand to get into the wedding space. Winikka points to J.Crew as one brand that's has done a wonderful job integrating wedding offerings into its traditional line. After opening its first store in 1989 selling everything from jeans to business wear, the preppy retailer launched its wedding line in 2006.
"Today, I would say that every single bride considers J. Crew for their wedding gown and especially for bridesmaids dresses. They are one of the biggest contenders for bridesmaids dresses," says Winikka. "They've taken advantage of the brand recognition they already had with women and they've turned it into something very successful."
Prices for J.Crew wedding gowns range from $350 to $3,000, and spokesperson Heather Mcauliffe confirmed that the line is doing very well and that the company is already working on its spring 2013 bridal styles.
According to Winikka, companies are turning to wedding offerings due to the industry's ability to survive the recession. "People are still getting married. Weddings are not going anywhere, and clearly there is money to be made no matter the brand."
Another brand that has had success with bridal offerings is hair product company CHI, which started offering a wedding-themed, rhinestone-studded bbCHI Exclusive Platinum ceramic flat iron in 2011, for $100. According to CEO Farouk Shami, the company noticed a sales increase in certain colors of flat irons being sold during wedding season and decided to develop a new line. " [We] decided to take the initiative and create irons that would look spectacular displayed on every woman's special day," says Shami.  He adds that the product looks good in the "getting ready" photos brides often take and include in their album.
"Every aspect of a bride's day is photographed…most brides have professional photos taken during the getting ready process before they walk down the aisle," says Shami.  "CHI designed fun colors that look great on camera and provide the stunning results every bride expects on her wedding day."
And "stunning results" are exactly what brides are looking for these days, with a "bigger is better" mentality surrounding brand names,  says Laura Fisher, events manager at Maserati of Long Island in New York. Last year the dealership began renting out its 8,000 square foot facility for weddings, receptions and rehearsal dinners. The space costs $6,500 to rent for weddings and Fisher says clients include everyone from hardcore car enthusiasts to people who simply want a large, clean white space.
"To me, Maserati means success," says Fisher." It's a way to show 'I've made it in the world.' Having the cars in the background is a decoration you can't get anywhere else. Some people may find it a little shocking when they hear someone's having a wedding at a Maserati dealership, but it's something unique, it's something out-of-the box."
Yet even for brands that don't have the caché of Maserati, wedding offerings can still mean big business.
"There are some companies that are never going to attract the Maserati bride, but they are going to attract the girl who wants to get a deal," says Winikka, adding that it's not just high-end retailers that are vying to get a piece of the wedding industry.
Discount warehouse Sam's Club entered the wedding scene in 2007, offering products packaged for nuptial affairs like flowers, utensils, food, and even jewelry after store managers began noticing that people were shopping at Sam's Club for weddings and "connected the dots," says Carrie Foster, senior manager of public relations for Sam's Club.
Today, the store sells everything from six-carat engagement rings to corsages and boutonnieres. The store has even done a trial run of "road shows" showcasing tailors who can make wedding dresses from scratch.
"Right now we are letting our members know that even if you are on your way to buy Gatorade, you can stop by the jewelry counter and learn how to pick out the perfect diamond for your fiancée," says Foster.