UFC's Frankie Edgar Wants To Fight Conor McGregor In New York City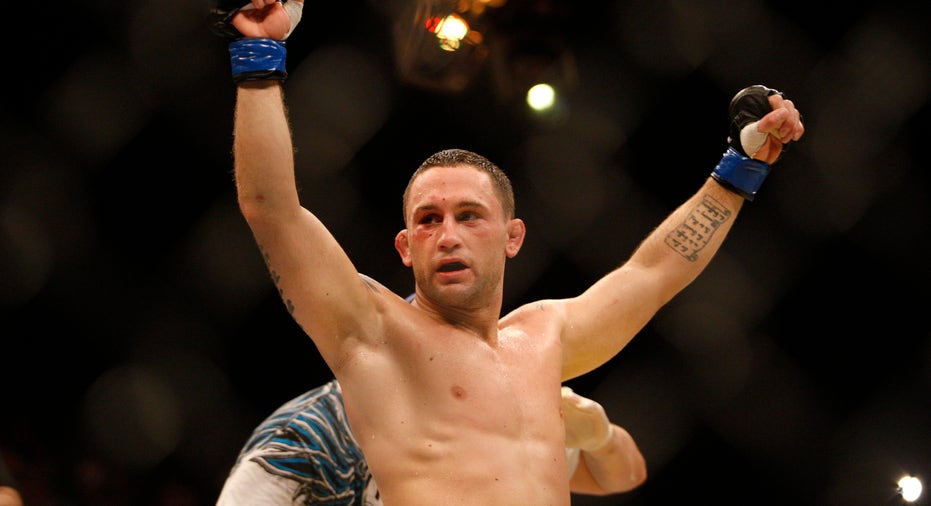 Frankie Edgar is tired of waiting. The 34-year-old New Jersey native has been lobbying for a shot at the UFC featherweight championship since before Conor McGregor defeated division legend Jose Aldo with a single punch at UFC 194 last December.
McGregor hasn't defended his featherweight title since his 13-second knockout victory over Aldo, opting instead to move up in weight for a pair of nontitle fights against Nate Diaz. After a surprise loss to Diaz by submission in February, McGregor will get his rematch on July 9 at UFC 200 in Las Vegas.
Rather than wait for McGregor to come back down in weight, UFC President Dana White scheduled Edgar and Aldo in an interim featherweight title match at UFC 200, just before the McGregor-Diaz main event. The winner of that match is expected to fight McGregor in a unification bout later this year, possibly at UFC's long-awaited return to New York City. But that roundabout path isn't exactly what Edgar, who has been outspoken about his desire to face McGregor, had in mind.
"It's kind of silly. It doesn't really make sense," Edgar told FOXBusiness.com. "But I get to fight a five-round fight, I get to fight a legend in Aldo and be on one of the biggest cards in UFC history. There's a lot of plus sides to it. And also, the interim's going to guarantee me a shot at the title. If I hold the interim, there's no if's, and's or but's about it. I have to be fighting that guy for the title, or my title becomes the title if [McGregor] doesn't come down."
The interim title fight is an important step toward Edgar's goal of becoming one of the few fighters in UFC history to win a championship at multiple weight classes. It's a headline event at UFC 200, one of the biggest nights in the promotion's history and a likely juggernaut in terms of ticket sales and pay-per-view sales.
Edgar has been working towards another shot at the featherweight title since 2013, when he made his debut in the division. After a dominant seven-year run to start his career that included a 15-1-1 record and a run as UFC lightweight champion, Edgar lost the title and suffered back-to-back losses to Benson Henderson. He moved down to featherweight and immediately received a shot at Aldo, then the division's champion. Once again, Edgar lost a competitive match by decision.
Since then, Edgar has returned to the dominant form that made him a champion in the first place. He's won five consecutive matches at featherweight, including knockout victories over MMA legend B.J. Penn and fellow featherweight contender Chad Mendes. Edgar has become more assertive in the Octagon, more confident in his approach.
Three years later, Edgar feels he's more prepared than ever to fight Aldo, who hasn't fought since McGregor knocked him out.
"The momentum is on my side. Last time I was coming off of two close losses up at lightweight, losing the belt and everything. This time, I'm the one with the five-fight winning streak. He's coming off of a devastating loss," Edgar said. "Three years went by. I'm much more experienced, I'm much more mature as a fighter and I'm much more comfortable in there."
Confidence is everything in UFC, where the close quarters of the Octagon and skill level of the fighters leave little margin for error and no time for hesitation. A loss at the highest level of competition can be difficult to mentally overcome, even for the sport's top competitors. Former women's bantamweight champion Ronda Rousey said she experienced suicidal thoughts after her surprise loss to Holly Holm at UFC 193 last November.
Rousey's comment generated a mixture of sympathy, concern and criticism from fellow fighters. But according to Edgar, her post-fight depression is just evidence of her commitment.
"If you're not upset if you lost, you didn't train hard enough. That's how I feel. You don't care enough," Edgar said. "I've had these feelings ever since I lost in high school, a wrestling match. That's your world. We put so much into our craft and into a certain result that we're working hard towards and if it doesn't go our way, that's a very depressing time. Some people take it harder than others, but I think as you go, you learn."
With 25 career fights under his belt, Edgar is one of UFC's longest-tenured fighters. That longevity carries a direct financial incentive, thanks to the terms of UFC's exclusive apparel deal with Reebok. All UFC fighters must wear Reebok gear – and only Reebok gear – during their time in the Octagon.
Through the deal, Fighters are compensated based on how many times they've fought and whether they're fighting for a championship, but are unable to pursue their own in-ring sponsorships. It's a divisive system, and one that has generated plenty of criticism from fighters.
Edgar acknowledges that UFC fighters are still in an "adjustment period" regarding the Reebok contract.
"Am I making as much sponsorship money as I was before the deal? I'm not, absolutely not," Edgar said. "[But] this is just the transition of our league. Some guys are actually making more than they may have. They really weren't getting sponsorship money and now they have a certain amount of fighters and they're guaranteed sponsorship money. It depends on who you ask."
But Edgar remains focused on his upcoming bout with Aldo and what it could mean for the next stage of his MMA career.
New York legislators voted last month to legalize mixed martial arts in the state. UFC announced Wednesday that they'll hold a pay-per-view event at Madison Square Garden on November 12. Edgar, who grew up nearby in Toms River, New Jersey, hailed MMA's legalization in New York as a "huge step" for UFC and said he wants to be there when the promotion returns to the Big Apple.
"I'd love to get a win here in July and then fight McGregor for that real title in the Garden in November," he said. "If not McGregor, then I'll be defending my title in the Garden."