UFC Fighter Chris Weidman Talks Conor McGregor Saga, Luke Rockhold Rematch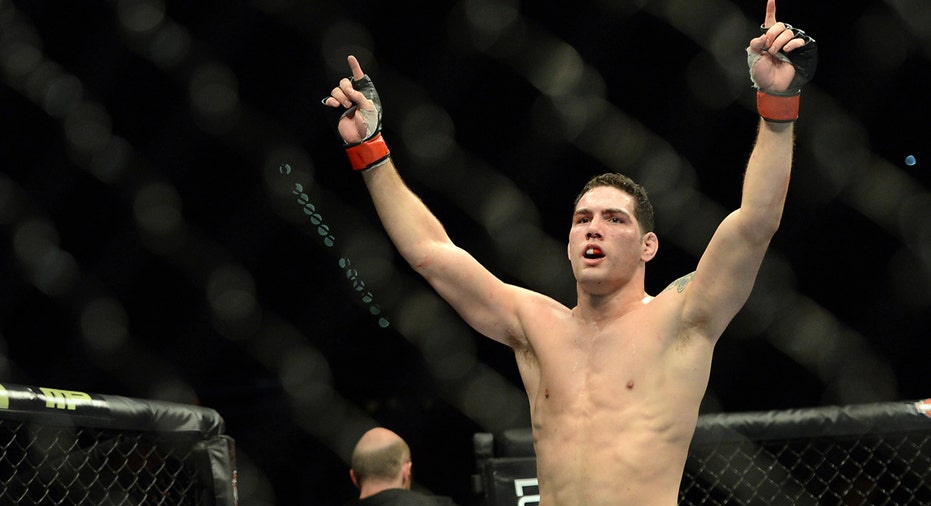 If anyone in Ultimate Fighting Championship can relate to Conor McGregor's current struggle with company president Dana White, it's Chris Weidman. Like McGregor, Weidman is one of UFC's most prominent fighters, tasked with balancing the press tour for his highly-anticipated UFC 199 rematch with reigning middleweight champion Luke Rockhold in June with daily training to ensure he's ready for fight itself.
But while McGregor's refusal to attend promotional events led White to yank him from a scheduled main event battle with Nate Diaz at UFC 200 in July, Weidman has grudgingly accepted that the various interviews and public appearances are part of his job – even if they do make it more difficult to train.
"Would it be easier for me to go straight to Long Island and worry about my training? Yes. But this is part of what we do. We have to promote fights, we have to help get the sport out there more," Weidman told FOXBusiness.com. "It's either you're going to have a negative attitude about it and be pissed off that you're doing it – and it only gets worse if you have that attitude – or you're positive about it."
McGregor, who has been training in Iceland in a bid to avenge his loss to Diaz last March at UFC 196, purportedly balked at White's request that he fly to Las Vegas to participate in the first of a series of mandatory press conferences. McGregor refused, stating that the press tour would make it impossible for him to properly prepare to fight Diaz in July. In a widely-shared Facebook post, McGregor argued that UFC has grossed "$400 million" in revenue for his last three fights and he should receive some "leeway" to skip press events in return for this windfall.
White fired back, telling FOX Sports that, while he was willing to work around McGregor's schedule, promotional events are a mandatory part of the gig for UFC's fighters. Weidman agreed that allowing certain fighters to skip press conferences would set a dangerous precedent for UFC, which relies heavily on its stars to drum up publicity before the pay-per-view events that drive its revenue.
"I don't think [Dana White] wants to start the habit of letting guys get out of media obligations. No one's under the microscope more than Conor McGregor, so if he's getting away with that, then other fighters are going to fight to get away from that and it'll start to become something that fighters feel like they have an option of getting out of."
Over the last few months, Weidman's role within UFC has extended far beyond simple fight promotion. A 31-year-old Long Island native, Weidman is one of a handful of fighters tapped to aid White and UFC CEO Lorenzo Fertitta in the push to legalize mixed martial arts in New York. When state legislators and New York Gov. Andrew Cuomo formally approved the sport in April, Weidman was on hand to tout MMA's economic potential for the state.
Weidman said it was "awesome" to be chosen as one of UFC's representatives during its bid to return to New York, his home state.
"I got into this sport seven years ago with my first fight," Weidman said. "Every year I felt like it was going to happen and it never did. I went from being optimistic to thinking it was never gonna happen, back and forth, a bunch of times. For it to finally happen just feels amazing."
UFC officials have high hopes for what access to the New York media market will mean for the promotion's brand. New York was already UFC's "biggest market" for pay-per-view buys before state officials cleared the way for actual events, Fertitta said at a March press conference.
Already, UFC has announced a pay-per-view event at Madison Square Garden in November 2016. Proponents of MMA are banking that corporate sponsors will flock to the sport now that it isn't illegal in the nation's biggest media market.
Weidman is confident that the windfall will also extend to UFC's individual fighters. An exclusive apparel deal with Reebok prevents fighters from representing sponsors inside the Octagon, but there's nothing stopping them for signing promotional deals outside the ring.
"Sponsors and companies are going to be more eager and less hesitant to get involved in MMA now that it's not an illegal sport in some states," Weidman said. "Now it's completely legal wherever you go in the U.S. There's going to be a lot more businesses that are going to come around and be a part of it and see that there's a lot of gain for their companies through mixed martial arts and the exposure that we can get them."
But for now, Weidman is fixated on his upcoming bout with Rockhold, who handed him his first-ever professional loss during a bloody fight at UFC 194 last December. Just seven months after dismantling MMA legend Vitor Belfort in less than one round, Weidman lost to Rockhold by stoppage after a series of brutal takedowns.
The loss was something of a wakeup call for Weidman, who admitted that he was "a little surprised" by the fourth-round takedown that cost him the match. As the rematch approaches, Weidman has switched from a six-week program, which gave him less time to recover from training setbacks, to a 12-week program. Weidman suffered a broken foot while training for his initial match against Rockhold, which made it difficult to prepare.
For Weidman, a win against Rockhold is about more than just the middleweight title – it's a chance to secure a spot at the top of the card when the UFC holds its first New York event in more than two decades later this year.
"It's definitely extra motivation to win this belt back," Weidman said. "I want to defend my belt in November in Madison Square Garden. I don't know who I'm going to be fighting, but that's the goal, is to be able to defend it here in New York."