UAW Names Fiat Chrysler as Lead Target in Big Three Contract Talks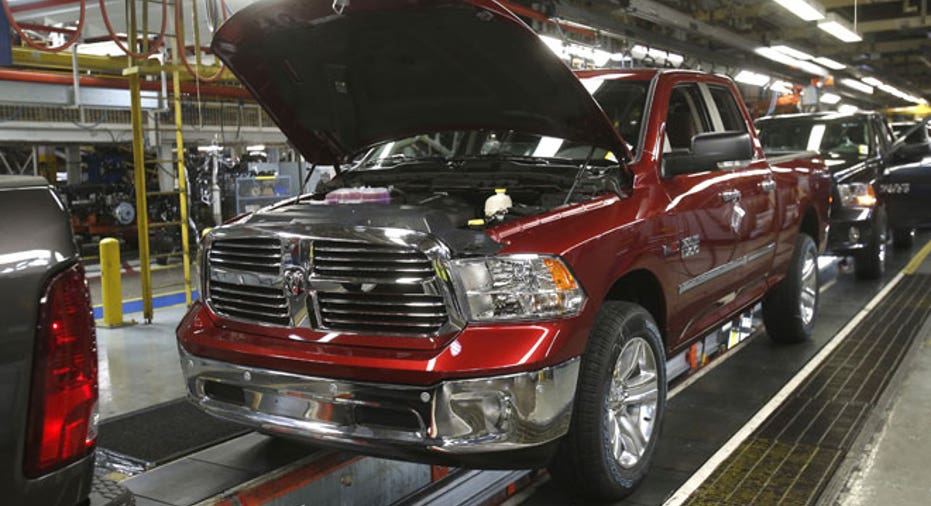 The United Auto Workers union will accelerate its bargaining efforts with Fiat Chrysler Automobile in the hopes of hammering out a template for a new labor contract the other two Detroit auto makers will match.
The choice of Fiat Chrysler's FCA US unit as the target company for shaping the new contract, disclosed by the union on Sunday, kicks off an intense negotiating period expected in part to focus on a two-tier wage system that has financially benefited auto makers but rankled workers.
The UAW's current contract with Fiat Chrysler, General Motors and Ford Motor expires on Monday, but labor talks between the union and Detroit's auto makers routinely extend beyond that deadline.
"All three companies are working hard toward a collective bargaining agreement," UAW President Dennis Williams said in a statement. "All three companies have been working with UAW bargaining teams toward a collective bargaining agreement and continue to do so."
A UAW spokesman declined to comment further.
Mr. Williams and other union leaders want wage increases for the UAW's roughly 140,000 rank-and-file members at Detroit's three auto makers. Most haven't received base pay raises in a decade. Specifically, they want to eliminate a controversial two-tier wage system that pays newer factory hires about $9 an hour less than veteran employees for doing the same assembly-line work. Fiat Chrysler Chief Executive Sergio Marchionne has publicly called for ending the pay structure.
That quirk came about in 2007, when auto makers were on shakier ground. The financial crisis forced GM and Chrysler to undergo government-brokered restructurings in 2009, a fate that Ford avoided by taking on massive debt a few years earlier. Union leadership has signaled the next deal shouldn't be one for givebacks amid a booming U.S. auto-sales landscape on track to be the best since 2001 that is bolstering finances at GM, Ford and Fiat Chrysler.
Fiat Chrysler is the smallest and least profitable of the Detroit car makers and has the highest percentage of lower paid workers, which has given it a $9 to $10 wage advantage over GM and Ford. About 45% of Fiat Chrysler's workers are new hires being paid the lower wage. GM and Ford capped their new hires at 25%.
Kristin Dziczek, director of the industry and labor group at the Center for Automotive Research, said the Fiat Chrysler pick indicates the union recognizes the auto maker is in a different business position than Ford and GM.
"It is a game theory of ratification," she said. "If you go to Fiat Chrysler first, you can get a pattern GM and Ford aren't going to choke on."
The UAW has made preparations to strike, as it often does, if negotiations break down.
The car companies, meanwhile, will be pushing to keep labor costs in check, hoping to avoid additional fixed expenses that could become a drag on earnings during a downturn.
Mr. Williams and Mr. Marchionne hugged at the ceremonial handshake in July officially kicking off labor negotiations.
Both have been vocal on not only restructuring pay but also dealing with how the auto makers buy health care for their workers. The UAW is looking to restructure the way the Detroit car makers purchase health care in an effort to generate savings and help members avoid higher out-of-pocket costs.
Bargainers at GM, Ford and Fiat Chrysler have said health-care costs have been rising at an unsustainable rate and could climb even higher with a new federal tax going into effect in 2018. Combined, the three car makers will spend more than $2 billion on health care this year for union-represented workers.
The Detroit three have for decades faced higher labor costs compared with foreign rivals, but concessionary deals made in prior negotiations have helped level the playing field.
In the past, the union would often pick a so-called "strike target" to negotiate with first, and then picket the company if a deal couldn't be reached. More recently, the union has opted to bargain simultaneously with all three and then choose one to lead.
Union members last year voted to raise membership dues to expand its $600 million strike fund, and in August, UAW locals across the country held strike authorization votes, receiving overwhelming approval for a work stoppage if talks were to break down.
GM and Fiat Chrysler workers also will have the right to strike for the first time since 2007. A no-strike clause adopted as part of bankruptcy agreements barred workers from one during talks in 2011.
Mr. Williams, however, has said he views a strike as a last resort and a failure on both the union and companies' part.
Fiat's Mr. Marchionne is a formidable negotiator and has in the past gotten directly involved in talks, sitting right at the bargaining table. Often, chief executives leave it up to the company's bargainers to work out details. Mr. Marchionne has yet to change his current plans, which has him appearing at the automotive show in Frankfurt next week.
Write to Jeff Bennett at jeff.bennett@wsj.com and Christina Rogers at christina.rogers@wsj.com