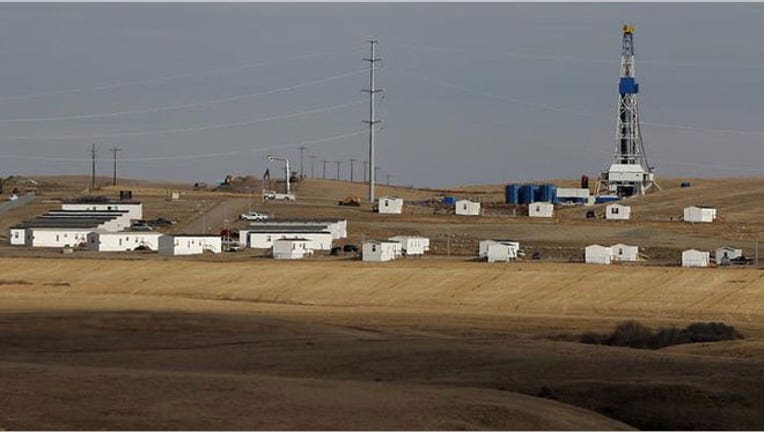 Thanks to a boom in domestic shale oil production, the U.S. is on pace to overtake Russia as the world's largest non-OPEC producer.
The revelation came in a semi-annual report released Tuesday by the West's energy agency, the International Energy Agency, which said the U.S. could surpass Russia as soon as 2015. Moreover, the IEA anticipates that U.S. production will take care of most of the world's new oil demand over the next five years. OPEC would therefore risk lower prices if it chooses to lift output.
"North America has set off a supply shock that is sending ripples throughout the world," IEA Executive Director Maria van der Hoeven said in a statement. "The good news is that this is helping to ease a market that was relatively tight for several years."
Spurred by the combination of horizontal drilling and hydraulic fracturing, the U.S. oil boom has been led by production in shale formations like the Bakken formation in North Dakota and Eagle Ford in Texas.
"The technology that unlocked the bonanza in places like North Dakota can and will be applied elsewhere, potentially leading to a broad reassessment of reserves," van der Hoeven added. "But as companies rethink their strategies, and as emerging economies become the leading players in the refining and demand sectors, not everyone will be a winner."
The IEA expects global demand to rise 8% between 2012 and 2018, reaching 96.7 million barrels per day based on the International Monetary Fund's per-year estimate of 3% to 4.5% global economic growth.
Most of that demand will be met by non-OPEC production, which the IEA projects will increase by more than 10% during the same period to 59.31 barrels per day. Meanwhile, the agency increased its estimate of non-OPEC supply in 2017 by 1 million barrels per day.
Given the rise in U.S production and an expected increase in production elsewhere, OPEC will see output fluctuate around current levels of 30 million barrels per day for the next five years. The IEA said other countries such as Russia and China may see a boost in production by adopting U.S. shale technology, although projects could face obstacles.
"Several members of the (OPEC) producer group face new hurdles, notably in North and sub-Saharan Africa. The regional fallout from the 'Arab Spring' is taking a toll on investment and capacity growth," the IEA said in its report.
Overall, global supply growth has been largely shared evenly by OPEC and non-OPEC countries. But now supply growth is working against OPEC.
"North America thus increases its share of supply growth both within the non-OPEC group and more globally," the IEA added.
Oil futures were trading slightly lower Tuesday at $95.13 a barrel.