U.S. Thanksgiving Meal Costs Barely Rise as Price of Turkey Slips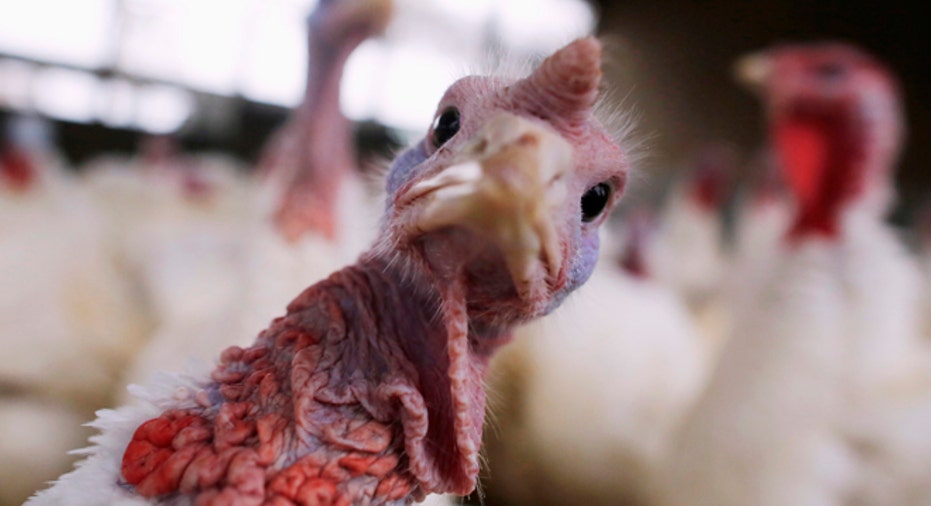 A small decline in turkey prices helped hold the increase in the cost of preparing a Thanksgiving meal for 10 to less than 1 percent this year, the country's largest farm group said on Thursday.
Ingredients for a typical holiday feast, with turkey and all the trimmings, averaged $49.41, up 37 cents from $49.04 in 2013, the American Farm Bureau Federation said in its 29th annual survey.
Results were derived from 179 volunteer shoppers who checked prices at grocery stores in 35 states. This year's holiday will be celebrated on Nov. 27.
The meal's big-ticket item, a 16-pound turkey, came in at $21.65, or about $1.35 per pound, a decline of less than 1 cent a pound or 11 cents for a whole bird.
Thrifty home chefs would count themselves lucky a crown roast of pork or prime rib of beef was not on the menu, since prices for those meats have skyrocketed this year, while poultry, on average, has only inched higher.
The Thanksgiving dinner ingredient basket, with a year-on-year gain of 0.75 percent, rose much less than overall food inflation, estimated by the Department of Agriculture at 3 percent this year.
"Turkey production has been somewhat lower this year and wholesale prices are a little higher, but consumers should find an adequate supply of birds at their local grocery store," said John Anderson, the Farm Bureau's deputy chief economist.
Reversing a recent trend, U.S. turkey meat production rose 2.6 percent in the third quarter from a year ago, the USDA said this week.
Some grocers also use turkeys as "loss leaders" to entice shoppers to buy other popular Thanksgiving foods.
Anderson said: "We are blessed to be able to provide a special holiday meal for 10 people for about $5 per serving, less than the cost of most fast-food meals."
The Farm Bureau's dinner also includes bread stuffing, sweet potatoes, rolls with butter, peas, cranberries, a relish tray of carrots and celery, pumpkin pie with whipped cream, plus coffee and milk, all in quantities enough for a family of 10, with leftovers.
Foods posting the biggest increases were sweet potatoes, dairy products and pumpkin pie mix. Among those declining modestly in price were stuffing, fresh cranberries, pie shells and brown-and-serve rolls.
The average cost of the dinner has remained around $49 since 2011.
(Reporting by Ros Krasny; Editing by Peter Cooney)