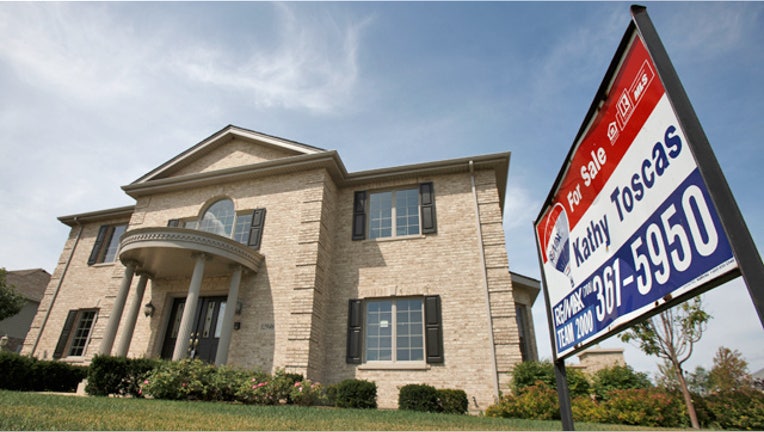 New single-family home sales grew by 7.6% from April to a seasonally adjusted annual rate of 369,000, the Commerce Department said Monday. May's sales were the highest since April 2010 and were up nearly 20% above the same month a year ago.
Economists surveyed by Dow Jones Newswires had forecast an annual rate of 346,000, which would have been a 3.3% gain over the figure previously reported for April. While April's rate was unrevised at 343,000, March's sales were revised upward to a rate of 347,000.
Prices for new homes, meanwhile, rose 5.6% in May from the same month a year ago to a median of $234,500.
The improvement in the new-homes market comes as the U.S. housing sector appears to have hit bottom this spring after a collapse in prices that started around six years ago. The road back to health, however, is expected to be bumpy, especially if the economy continues to cool. In May the country added just 69,000 jobs -- the worst growth of the year -- and the unemployment rate moved up to 8.2%.
Last week, the National Association of Realtors reported that sales of previously occupied homes fell 1.5% in May from the prior month but were up 9.6% from the same month a year ago.
Some housing markets this year have had a thin inventory of properties for sale, as fewer foreclosures have been listed by banks. Distressed properties, including foreclosures, accounted for a 25% of all sales in May, down from 31% in the same month a year ago, according to a monthly survey taken by the Realtors' group.
A smaller supply of foreclosures means less competition for builders, who have struggled to compete with cheaply priced foreclosures and other distressed homes. Tight credit standards, meanwhile, mean fewer people can take advantage of record-low mortgage rates.
New-home sales peaked in July 2005, when they hit an annual pace of nearly 1.4 million. Sales fell to a low pace of 273,000 in February 2011.
Though sales have climbed back since the depths of the housing bust, the pace of new-home sales remains well below historical levels. Since 1963, an average of 671,000 new single-family homes have been sold per year in the U.S. Last year's level of 306,000 sales was the lowest on record.
Monday's report showed the number of new homes listed for sale at the end of May was 145,000. The supply would take 4.7 months to deplete at the current sales pace.
May's new-home sales were up in two out of four U.S. regions. Sales in the Northeast rose 36.7%, while sales in the South grew by 12.7%. Sales in the Midwest fell by 10.6% and sales in the West fell by 3.5%.
A copy of the full report is available at: http://www.census.gov/construction/nrs/pdf/newressales.pdf
Write to Alan Zibel at alan.zibel@dowjones.com or Sarah Portlock at sarah.portlock@dowjones.com
Copyright © 2012 Dow Jones Newswires