U.S. national parks, led by Utah's Zion, weigh limits on visitors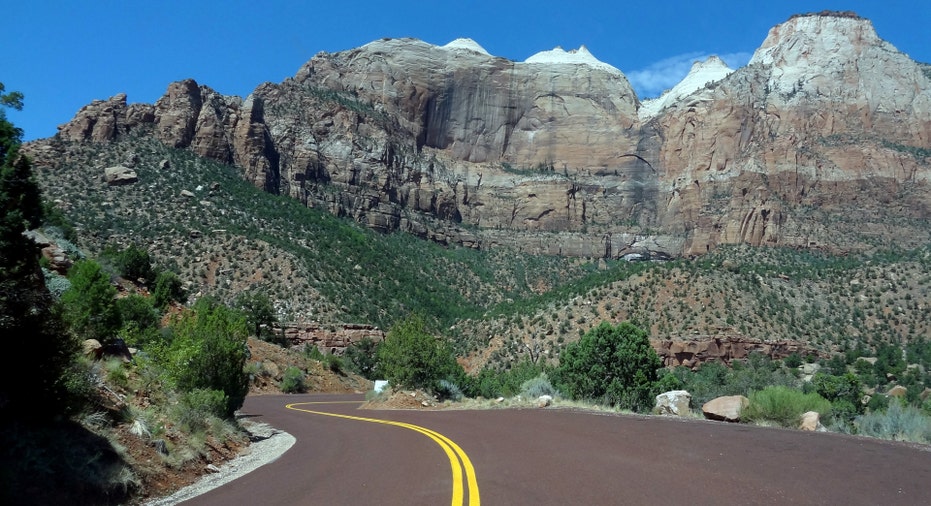 (Reuters) - Zion National Park in Utah, one of the premier outdoor attractions of the American West, is considering a first-ever admissions cap in a move supported by conservation advocates and veteran park employees to stem overcrowding at a time of record visitation.
Public Employees for Environmental Responsibility (PEER), a watchdog group representing U.S. park rangers, foresters and other land managers, endorsed setting visitation limits for Zion while urging similar restrictions for national parks across the board.
In a statement on Thursday, PEER credited Zion as one of the few national parks seeking to remedy "crippling overcrowding" but faulted the National Park Service as failing to widely heed a little-known mandate requiring "carrying capacities" to be established for all 108 of its major park units in the United States.
Zion, famed for its scenic canyons, steep red cliffs and river gorges in southwestern Utah, has seen record visitation during four of the past five years and a 60 percent increase in admissions over the past decade, according to a park newsletter.
More than 4.3 million tourists flocked to Zion last year.
"The incredible increase in crowd size supports the need for developing a plan to proactively manage visitor levels to protect park resources and provide the exemplary experiences visitors expect," Zion Superintendent Jeff Bradybaugh wrote in the newsletter.
The public has until Aug. 14 to comment on options the park is considering, including an online reservation system limiting the number of tourists who would be permitted at any given time in the most heavily visited parts of the park.
PEER director Jeff Ruch said the Park Service has long resisted such restrictions due to "extreme political sensitivity" on the subject.
"The National Park Service believes there can be no such thing as too much visitation and, as a result, no matter how bad the overcrowding gets and how much damage is done, their approach is: 'Don't worry, be happy,'" Ruch told Reuters.
Park Service spokesman Thomas Crosson was not immediately available for comment.
A 2016 PEER report found just seven of the 108 national parks, preserves, reserves, recreation areas and seashores had established carrying capacities of any sort, and just one – Golden Gate National Recreation Area near San Francisco – had set a capacity limit covering the entire unit.
Luke and Dorrie Prange of Salmon, Idaho, who have visited roughly a dozen national parks, said their trip to Zion last year was not marred by large crowds but said they would support a reservation system.
"Our national parks are world treasures that should be available for everyone who wants to see them but, at the same time, we have to minimize the impact of each individual," Luke Prange said.
(Reporting by Laura Zuckerman in Salmon, Idaho; Additional reporting by Valerie Volcovici; Editing by Steve Gorman)