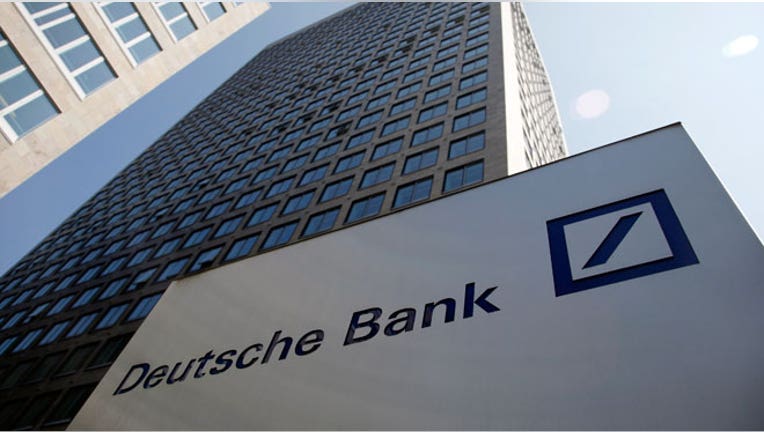 U.S. authorities have begun settlement talks with Germany's Commerzbank and Deutsche Bank over their dealings with countries blacklisted by the United States, extending a crackdown on European banks at a delicate point in U.S.-German relations.
The talks with state and federal authorities have just begun, a source with direct knowledge of the regulatory investigations told Reuters, and the timing of a deal is unclear.
Deutsche Bank and Commerzbank declined to comment.
Washington has come down hard on European banks that have evaded their sanctions, imposing a record fine on France's BNP Paribas last week and stoking resentment among bankers and officials at what they see as U.S. imperialism.
Commerzbank, Germany's second-largest lender, is 17 percent owned by the German government, and the settlement talks could further strain ties between Berlin and Washington, already at a low ebb due to allegations that a German man had worked as a double agent for U.S. intelligence.
Commerzbank is accused by U.S. authorities of transferring money through its U.S. operations on behalf of companies in Iran and Sudan and could pay at least $500 million in penalties, according to the New York Times.
The newspaper said a deal could be struck as soon as this summer and could pave the way for an agreement with Deutsche Bank. (http://nyti.ms/1xJyjeA)
Commerzbank would likely face a so-called deferred prosecution agreement that would suspend criminal charges in exchange for the financial penalty and other concessions, the report said.
In its last public comments on the matter in March, Commerzbank said it faced the threat of substantial U.S. fines or settlement costs. U.S. authorities had already forced it to surrender documents and the results of internal investigations, Commerzbank said then.
"The bank cannot rule out the possibility that it will pay a considerable sum of money in order to settle the case," Commerzbank said in its annual report.
Deutsche Bank, which has already paid over 5 billion euros in fines and settlements in the past two years, said in June it had done nothing wrong in its Iran dealings.
Germany's largest lender stopped doing new business with Iran in 2007 but remains engaged in several long-term loans or financial arrangements, some of which conclude in 2019, Deutsche said in the prospectus for a rights issue.
"We do not believe we have engaged in activities sanctionable under these statutes, but the U.S. authorities have considerable discretion in applying the statutes and any imposition of sanctions could be material," the bank said.
The risk of a fresh wave of U.S. fines weighed on European stock markets, with Commerzbank down more than 5 percent and Deutsche almost 2 percent.
"It's certainly a negative surprise, even if the market wasn't left unprepared following the fines at BNP," said Philipp Haessler, analyst at brokerage Equinet in Frankfurt.
Reuters reported last week that Deutsche Bank, Banamex USA, which is the U.S. arm of Citigroup Inc's Mexican banking group Banamex, and two major French banks - Credit Agricole and Societe Generale, were among those being investigated by U.S. authorities for possible money laundering or sanctions violations.
Investigations into the two French banks are not expected to be completed until after a settlement with Commerzbank, the source told Reuters.
FINES
After failing to land high-profile criminal cases stemming from the 2008-09 financial crisis, U.S. authorities have focused on other types of criminal activity within the financial industry, including money laundering, tax evasion and sanctions violations.
Analysts at investment bank Morgan Stanley say more pain is in store, saying banks have already paid $210 billion in fines in the past four years and expects another $75 billion in the coming three years.
Last week, France's largest bank BNP Paribas pleaded guilty to two criminal charges, agreed to pay $8.9 billion and have its right to clear certain dollar transactions suspended in order to resolve accusations it violated U.S. sanctions against Sudan, Cuba and Iran.
The size of the fine, the highest ever imposed for sanctions violations, and the suspension have caused concern in Europe and Asia that U.S. authorities are exploiting the dominance of the U.S. dollar to impose their own rules and standards on foreign firms and jurisdictions.
European concerns about heavy-handed U.S. sanctions have already reached the highest levels of diplomacy, with French President Francois Hollande in June raising the issue during a state visit by U.S. President Barack Obama.
Reuters could not immediately reach the authorities conducting the investigations - the U.S. Department of Justice, New York State's banking regulator and the Manhattan district attorney's office.
Commerzbank had 934 million euros ($1.27 billion) at the end of 2013 as provision for litigation risks, including a possible U.S. probe into whether the bank breached sanctions.
Numerous other banks, including Standard Chartered, Lloyds Banking Group and Credit Suisse Group have previously settled with U.S. authorities over allegations they violated sanctions, but their fines pale in comparison to the near $9 billion penalty imposed on BNP Paribas.
U.S. authorities said the size of the BNP fine reflected the extent of the wrongdoing. BNP employees concealed more than $190 billion in transactions between 2002 and 2012 for companies, governments and people in Sudan, Iran and Cuba. ($1 = 0.7345 Euros)