U.S. Durable Goods Orders Rise Broadly, Boost Growth Outlook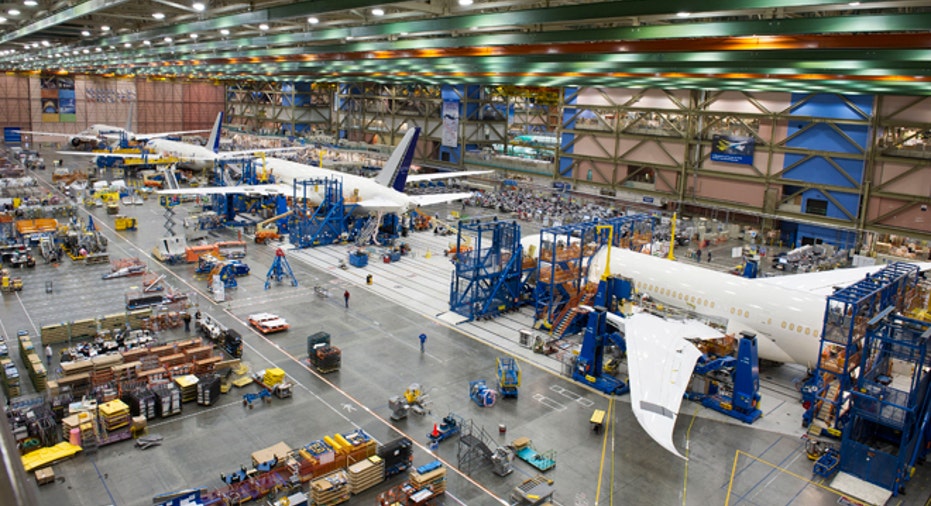 Orders for long-lasting U.S. manufactured goods rose more than expected in March and a measure of business capital spending plans surged, bolstering views of an acceleration in growth in the second quarter.
The Commerce Department said on Thursday durable goods orders increased 2.6 percent as demand rose across all categories. Durable goods, which range from toasters to aircraft and are meant to last three years and more, increased 2.1 percent in February.
Economists polled by Reuters had forecast orders rising 2.0 percent last month.
U.S. Treasury debt prices extended losses on the data, while the dollar rose against the euro.
The report fit in with other data such as industrial production, retail sales and employment, that have suggested the economy gained steam after a troubled first quarter.
Growth in the first three months of the year is forecast to have braked sharply, because of an abnormally cold winter and an inventory overhang from last year that forced businesses to place fewer orders for goods with manufacturers.
The end of long-term unemployment benefits and cuts to food stamps have also robbed the economy of momentum.
First-quarter gross domestic product growth is estimated around a 1.5 percent annual rate. The economy grew at a 2.6 percent rate in the fourth quarter.
The durable goods report showed non-defense capital goods orders excluding aircraft, a closely watched proxy for business spending plans, increased 2.2 percent in March after falling 1.1 percent the prior month.
Economists had expected orders for these so-called core capital goods to increase 1.5 percent last month.
Core capital goods shipments rose 1.0 percent last month. Shipments of core capital goods are used to calculate equipment spending in the government's GDP measurement. They had increased 0.7 percent in February.
A separate report from the Labor Department showed initial claims for state unemployment benefits rose 24,000 to a seasonally adjusted 329,000 for the week ended April 19.
The second straight week of gains, which exceeded economists' expectations for a rise only to 310,000, probably reflected difficulties adjusting the data for seasonal fluctuations given a late Easter this year.
"It's largely reflective of the effect from the Easter holiday. We are not that concerned," said Sam Bullard, senior economist at Wells Fargo Securities in Charlotte, North Carolina.
"(Claims) have been on a declining track since December and consistent with the employment gains we have seen," he added.
The four-week moving average for new claims, considered a better measure of underlying labor market conditions as it irons out week-to-week volatility, rose only 4,750 to 316,750. That was not too far from pre-recession levels.
The number of Americans still receiving benefits after an initial week of aid in the week ended April 12 was the lowest since December 2007. That period covered the household survey week from which the unemployment rate is calculated.
The decline suggests the unemployment rate could fall in April from 6.7 percent in March.
The durable goods report showed orders for transportation equipment increased 4.0 percent last month. That reflected a surge in civilian aircraft orders after Boeing orders more than doubled in March to 163.
Orders for motor vehicles rose 0.4 percent after gaining 4.3 percent the prior month. Orders excluding transportation increased 2.0 percent, the largest rise since January last year.
There were gains in orders for machinery, fabricated metal products and electrical equipment, appliances and components. Orders for computers and electronic products recorded their largest increase since November 2010.