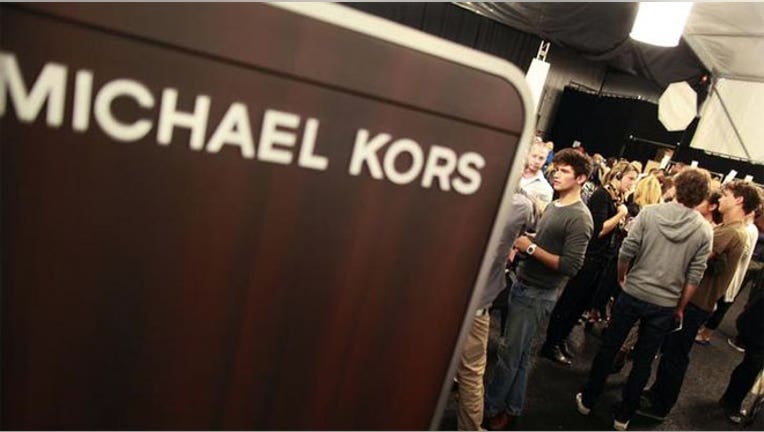 Michael Kors (NASDAQ:KORS) reported much stronger-than-expected 59% rise in fourth-quarter profit on Wednesday as demand rebounded in its key U.S. and European markets.
However, its shares slumped in early trade as the handbag maker predicted a short-term decline in gross margin amid an expected rise in operating expenses.
Its outlook came in mostly above estimates. In the current quarter, Michael Kors is predicting earnings of 78 cents to 80 cents a share on revenue between $840 million and $850 million.
That brackets the Street's EPS view of 79 cents and tops sales expectations of $826.1 million.
For the full year, it is calling for EPS of $3.85 to $3.91 on sales between $4 billion and $4.1 billion, in-line with the consensus view of $3.85 a share on revenue of $4.06 billion.
The mostly bullish outlook follows a stellar fourth quarter, where sales skyrocketed close to 54% due to strong demand for its handbags and watches in the U.S., which account for 80% of global revenues, as well as rebounding sales in Europe.
In its most recent quarter, the luxury accessories maker reported net income of $161 million, or 78 cents a share, compared with a year-earlier profit of $101.1 million, or 50 cents a share.
That topped average analyst estimates of 68 cents, according to a Thomson Reuters poll.
Revenue climbed to $917.5 million from $597.2 million, beating the Street's view of $816.5 million, while same-store sales, a key grow metric of sales at stores open longer than a year, increased 26.2%.
"We believe that our expanding global brand awareness is driving continued strong demand for our luxury product and fueling our growth as a global luxury lifestyle brand," said Michael Kors CEO John Idol. "Overall, we have great momentum as we head into fiscal 2015 and remain very excited about our growth prospects for next year and beyond."
Strong North America demand helped fuel the fourth-quarter rally, with same-store sales increasing 20.6% in its top market. In Europe, same-store sales were up 62.7%, while revenue from its licensing unit increased 79%.
Shares of Michael Kors, which has been facing increased competition from smaller rival Kate Spade (NASDAQ:KATE) but continues to take market share away from Coach (NYSE:COH), slumped 0.81% to $94.96 recently.