U.S.-Cuba Ties May Open Doors for MLB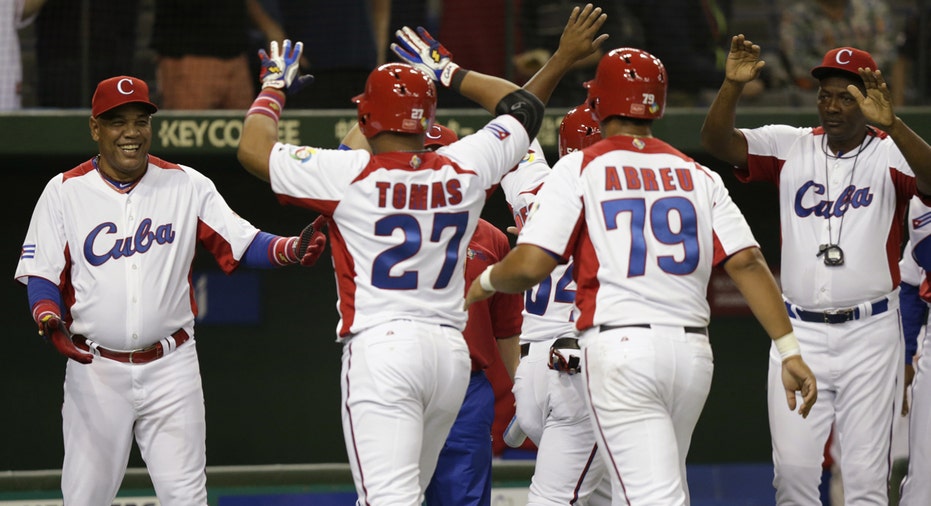 With the U.S. and Cuba moving toward renewing their economic relationship, Major League Baseball appears ready to expand its footprint in the Caribbean nation.
In December 2014, government officials on both sides announced the start of talks aimed at restoring diplomatic ties, although for now, America's embargo on Cuba remains intact. Given baseball's influence in the region, the so-called thaw quickly led to speculation that MLB games could be slated for Cuba in the near future.
Commissioner Rob Manfred has said the league is interested in organizing exhibition games in Cuba as soon as the spring. In July, Manfred was quoted in the All-Star Game program discussing MLB's future in Cuba now that the political winds are shifting.
"Cuba has a great baseball tradition and, obviously, it is an incredible source of talent. It is a country where our game is embedded in the culture, and baseball is a big part of its identity," Manfred said. "Generally speaking, from a business perspective, we do well in such markets. To the extent that our game can serve as a bridge from a symbolic standpoint, we would certainly welcome that opportunity."
MLB plans to take direction from the government "as to how the new diplomatic course will affect our rules and operations," a league spokesperson told FOXBusiness.com.  "We have had conversations with the government on these topics."
The change in U.S.-Cuba relations did have an immediate impact on the signing process for Cuban prospects. Players with at least five years of experience and older than age 23 are free agents who can sign with any team.
If a player has less time on the Cuban baseball circuit, he can seek a contract during the international signing period, which is open to players from all over the world. Team spending on international prospects is capped, and clubs are fined if they exceed their allotment.
The catch is that any player originating from Cuba must establish residency in another country before signing on the dotted line. Players fulfill this requirement by providing teams with signed affidavits stating they are residents elsewhere.
Despite the Cuban thaw, players in the communist country still face a dangerous journey out of Cuba, where government officials keep close watch over baseball players. Relatives of Yoenis Cespedes, who helped lead the New York Mets to a division title this season, were interrogated and jailed after he left for the Dominican Republic in 2011. Cespedes traveled on a boat for 23 hours to escape.
One of the most harrowing tales of Cuban defection is that of Yasiel Puig, who signed with the Los Angeles Dodgers three years ago.
Puig's trip was chronicled in a Los Angeles Magazine report that described how smugglers with ties to a Mexican drug cartel snuck Puig into Mexico. According to the book "The Best Team Money Can Buy," the Dodgers paid for a private security firm to protect their outfielder after he later received threats from the cartel, which was looking for payment.
As long as they do leave Cuba and provide the affidavits, Cuban players no longer need to obtain a specific "unblocking license" from the U.S. Treasury Department's Office of Foreign Assets Control. That is where U.S. policy has allowed MLB to make it somewhat easier for its teams to sign Cuban players. They can be covered by a general license, streamlining the process to begin negotiations with teams.
However, the MLB spokesperson noted that each player's individual case will determine whether a specific license is still required.
The new guidelines hastened one star prospect's journey to the major leagues in February. Yoan Moncada, a 20-year-old infielder from Cuba, was included under the general license and scored a $31.5 million signing bonus from the Boston Red Sox shortly before Spring Training games began. It was by far the most money given to an international prospect since MLB instituted its current signing rules in 2012.
MLB also granted waivers last month for two players who left Cuba but missed the deadline to register for the 2015-16 international signing period. Jonatan Machado and Omar Estevez were reportedly still in their native country on the May 15 deadline.
Under the league's collective bargaining agreement with its players, MLB can scrap the registration deadline when an international prospect has a "compelling justification." But officials had never provided waivers for Cuban players. Machado and Estevez were the first.