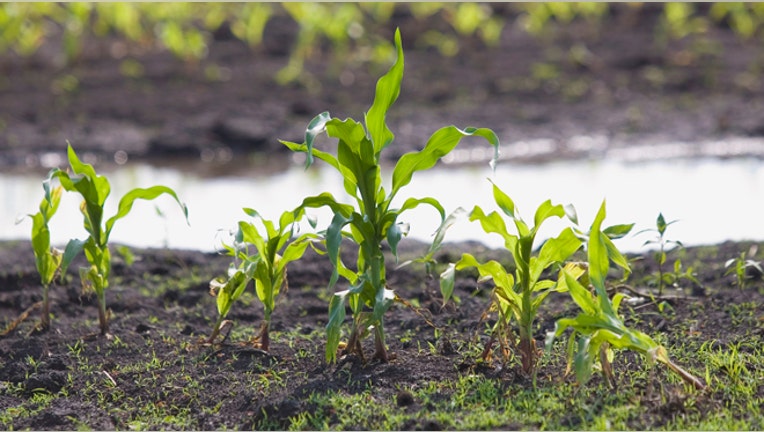 U.S. corn prices closed in on their biggest ever annual decline, falling near 1 percent on Monday as more rain eased drought worries in major exporter Argentina.
Soybean prices, on track to end the year with only modest losses, also eased. Wheat was pointed toward a yearly decline of more than 20 percent, the biggest loss since 2008, with persistent pressure from an abundant global stockpile.
Corn futures were almost certain to end 2013 as the worst-performing major commodity market, having lost nearly 40 percent of their value as a mammoth U.S. crop came to harvest at a time of diminished demand for ethanol and livestock feed.
Traders were already bracing for further losses ahead, particularly amid signs of an improving outlook for Latin America crops that are now in their prime growing period.
"We'll be down again next year, but not 40 percent. I think corn will fall to the $3.50 per bushel area so there is still nearly $1 per bushel excess in the deferred contracts," said Art Liming, a futures specialist for Citigroup.
Chicago Board of Trade March corn fell 4 cents to $4.23-1/2 on Monday, the lowest in two weeks and nearly half of its 2012 peak. Deferred new-crop December 2014 corn futures were trading around $4.50 per bushel on Monday.
Rain fell over much of Argentina's corn and soybean growing region during the weekend and more rain is expected in roughly the northern two-thirds of the country, said John Dee, meteorologist for Global Weather Monitoring.
"It was a big weather weekend, and the rains performed pretty well," said Dan Cekander, an analyst for Newedge USA.
Argentina, the world's third-largest exporter of corn and soybeans, has been suffering prolonged hot, dry weather that traders fear could damage crops, and has supported global prices. Weekend rain and forecasts of more wet weather have improved the country's crop outlook.
SOY HELD UP
The turn to good growing weather in Argentina also drove soybean futures down nearly one percent and soy is on track to fall nearly 7 percent for 2013.
Chicago Board of Trade January soybeans closed down 3-1/4 cents per bushel at $13.28-1/4, and wheat for March delivery was down 8-1/2 at $6.00-1/2.
Argentina's Rosario grain exchange said on Monday that Argentina will harvest 55.0 million tonnes of 2013/14 soy and 22.0 million tonnes of corn.
The U.S. Department of Agriculture (USDA) forecasts that Argentina will harvest 54.5 million tonnes of soybeans in the new 2013/14 crop year from 49.3 million in the previous season. The Argentine corn crop is seen little changed at 26 million tonnes.
Corn and soybeans rallied on Friday following the release of the USDA's latest export sales figures, which showed better-than-expected weekly sales.
The USDA pegged net sales of corn for the 2013/14 marketing year at nearly 1.5 million tonnes, far exceeding trade estimates, while soybean exports of more than 720,000 tonnes also topped expectations.
Corn remained under pressure over concerns China is rejecting imports that contain a genetically modified corn strain not yet approved by Chinese authorities.
(By Sam Nelson; Additional reporting by Michael Hogan in Hamburg and Colin Packham in Sydney. Editing by Andre Grenon)