U.S. Accuses Deutsche Bank of Massive Mortgage Fraud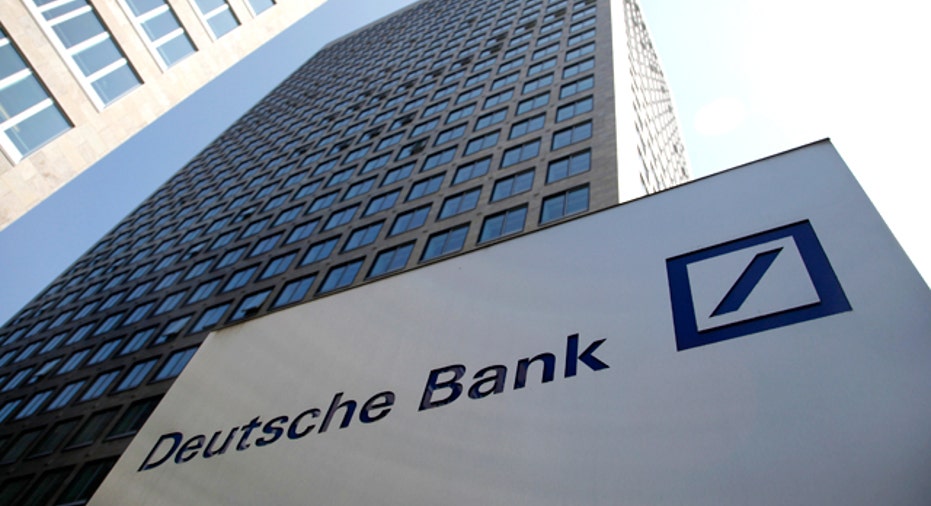 Federal officials unleashed a civil mortgage fraud lawsuit on Tuesday against Deutsche Bank (NYSE:DB) and its mortgage arm, alleging the German banking heavyweight defrauded the U.S. government of hundreds of millions of dollars and engaged in reckless lending practices.
The charges say Deutsche Bank and its mortgage unit, MortgageIT, lied to the U.S. by telling the Federal Housing Administration its low-income mortgages qualified for government guarantees when they did not.
Once in the program, which is run by Department of Housing and Urban Development, the civil complaint says Deutsche Bank "recklessly selected mortgages that violated program rules in blatant disregard of whether borrowers could make mortgage payments."
The U.S. said the alleged fraud resulted in the government wrongfully paying "hundreds of millions of dollars in insurance claims," Deutsche Bank profiting from the resale of the mortgages and possible default and eviction for thousands of American homeowners. Including insurance claims not yet paid out, total exposure to U.S. taxpayers totals $1.27 billion.
"While the homes the defendants issued loans for may have been built on solid ground, the defendants' lending practices were built on quicksand. Ultimately, prudence was trumped by profit, and good faith took a back seat to good fees," Preet Bharara, the U.S. Attorney for the Southern District of New York, said in a statement.
During a press conference in New York, Bharara said there is no evidence of criminal conduct by individuals at Deutsche Bank and MortgageIT in this FHA case. Bharara also said it would not be a "fantastical stretch" to think other banks' practices are also under scrutiny.
Shares of Deutsche Bank dipped in New York trading on the allegations, closing down 1.77% to $63.99.
"We just received the complaint and are reviewing it. We believe the claims against MortgageIT and Deutsche Bank are unreasonable and unfair, and we intend to defend against the action vigorously," said Deutsche Bank spokeswoman Renee Calabro.
The charges against Deutsche Bank could prove to be uncomfortable for Rob Khuzami, the Securities and Exchange Commission's director of enforcement, who was Deutsche Bank's general counsel for the Americas prior to joining the SEC. The SEC declined to comment.
The civil complaint is demanding damages and penalties for the past and future claims under the False Claims Act.
Manhattan-based Mortgage IT was acquired by Deutsche Bank in January 2007, just before the subprime market imploded. After the buyout, Deutsche Bank assumed the company's liabilities, managed the quality control functions of MortgageIT's direct endorsement lender business and was responsible for filing annual certifications for the business to the U.S.
MortgageIT endorsed more than 39,000 mortgages for FHA insurance, worth more than $5 billion, the charges allege.
The U.S. said it has paid more than $386 million in FHA insurance claims and related costs from more than 3,100 mortgages. The claim spells out alarming default levels, saying more than 600 of those mortgages defaulted within six months, more than 1,100 defaulted within a year and over 2,000 defaulted within two years.
The exposure over time is even greater as the U.S. said more than 7,500 additional mortgages worth $888 million have defaulted as of February 2011 without any claims yet having been paid by HUD.
"MortgageIT and Deutsche Bank ignored every type of red flag and breached every duty of due diligence before underwriting thousands of federally insured mortgages," said Bharara.
At the same time, the complaint says MortgageIT "repeatedly failed to address dysfunctions" in its quality control system even after they were pointed out to upper management.
Further, the lawsuit says MortgageIT reassigned the only staff member dedicated to auditing FHA-insured mortgages to increase production and when an outside auditor revealed serious problems, the findings were "literally stuffed in a closet and left unread and unopened."
The lawsuit unveiled Tuesday also detailed three instances -- as early as 2003 -- where HUD audits showed MortgageIT had failed to ensure that loans that go into default within the first six months are reviewed. Each time MortgageIT was required to provide a statement of corrective action.
Deutsche Bank and Mortgage IT failed to fully staff a team to review FHA-insured loans, the complaint says.
Between the first quarter of 2006 and the close of the direct endorsement lender business in 2009, MortgageIT's quality control was run by a single employee, a government loan auditor, the complaint said. However, Deutsche Bank and MortgageIT did not provide the auditor with a copy of the required quality control plan, explain the contents of the plan or give the employee any guidance on which loans to review.
The feds say adequate quality control would have prevented a pattern of early payment defaults in Michigan that involved a common underwriter and common brokers and should have been recognized by 2004. Indeed, an outside vendor, Tena, provided MortgageIT with findings that illustrated these underwriting violations throughout 2004, but the findings went unread, the suit says.
"MortgateIT – including upper management at MortgageIT – knowingly, wantonly and recklessly permitted egregious underwriting violations to continue unabated. These failures caused the government million of dollars in losses," the complaint said.
The feds also allege MortgageIT failed to conduct due diligence in accordance with HUD rules.
In one case about a property on Center Street in Waterloo, NY, MortgageIT allegedly broke rules by failing to document the source, amount or required repayment of gift funds. Two months after the sale closed in June 2002, the mortgage went into default, resulting in FHA paying $80,198 in insurance claims.