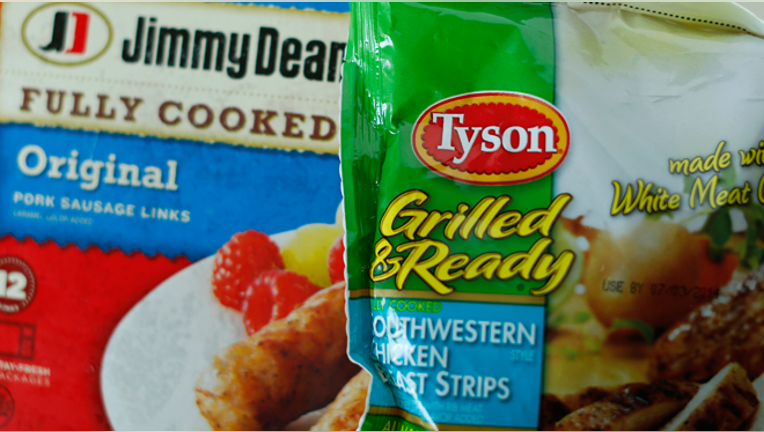 Tyson Foods (NYSE:TSN) outlasted Pilgrim's Pride (NYSE:PPC) in a race to acquire Hillshire Brands (NYSE:HSH), agreeing to buy the maker of Jimmy Dean sausage and Ball Park hot dogs for $8.5 billion.
Tyson, the nation's largest chicken producer by sales, said Monday it will pay $63 a share in cash. Excluding Hillshire's debt, the deal is worth about $7.7 billion.
Pilgrim's Pride withdrew its offer, which last stood at $55 a share. According to The Wall Street Journal, the company declined to raise its bid in an auction arranged by Hillshire.
Pilgrim's, a unit of Brazilian meatpacking giant JBS, kicked off the bidding war last month with an unsolicited offer to take over Hillshire. Tyson emerged with a bid of its own soon after. The Springdale, Arkansas-based company's winning bid reflects a 70% premium over Hillshire's stock price before the bids were disclosed.
Shares of Hillshire rallied 4.8% to $61.72 in recent trading. Tyson fell 1.8% to $39.41.
Tyson plans to fund the deal using a combination of cash on hand and financing. The offer remains in place until Dec. 12, by which time Hillshire must terminate its recent agreement to buy Pinnacle Foods for $6.6 billion.
Although Tyson expects the Pinnacle deal to be scrapped, Hillshire said its board has yet to approve Tyson's bid, and the company can't enter into an agreement with Tyson as long as the Pinnacle transaction still in place.
Under the Pinnacle agreement, Hillshire must pay a $163 million break-up fee if the deal is terminated. Pinnacle was trading 20 cents higher at $31.75.
"Our strategy has been to grow our prepared foods business, and it has been our aspiration to be a leader in retail prepared foods just as we are in chicken," Tyson chief executive Donnie Smith said in a statement. "Now we will have those iconic #1 and #2 brands in numerous categories."
During a conference call with analysts, Smith added that brands like Jimmy Dean and Ball Park don't become available too often. He has also lauded Hillshire's strength in breakfast foods, saying Tyson can benefit from entering the growing category.
An acquisition of Hillshire would also help Tyson better manage supply challenges. Tyson has warned that a virus affecting piglets in the U.S. will hurt pork production this summer, while drought conditions in California have contributed to weaker cattle supplies.
The company said Hillshire's brand portfolio, which also includes Hillshire Farm lunch meats and other products, will provide consistent demand for Tyson pork.
Tyson expects annual synergies of $300 million by the end of year three following the deal. According to Smith, Tyson will likely see $100 million in synergies in the first year.
Morgan Stanley and J.P. Morgan are Tyson's financial advisers.