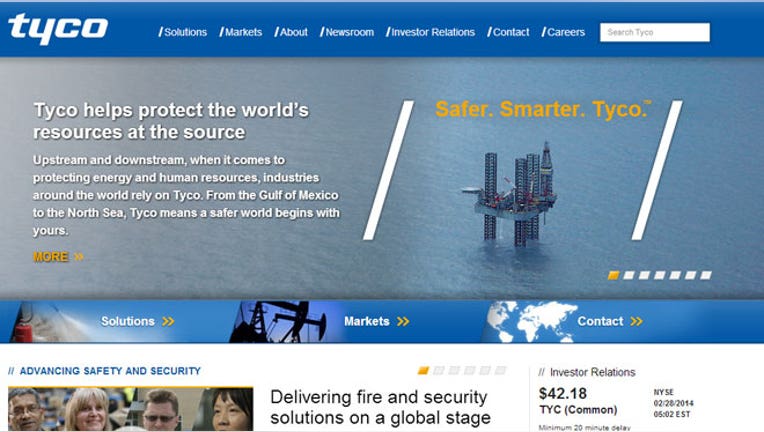 Tyco International Ltd. (NYSE:TYC) said its fiscal second-quarter earnings more than doubled as the fire and safety-products company cut expenses and saw a slight increase in revenue.
The company's board also approved an additional $1.75 billion authorization for share buybacks, bringing the total authorization to $2 billion.
Tyco spun off its North American security business in 2012 to create ADT Corp. It also split off, then merged its pipe-and-valve business with pump-filter manufacturer Pentair Inc. What remains of Tyco is focused on fire-suppression systems for commercial buildings and safety equipment.
Last month, Carlyle Group said it had agreed to acquire Tyco's South Korean security business for $1.93 billion in cash. With that move, Tyco sharpened its focus on its core business.
For the quarter ended March 28, Tyco reported a profit of $207 million, or 44 cents a share, up from $72 million, or 16 cents a share, a year earlier. Per-share earnings from continuing operations were up at 39 cents from 11 cents. Excluding items such as restructuring charges and tax items, per-share earnings from continuing operations rose to 45 cents from 37 cents.
Revenue edged up 0.5% to $2.49 billion.
Analysts polled by Thomson Reuters expected earnings of 41 cents a share on revenue of $2.5 billion.
Selling, general and administrative expenses fell 17%, while restructuring and asset impairment charges slipped 68%.
Excluding the South Korean security business, systems installation and services revenue slipped 1.5% in North America and was flat compared to the year-ago period for the rest of the world. Global products revenue increased 4.7%.
Shares closed Thursday at $42.21 and were inactive premarket. The stock has risen 36% in the last 12 months.