Twitter's Prowess: Use Booms in Banned Turkey as Protesters Find Workarounds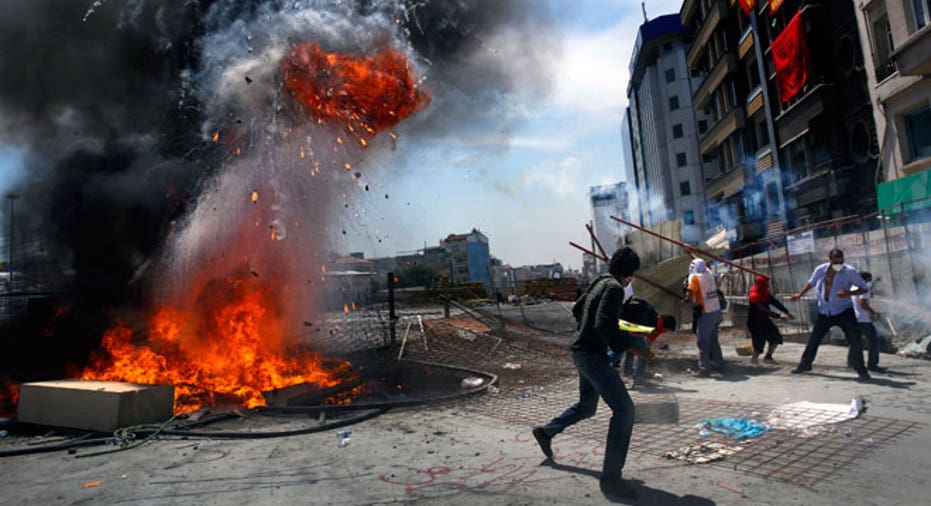 Turkey's prime minister may be set on blocking the micro-blogging site that has fueled political rallies across the globe, but tech-savvy Turkish revolutionaries aren't concerned.
Tweets from Turkey have been streaming in on a heightened level since Friday as protestors find workarounds to Prime Minister Recep Tayyip Erdogan's strategy of "eradicating" social media from the country.
In fact, data from several Twitter (NYSE:TWTR) analytics companies showed a boost in usage from Turkey post-Twitter ban, with Somera reporting a 33% increase on Friday and Hootsuite saying usage tripled in 24 hours.
"Turkish Twitter users are finding many different ways to circumvent the ban, including a simple change of their DNS settings," Hootsuite said on its blog.
The surge in usage further underscores the powerful role of social media in political revolutions, especially among a well-educated populous in relatively democratic societies.
"In Turkey, people will find a way to get around the blockage of Twitter and it will bring a lot of people out on the streets," said Bruce Bueno De Mesquita, a professor of politics at New York University who co-authored a book called "The Dictator's Handbook."
Minutes after Erdogan pulled the plug on Twitter, one Istanbul-based photographer blasted out a picture to his half-a-million Instagram followers simply overlaid with the text "Twitter is blocked in Turkey."
Message received.
More than 2.5 million tweets – over 17,000 a minute – followed from Turkey in the first 24 hours after the ban, according to several media reports, signaling the revolutionaries' prowess in getting the word out despite authoritarian threats.
According to Mesquita, it is becoming increasingly clear that the government will have to either "tolerate the opposition," or risk being toppled.
"In Turkey, there is a high probability of liberalization in response to a mass movement to try and overthrow the government," he said.
Repression and Power
That does not apply everywhere.
Uprisings backfired in Iran in 2009 – mostly because Iranian President Mahmoud Ahmadinejad had the political leverage and power to convince police and the Basij, the country's paramilitary militia, to suppress protestors.
"In that environment, people make a simple calculation: 'how much of a difference is my personal demonstration going to make relative to the cost of me,'" Mesquita said.
Ahmadinejad's regime blocked Twitter during the controversial 2009 election that got him elected, and it remains inaccessible there today.
In Venezuela, Mesquita says there's an 80% chance the government will eventually be able suppress the opposition because it gets most of its wealth from oil and not the general population.
Yet, Venezuelans have been among the most active on social media in recent months, displaying courage and an ability to navigate the complex tech world under duress. It might give them an edge over protesting Venezuelans of the past.
Revolutionaries in the former Hugo Chavez-ruled country have spread their message through images and videos of violence in real-time through sites like Twitter and Facebook (NYSE:FB), and hotly-used hashtags like #16FVnzlaEnlaCalleNicolasPaElConoTeVas.
The Venezuelan protests couldn't come at a better time for the opposition, according to Mesquita, since newly ensconced autocratically-inclined leaders historically have a two-year high-risk period of being overthrown. Current President Nicolas Maduro took office last April.
The Workaround  
Whether the popular uprisings in Turkey and Venezuela ultimately win or not, one thing for certain is social media and mobilization have forever altered the way repression is advertised on a global stage.
Take Twitter away, they'll go to Facebook and Google's (NASDAQ:GOOG) YouTube. Take those away they'll flock to Instagram, Vine, blogs and forums.
Places like Venezuelan capital Caracas are no longer out of sight, out of mind. Images of Crimea's charred Independence Square, Egypt's smoky Tahir Square and Istanbul's crowded Taksim Square are catching the world's attention, their destruction pasted across the Internet.
The ability to share uncensored information on a massive scale in real-time has added fuel to the fire.
While not all revolutions will be successful -- and dictators will undoubtedly continue to try and block access to social sites -- Turkey's determined Tweeters make it clearer than ever that the repressed will work tirelessly to find workarounds.