Twitter Overhauls Site, Aiming at Simplifying User Experience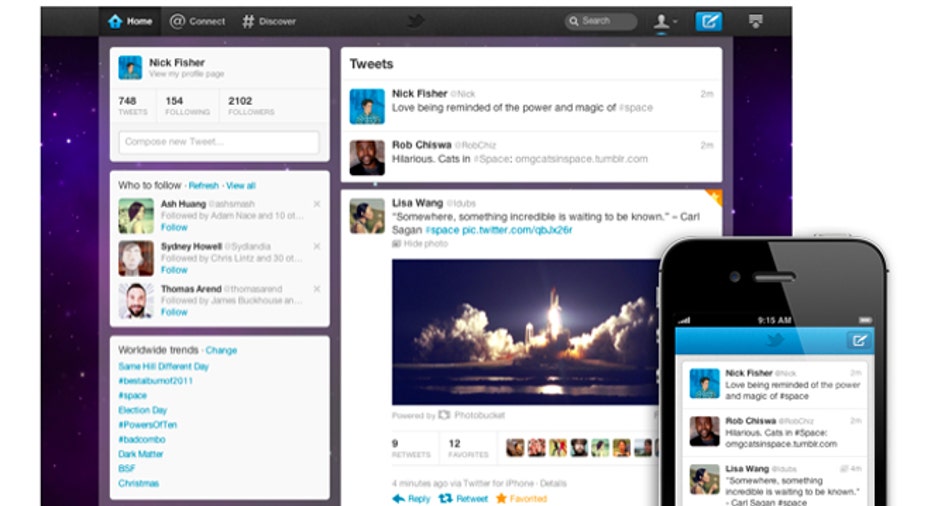 Home, Connect, Discover, Me.  Twitter is hoping these four words will simplify its service, making it easier for users to find what they're looking for on the site.  The social network on Thursday announced them as the new main sections that will be used in an upcoming revamp of its website.
"We've simplified the design to make it easier than ever to follow what you care about, connect with others and discover something new," Twitter said in a blog post.
The new home screen for the popular microblogging service will continue to show tweets from the people users follow.  Tired of clicking on shortened links all the time to see a photo or a movie?  As part of the update, Twitter will embed photos and videos directly into Tweets.  Users, of course, will be able to compose new Tweets from the home screen as well.
On the upcoming Connect tab, users will see how other users have interacted with them, via mentions, retweets, and favorites.  It will also show a list of followers.
Read more tech news on the FOX Business Technology homepage.
Twitter set up a new Discover tab to show to show users information, content, and suggestions for who to follow that match their interests, based on their location and what they already follow.
Finally, a new profile section will give users quick access to their lists, favorites, direct messages, and photos.
This new tab menu, according to Twitter, will be consistent across all devices.
Twitter said the overhauled site will be rolled out to users over the next few weeks on the full Twitter.com website.  The site's mobile versions and mobile apps for Apple (NASDAQ:AAPL) iPhone and Google (NASDAQ:GOOG) Android are already updated.
Also receiving an update soon will be the Twitter iPad app and the TweetDeck client software.
Formerly a third-party Twitter client, Twitter purchased TweetDeck last spring.
Below is a video Twitter put out showing off the new layout.
</p>