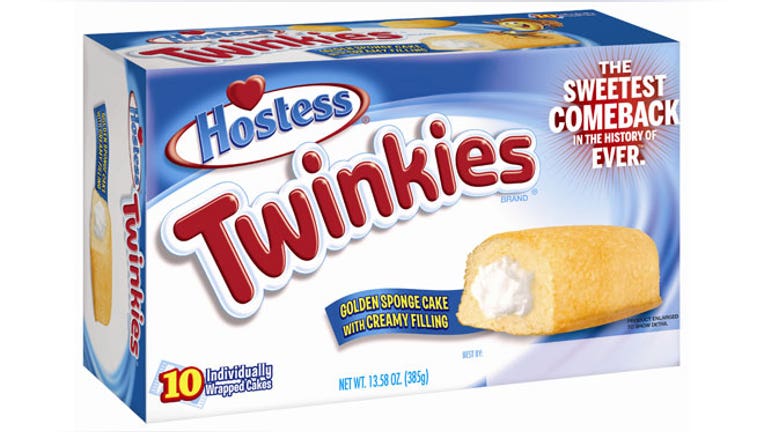 Hostess Brands, which is emerging from bankruptcy after the sale of its snack and bread brands, said Monday it plans to resume the sale of its iconic Twinkies and other snacks next month.
Private equity firms Apollo Global Management (NYSE:APO) and C. Dean Metropoulos & Co. partnered to buy some of the bakery's snack cakes for $410 million. The scaled-down Hostess Brands LLC includes Twinkies, Ho Hos, Ding Dongs, CupCakes and others.
When Twinkies went out of production and store shelves ran empty, boxes of the spongy yellow cake were the subject of bidding wars on auction sites like eBay (NASDAQ:EBAY).
In March Daren Metropoulos, principal of Metropoulos & Co., calmed fears of a long-term Twinkies shortage by saying the firm expected to have the cakes back on U.S. store shelves by the summer.
Hostess now expects to have its brands back on sale nationwide on July 15, calling it "the sweetest comeback in the history of ever."
"America wanted Hostess back—they wanted the original. Very soon consumers will once again be able to enjoy Twinkies, CupCakes and other great Hostess snack cakes," Daren Metropoulos said in a statement. "A comeback by any other name could never be as sweet."
On its website, Hostess has a digital clock counting down until the return of its "American snack icons that the people decided they just couldn't live without."
Prices for the cakes will remain the same, company spokeswoman Hannah Arnold said. A box of 10 Twinkies was previously sold for $3.99.
The company filed for bankruptcy in January 2012, less than three years after emerging from Chapter 11 protection a first time.
Earlier this year, Hostess sold off various brands and other assets, including the $27.5 million sale of  Drake's to McKee Foods. Another well-known brand, Wonder bread, was sold along with Nature's Pride to Georgia-based Flowers Foods (NYSE:FLO) for $360 million.