TV Chefs' 7 Ingredients to Landing a Job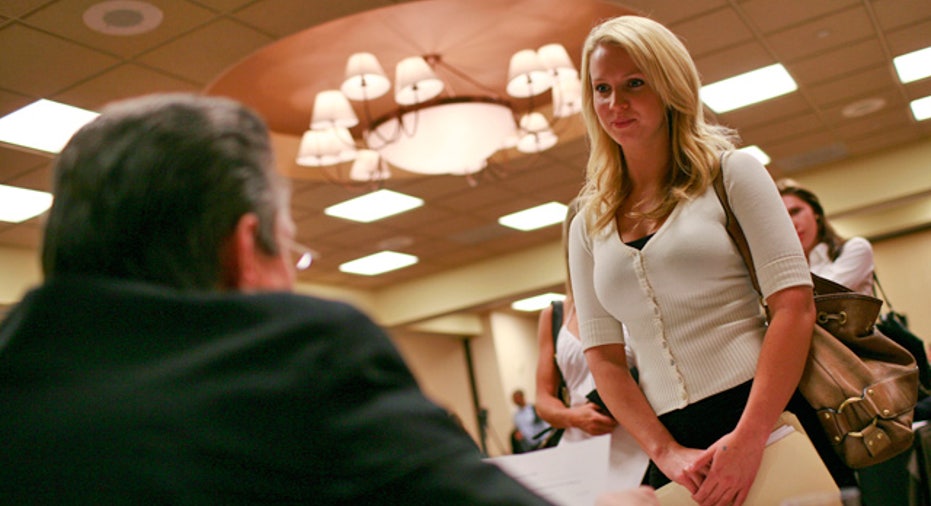 TV Chefs Dish Recipe for Job Interview Success
Big job interview coming up?
Imagine that you're a "cheftestant" on a reality TV cooking show.
If you take the millions of viewers out of the mix, a TV cooking competition has much in common with a typical job interview: preparation, nerves, self-doubts, awkward questions, occasional heartbreak -- and a life-altering prize for the winner.
We've assembled a panel of reality TV chefs to cook up seven tasty interview tips to help you survive the grilling and land a job.
They braved the heat and emerged from the fire with lessons for job hunters on how to survive that critical job interview and prosper, regardless of the outcome.
So, here's their recipe for sizzling in your interview. Good luck -- and bon appetit!
Research Your Future Employer
Nothing poisons a job interview faster than ambivalence or disinterest. Employers are searching for enthusiasm, initiative and resourcefulness. Demonstrate yours by showing up well-groomed, confident, cellphone off, in the moment and eager to discuss the company like you've been working there for years.
"Preparing for 'Top Chef,' you have to do your research," says Rich Sweeney, a contestant on the Bravo network show and the owner of R-Gang Eatery in San Diego. "It's great to be able to tell a judge that 'you'd heard' that they dislike an ingredient, so you left it out or used X in its place."
Sweeney says the same holds true for any job interview. If you're not interested enough in the position to find out more about the company, how can you expect the company to take an interest in you?
"Know your audience; do some research. These are all things I look for applicants to research about myself and my restaurant when they apply," he says. "Show me that you aren't just riding the cattle-call wave and that you are putting in the effort to impress me by knowing what my company does."
Showcase Your Passion
We all have strengths and weaknesses, but we tend to excel at tasks that stir our passions. The more you can showcase your passion, the more likely you'll find a good job fit.
"I used to do big cakes and then I got away from them because I love food so much that I really wanted to bring in more flavors," recalls Annette Starbuck, winner of the Food Network's "Cupcake Wars" and proprietor of Goodie Girls bakery in Glendale, Calif. "For me, I really wanted to get into cupcakes because they allowed me to really experiment with different flavors," she explains.
Jeffrey Saad cooked his way to runner-up on "Food Network Star" after others recognized his food fervor in his mouthwatering descriptions.
"I was home cooking for my wife and a friend and describing what they're about to taste, because for me the whole reason to eat is to have those experiences. And they put their forks down and said, 'That's it: You need to be on the Food Network,'" he recalls. "I was lucky to bring that to the competition naturally."
Turn Butterflies Into Rocket Fuel
You think you have preinterview jitters? Try "interviewing" in front of culinary experts on national TV.
"Nervous is an understatement!" says Sweeney, who was in the mix for season five of "Top Chef." "For me, it took deep breaths and telling myself that I know what I'm doing."
James Beard Award-winning chef Michael Schlow had been on TV many times before but had never competed against the clock. "The time goes by so fast that really your eye is on the clock and that is very, very nerve-racking," says Schlow, who competed on "Top Chef Masters."
Starbuck breezed through the baking but freaked at the judging line. "It's so intense: The butterflies and everything just rushes at you. I just breathed a lot of deep breaths," she says.
Saad wasn't about to let his nerves result in a failure to launch.
"Were there nerves? Of course! Do you funnel it into enthusiasm and passion and use it to help bring out the best of who you are, or do you let it shake you so much that the rocket explodes on the launch pad?" he says. "What I did was, I let those butterflies transform into rocket fuel."
Prepare to Be Unprepared
It's assumed a chef can create the world's best souffle at home or in their restaurant. What reality TV fans want to know is: Can you prepare one on a mountaintop, in a snowstorm, blindfolded?
Similarly, most employers want to know if you can think on your feet and will find a way to test your agility during the interview.
Schlow says prepare to be unprepared.
"I cooked a three-course gourmet meal in a filthy-dirty college dorm room, and I wasn't allowed to use any ovens. We had a hot plate, a microwave and a tiny toaster oven, and there was no refrigeration," he recalls. "Disgusting!"
In the process, he picked up a new twist to test out on job applicants in his own restaurants.
"Being on 'Top Chef Masters' involved many, many hours of questions and answers, and sometimes it's the same question repeated to see if you're going to give the same answer," says Schlow, who owns several restaurants. "I've never done that in the interviewing process with my would-be staff members, but I might use it now."
The take-away? The more you expect the unexpected, the less likely it will throw you.
When in Doubt, Go for It
In your job interview, you'll likely face the same dilemma as reality chefs: Should I play it safe or go for it?
Starbuck took a chance by creating a display celebrating the Kentucky Derby with 1,000 cupcakes in the shape of a horseshoe. The "Cupcake Wars" judges loved it, and she won.
"Stay on your toes, and always think outside the box," says Starbuck. "You have to have faith in your product. You're there for a reason, and you're competing for a reason."
Saad agrees: "We would have one hour. If I'm going to go for this, I'll barely make the hour, but if I pull it off, it's going to be mind-blowing, whereas if I do the 20-minute recipe, I'll definitely be safe but it's not going to blow anybody away. At the end of the day, the people who did the best were the ones who were willing to go for it."
Sweeney says trust your gut: "The only thing worse than standing up for something you don't believe in is not standing up for something you do believe in. As an employer, I respect people who respect themselves."
Treat Criticism as a Gift
Why do reality TV chefs thank the judges for their caustic comments? In many cases, it's because they sincerely appreciate the feedback -- even when it hurts.
"Ugh, (it's) the hardest part!" recalls Saad, now the host of "United Tastes of America" on the Cooking Channel. "You're already exhausted from all your work, your ego's fragile, your body's fragile, you're missing your family, you want this more than anything you've ever wanted in the world, and you're being told you look like a fool and your food tasted bad! But you take a couple hits, and you learn from them."
Schlow says customer criticism comes with the territory. "As chefs, we live with criticism every single day of our lives, and I actually think it's OK -- you know where you stand," he says. "For me, the word 'critical' means you've formed an opinion and you're voicing your opinion."
Starbuck agrees that criticism -- whether you're a chef or a job candidate -- is something that you ought to appreciate. "It's not intimidating to me, it's inspiring," she says. "If I lose, I like to know what I did wrong and learn how I can be better and more successful."
Don't Let 'No' Be the End of Your Show
In reality TV as in real life, some win and some lose. Even if you don't land a job after your interview, dust yourself off, add the experience to your tool chest, congratulate yourself on your attempt, and start looking for your next opportunity.
Schlow may not have won "Top Chef Masters," but he recently opened his fifth Boston-area restaurant, Happy's.
Sweeney's attempt to become "Top Chef" fell short but enabled him to open his first restaurant, R-Gang Eatery.
Runner-up Saad may not have become the next "Food Network Star," but his performance landed him his own show. He also recently published "Jeffrey Saad's Global Kitchen: Recipes Without Borders."
"I was devastated when I lost," Saad says. "I sulked and had my pity party for two days and then just said, 'That's it. The target hasn't changed, just the method that I'm going to use to get there, that's all. I've got to take a different route.'"
And if you don't score with your job interview? "You have to hear 'no,' you have to accept 'no' -- that's when you start to really fire up the engines," Saad says. "'No' can't be the end of the party."