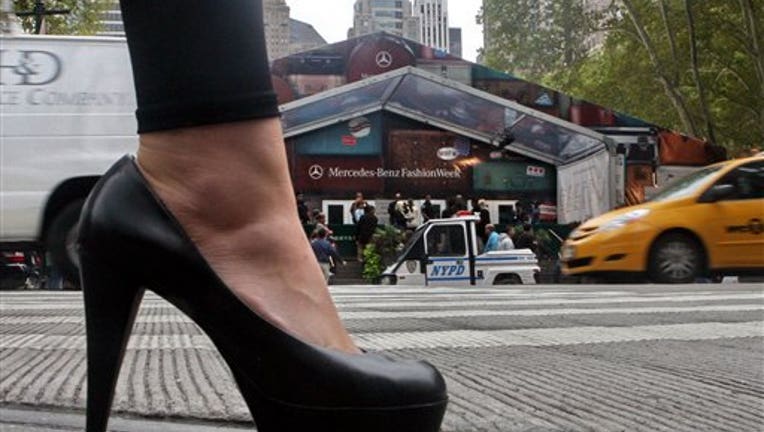 After a career as a chemical engineer, Anyi Lu decided to start a business that would change women's lives — with shoes.
When Anyi Lu looks back at her years in male-dominated industries, first as a chemical engineer for DuPont and then as a field sales agent and marketing manager for Chevron, she says, "I feel like I was always chasing my male colleagues.
"That's because my feet were killing me."
Like most women managers, Lu sacrificed comfort for fashion, donning executive-style pumps that women can't wait to kick off after a workday.
"I was always a step behind the men," says Lu. "I'm sure that made them dismiss me. If I didn't keep up with them physically, it meant I couldn't keep up with them mentally."
So Lu decided to fuse her engineering smarts with her longtime interest in drawing and painting. She launched a line of designer footwear that women can actually walk in.
The rise of 'Couture Comfort'
Anyi Lu International creates stylish women's shoes that blend handmade Italian leather craftsmanship with space-age cushioning, support and flexibility — or, as the company brands it, "Couture Comfort."
Working out of their home in Tiburon, California, Lu and her business-partner husband, David Spatz, debuted 12 shoe styles in 2005, pulling in $450,000 in revenue. By 2010, with shoes retailing for $350 to $500, sales hit $6 million. The 75 Anyi Lu styles are found in 52 Nordstrom stores, some Bloomingdale's departments and more than 60 independent retailers nationwide.
"I do a lot of personal appearances because I like to talk to real customers and hear how they wear the shoes," says Lu. "My fuel is to make a difference in people's lives."
Refashioning the American dream
Designing shoes was hardly the career Anyi Lu anticipated.
Her family, including grandparents and a younger sister and brother, emigrated from Taiwan when she was 15. They settled in Wilmington, Delaware. When it was time for college, her parents told her to select one of the three "best" careers to study: law, science or medicine.
"Since I was deathly afraid of blood, I chose engineering," says Lu.
After graduating from the University of Delaware with a chemical engineering degree at age 20, she worked for DuPont as a field engineer in Plaquemine, Louisiana, outside Baton Rouge.
Then her beloved grandfather, who had taught her Chinese calligraphy, became gravely ill. Lu looked for a job closer to home. At 23, she became a sales agent for Chevron in the mid-Atlantic region.
Two years later, Chevron relocated her to the Bay Area as a marketing manager. There, Lu met Spatz, then a Chevron executive. When dating turned serious, it was clear one of them had to change jobs. "So I asked him to leave," she says. In 2000, Spatz, some years older than Lu, took early retirement to focus on his sideline real estate business.
Taking a break
She stayed at Chevron for another year, but change was inevitable. "I love to draw, paint, create. I was working 60-hour weeks, commuting for hours every day, and David was saying, 'Look at your male peers and how they love autos and engineering. Do you?'" He encouraged her to find something she loved.
The marriage's financial and emotional security gave Lu the freedom to reboot. She quit and enrolled in design school, unsure of what would come next.
Destiny arrives on very small feet
The idea of designing high-fashion shoes engineered for comfort — for example, with instep cushioning made of Poron, the foam NASA uses for astronaut seats — came to Lu because of two events.
First, she has tiny feet and could never find stylish shoes in size 3. "You can only wear kids' Mary Janes for so long," says Lu. "I used to buy size 5s that didn't fit."
Eventually, she found Arthur Beren Shoes, a San Francisco boutique that carries the Taryn Rose brand, which produces small sizes. A chance meeting between Lu and the designer at a shop promotion led to a job at Rose's Los Angeles atelier.
"I wanted to know if I could do it," says Lu, explaining her year of learning the business with Rose. "I didn't want to waste my husband's money or forever be the debtor in our marriage."
Next, Lu's sister needed shoes for her upcoming wedding. While she had the perfect pair for the ceremony, those wouldn't do for the reception — killer to dance in. So Lu, who was also a competitive ballroom dancer, bought her sister a pair of professional dance shoes.
That's when the light bulb went on. Lu felt women shouldn't have to choose between style and comfort. "I saw a niche in the marketplace," she says.
After another year of research, design and business trips to Tuscany to find the right factory, Lu was ready to launch. She lucked into a meeting with a Nordstrom buyer at her very first trade show appearance in Las Vegas and has been going full steam ever since.
"I love what I do," says Lu, laughing about the fact that she doesn't have an exit strategy. "I'm not really in it for the fame — I do it for the passion."
Entrepreneur's Voice of Experience
Best advice: "Do what you love. If you spend 60 hours a week at something you hate, it's a waste of a life."
Biggest learning curve: "We never anticipated that the exchange rate would play such a big role because all of our shoes are made in Italy. The euro is a roller coaster. When you set prices for buyers at a trade show, you never know how much it will cost you three or four months later. It could be as much as 20 percent to 30 percent more. Now, we buy euro forwarding contracts, which lock in approximate prices, so we know what we can afford."