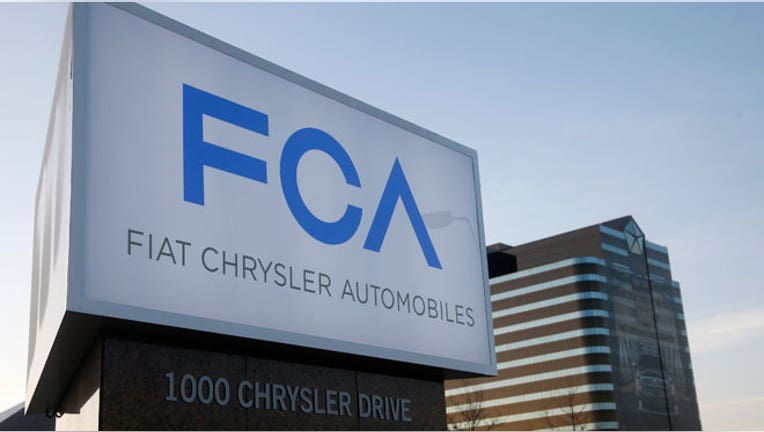 In a move years in the making, Fiat Chrysler Automobiles (NYSE:FCAU) made its U.S. trading debut, opening at $9 Monday after the Italian car maker completed its merger with Detroit's No. 3 manufacturer. The stock rose more than 50 cents during the day, but finished the day down eight cents below the opening price.
Chief Executive Sergio Marchionne envisioned turning Fiat into a global automaker when he oversaw the company's initial investment in Chrysler. The combined company is now the world's seventh-largest manufacturer of cars and trucks and the owner of a brand portfolio that includes Jeep, Dodge, Ram, Alfa Romeo, Maserati and Ferrari.
Fiat, which purchased a minority stake as Chrysler emerged from bankruptcy in 2009, gradually increased its ownership to 58.5%. Earlier this year, Fiat acquired the remaining stake in a deal that valued Chrysler at approximately $10 billion.
The merger was officially completed Sunday. FCA was established as a Netherlands-based holding group with global headquarters in London and a primary listing in the U.S. The automaker will also maintain a listing in Milan.
FCA's debut on the New York Stock Exchange was put into motion by transferring shares out of Milan. Those shares began trading at $9 a share, rising 4.9% in early trade. The stock, however, fell slightly in after-hours trade.
Chrysler last traded as a public company in 2007, when it was under the ownership of German auto giant Daimler. That year, Cerberus Capital Management led a takeover that took Chrysler private.
The company has come a long way since then. But FCA has plenty of work ahead in order to realize Marchionne's vision of global prowess.
Five-Year Plan
Although Chrysler's profit jumped 22% in the latest fiscal quarter, FCA reported a 55% decline in overall earnings amid ongoing troubles in Europe and Latin America. A lagging car market in Europe has strained FCA's balance sheet, contrasting with strong demand in the U.S. and Asia.
Rival Ford Motor Co. (NYSE:F) recently slashed its financial guidance, saying it will take longer than expected to turn a profit in Europe. General Motors (NYSE:GM), the top U.S. automaker by sales, affirmed its mid-decade outlook that calls for a European profit in 2016.
FCA is banking on Jeep to help bolster demand in Europe and lead a global expansion.
"Fiat Chrysler is leveraging [Jeep] to produce the exact kind of vehicles the world wants," said Kelley Blue Book senior analyst Karl Brauer. "Basically, Marchionne was right. He's seeing the fruits of his foresight."
Through September, Jeep's U.S. sales were up 45% year-over-year, thanks in large part to the launch of the Cherokee sport-utility vehicle. Ram has been a big seller as well, delivering 25% more trucks and vans over the same period.
Jeep, Alfa Romeo, Maserati and other brands will get an infusion of cash under a five-year plan announced in May. FCA anticipates spending a total of more than $60 billion to accelerate growth across its entire portfolio.
Jeep is projected to double sales to 1.9 million vehicles over the next five years. FCA believes Alfa Romeo, which recently marked its return to America with the two-seater 4C, can achieve annual global sales of 400,000 by 2018.
Alfa Romeo and Maserati are already reaping the benefits of the merger. Both have rapidly expanded their dealer networks in the U.S. to support sales growth.
By joining forces with Chrysler, Fiat brands instantly had greater reach to markets like the U.S., Brauer explained. "Having a large dealer network makes life much easier. It's important to have when you want to become successful in new markets."
While the sales targets are considered ambitious, Brauer cited FCA's recent unveilings as a reason to think those objectives can be met.
"Their globalization efforts are working the way they should. It's a great contrast with the Daimler-Chrysler merger. There was concern about too much Mercedes stuff becoming available on Chrysler vehicles," Brauer said.
In the U.S., FCA's plans to revamp Chrysler into a mainstream brand and focus Dodge on performance cars have begun to take shape. The Chrysler 200 mid-size sedan won praise as a legitimate competitor in the segment. Dodge's 707-horsepower Hellcat engine, which powers new versions of the Charger and Challenger, grabbed the industry's attention this year.
Changes also may be coming to FCA's iconic sports-car brand, Ferrari. Marchionne recently dismissed longtime Ferrari Chairman Luca Cordero di Montezemolo, reportedly over Ferrari's disappointing results in Formula 1 racing, and stepped into the role effective Monday.
The FCA chief has hinted that Ferrari may lift production to 10,000 vehicles per year. Montezemolo was often adamant about keeping annual production at 7,000 vehicles, but Marchionne thinks Ferrari can capture growing demand and still maintain its exclusiveness.
Arrivederci, Marchionne?
Marchionne, who is widely credited for putting FCA on solid footing, likely won't stay as CEO beyond the next phase of the automaker's transformation.
In a recent interview with Bloomberg Businessweek, Marchionne, 62, indicated he will leave his post at the end of 2018 when FCA's current five-year strategy concludes.
The revelation sparked questions over the future of FCA's leadership. It has no clear CEO succession plan like the one at Ford, which replaced Alan Mulally with former Chief Operating Officer Mark Fields earlier this year.
"The succession plan will be interesting. A lot can happen in that amount of time," Brauer said. "It's important in keeping stockholders happy. There's some concern that when he leaves, a lot of foresight leaves with him."
Analysts will be particularly interested in whether FCA maintains its current leadership formula: family representation in the chairman's role and an outsider running the company as CEO. Elkann is the grandson of third-generation Fiat heir Gianni Agnelli. Marchionne was plucked from SGS, a Swiss company that provides various inspection services. He continues to serve as SGS's chairman.
The Agnelli family—through investment company Exor—increased its voting power in FCA to almost 50% following the completion of the merger.