Turkish NBA star Kanter wants U.S. citizenship amid clash with Turkey's Erdogan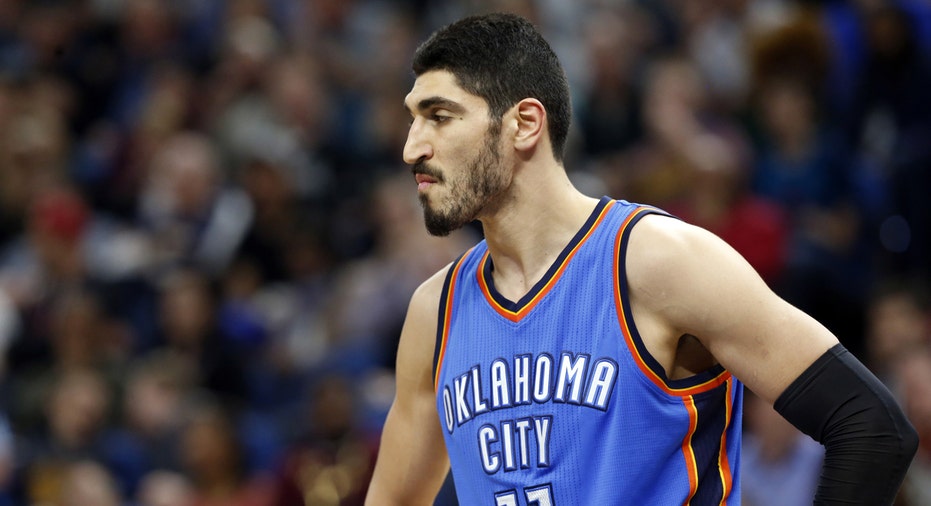 Turkish NBA star Enes Kanter of the Oklahoma City Thunder said Monday that he wants to remain in the United States and become an American citizen, hours after his passport was canceled amid escalating criticism of his home country Turkey's president, Recep Tayyip Erdogan.
Kanter returned to the United States this week after he was briefly detained at a Romanian airport, when authorities learned that Turkey had revoked his passport. The 25-year-old center has become persona non grata in Turkey due to his support of exiled cleric Fethullah Gulen, one of Erdogan's political opponents.
"I'm not even from America, and I see all these people and I get all this support. I feel like this is my home now," Kanter said during a press conference in New York City, according to Reuters.
Kanter lives and works in the U.S. with a green card. He thanked State Department and NBA officials for facilitating his return, USA Today reported.
NBA officials did not immediately respond to FOX Business' request for comment on the league's role in the situation.
The situation unfolded just days after Erdogan traveled to Washington to visit with President Trump. Erdogan's government has drawn international criticism in recent months after a crackdown on political opponents and journalists, despite Turkey's role as a key NATO ally in the Middle East. His regime implicated Gulen in a failed coup attempt that took place last summer.
Kanter, who said he has received multiple death threats over his public criticism of Erdogan, called the Turkish leader "the Hitler of our century."
"Erdogan, he's a terrible man. …I hope the world is going to do something about it," he said.