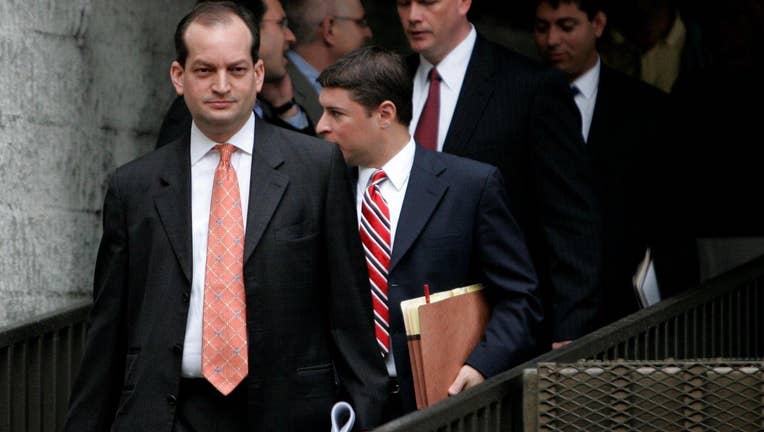 If confirmed, President Donald Trump's new pick for labor secretary Alexander Acosta will be the first Hispanic in Trump's cabinet.
Shortly after the announcement on Thursday, Acosta's hometown Miami Herald newspaper praised Trump's choice in an editorial – pointing to his local, hard-working roots.
"Here's the big news for us: Having a labor secretary who knows Miami-Dade can only benefit us. There is no two ways about it. The Cabinet member charged with creating and returning jobs to America — the hallmark of Trump's presidency — grew up in Miami, worked in Miami and was a boss in Miami," the paper's editorial board wrote.
Trump announced his new pick a day after his first choice, Andrew Puzder, withdrew his name from consideration. Unlike Puzder, U.S. Chamber of Commerce CEO and President Tom Donohue says Acosta should have no problems winning confirmation.
"I believe this is an easy confirmation. The attorney has been confirmed three times by the Senate of the United States. He has the distinguished career not only in the Labor Department, but in the Justice Department. He now runs a law school. He's just the right type of choice," Donohue told FOX Business on Friday.
Acosta, a 1994 graduate of Harvard Law School, has a formidable resume. Currently the dean of Florida International University Law School, he has held several positions in the federal government. He served on the National Labor Relations Board (NLRB) from 2002 to 2003. He also served as an assistant U.S. attorney general in the Civil Rights Division of the Department of Justice under President George W. Bush, and he is a former U.S. attorney for the Southern District of Florida.
During his tenure, the South Florida office was known for prosecuting major drug trafficking, terrorism and fraud cases, including obtaining a conviction of super-GOP lobbyist Jack Abramoff in the notorious Sun Cruz casino case, according to the Miami Herald.
The son of Cuban immigrants, Acosta spoke out on the topic during a C-SPAN panel discussion in 2012.
"Today, we have people journeying here on a little wooden [boat] or rafts made of tires tied together, and they're coming here for the exact same reason, because they are looking for a home that will be free. That is an experience that so many of us who grew up here in Miami have," he said at the time.
He added "the cost of illegal immigration is not simply exclusion" and we need to figure out what to do with the illegals who are already living in our nation.
"We need them here. They provide construction jobs. They provide agricultural jobs. We need to figure out a way to address that. We need to figure out a way to then have the pathway to further future immigration. If we do not take it all at once, we're not [going to] solve it," he said.
Former presidential candidate and Cuban-American Sen. Marco Rubio also cheered Trump's new pick, calling Acosta a "phenomenal choice," and adding that "he is confident he will impress my colleagues and secure the support necessary to be the next secretary of labor," Rubio said in a statement to the Miami-Herald.
In 2011, Acosta testified at a Senate hearing on protecting the civil rights of Muslims, telling committee members that "we are a nation [built] on principles of freedom, and high on the list of freedoms is freedom of religious expression. Indeed, as is well known to this Committee, this freedom pre-dates our Constitution."
He also at the time commended President Bush for reaching out to the Muslim American community, in an effort to bring the country together after the 9/11 terrorist attack.
"Our nation is strong because we respond to [attacks] with resolve," he said at the time. "History has shown the need, however, for leadership that tempers resolve with wisdom. President George W. Bush understood this, when on September 17, 2001, he visited the Islamic Center of Washington D.C. to remind a resolute nation that 'those who feel like they can intimidate our fellow citizens to take out their anger…should be ashamed of that kind of behavior.' This was not the message many Americans wanted to hear at that time, but the president chose to lead, rather than to be led."