Trump Wants Secret Service Protection But Does He Qualify?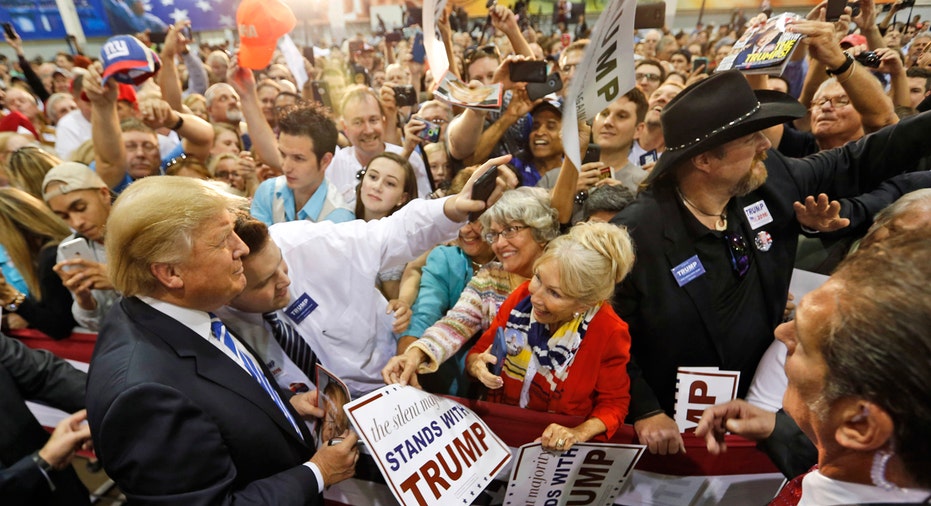 President Barack Obama will go down in history for many reasons including having the earliest initiation of Secret Service protection for a presidential candidate. According to the Secret Service, the former Illinois senator received Secret Service detail starting in May 2007, 551 days prior to Election Day on November 4.
Now Republican presidential front-runner Donald Trump is saying he should also have Secret Service protection on his campaign trail. In an interview with The Hill this week Trump said, "I want to put them [Secret Service] on notice because they should have a liability -- Personally, I think if Obama were doing as well as me he would've had Secret Service [earlier]. I have by far the biggest crowds."
Democratic presidential candidate and former Secretary of State, Hillary Clinton already received protection before she ever entered the race due to her status as former First Lady.
Other notable presidential candidates with early protection include:
Ted Kennedy in 1979, 411 days before election day
Jesse Jackson in 1987, 351 days before election day
John Kerry in 2004, 256 days before election day
Mitt Romney in 2012, 278 days before election day 
According to The Hill interview, Trump said the talks his campaign has had with the Secret Service were "preliminary" and that the Secret Service has not confirmed if he would receive protection.
Trump went on to say, "Of course I don't think they'd want anything to happen. But I would think they should be very proactive and want protection for somebody like me that has 20,000 people at any time - You would think that they would want to be very proactive, but we have not heard from them."
In response to Donald Trump's statements a Department of Homeland Security spokesperson said, "At this time, the Department of Homeland Security has not received an official request for protection. If a request is received, this authorization is determined by the Secretary of Homeland Security after consultation with a congressional advisory committee which includes the Speaker of the House, House Minority Leader, Senate Majority Leader, Senate Minority Leader, and one additional member selected by the aforementioned committee."
According to federal guidelines, candidates must meet several criteria, including; public announcement of candidacy, be active in at least 10 state primaries, have campaign contributions of at least $10 million, have qualified for matching funds in the amount of at least $100,000, be seeking the nomination of a qualified party and registering well in the public polls. According to the Secret Service, criteria have been established to assist the DHS Secretary and the advisory committee in their decision making as of 2008. The Secret Service is also authorized by law to protect major party presidential candidates beginning 120 days before the general election.
For months, Trump has been holding strong at number one in the polls. According to a Fox News poll released Tuesday, the billionaire businessman remains in the top spot with 24%, closely followed by Carson with 23% and Ted Cruz in third with 10%.
The cost of Secret Service protection for presidential candidates does come with a hefty price tag.
Donald Trump's outcry for Secret Service protection could be connected with a recent threat from Mexican drug lord Joaquín "El Chapo" Guzmán. Back in July after Trump's controversial comments about Mexicans being "rapists" and "criminals," a tweet from a Twitter account allegedly belonging to El Chapo's son threatened Trump according to the Gossip Cop website. A Trump staffer told Gossip Cop, "This is no joke" and confirmed that Trump's campaign did contact the FBI. In addition to the tweeted threat, there are also rumors that Guzmán has put out a $100 million bounty for the death or capture of the real estate mogul. "El Chapo" escaped from prison in July.
Donald Trump's campaign did not immediately respond to requests for a statement.