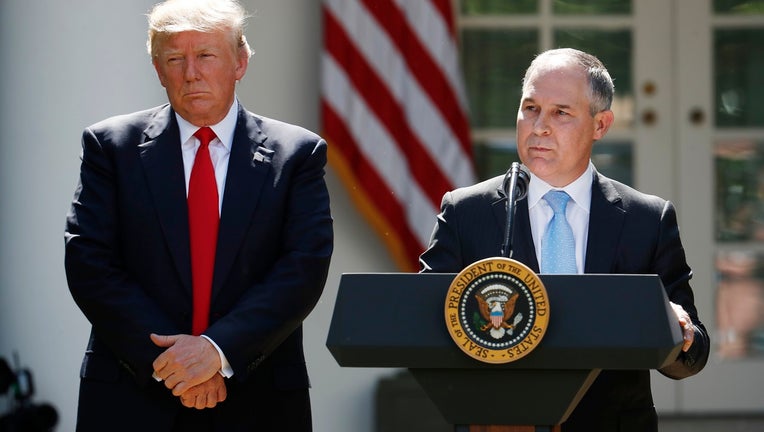 President Trump announced Thursday that the U.S. will officially withdraw from the Paris climate accord—a multi-nation agreement to cut gas emissions and fight climate change—because it was "very unfair" to American workers and it was costing jobs.
"We're getting out. And we will start to renegotiate and we'll see if there's a better deal. If we can, great. If we can't, that's fine," Trump said.
Here's a look at the Paris accord agreement and how soon the U.S. could exit it.
How soon can the U.S. actually exit the Paris Agreement?
Trump announced that his decision was effective "immediately" but under the agreement countries can't withdraw until three years after the Paris Agreement went into effect, which was entered into force on November 4, 2016. That means that the U.S. will have to stay in the agreement until November 2019. After that, the rules state a mandate of a one-year notice, which now sets a withdrawal to late 2020—just in time for the next presidential election (November 3, 2020).
Could Trump get out quicker?
Trump's team could choose to exit the United Nations Framework Convention on Climate Change (UNFCCC), which is a nearly universal membership that provides underlying framework for international cooperation to combat climate change. In the accord, any country that leaves the UNFCCC "shall be considered as also having withdrawn from this Agreement," according to Article 28 of the agreement. The UNFCCC only requires a one year notice to leave.
How will it save the U.S. money?
As part of the Paris agreement, richer countries, like the U.S., were asked to send $100 billion a year in aid to poor countries by 2020. The Obama administration has already given $1 billion towards the $3 billion that he pledged to give.
Who else isn't in it?
The U.S. will now join Nicaragua and Syria as the three holdouts of the now 194-nation pact to reduce gas emissions. European Union leaders and China vowed to push forward with the agreement despite Trump's decision to withdraw.