Trucks, Sports Cars to Dominate Detroit Auto Show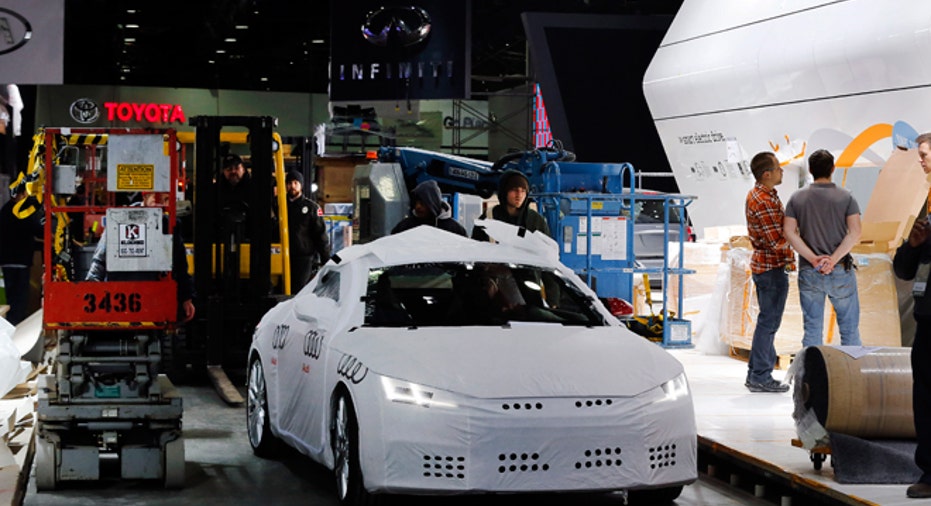 New pickup trucks and sports cars will dominate the Detroit Auto Show next week.
The auto industry enters the 2015 North American International Auto Show coming off its best sales year since 2006. While fresh versions of some mainstream vehicles are expected to debut, automakers are putting greater attention on pricier high-performance cars.
Ford Motor Co. (NYSE:F) headlined the 2014 show with its redesigned 2015 F-150, an aluminum-bodied truck that went on sale in December. Now the Blue Oval is reportedly gearing up to introduce a cavalcade of performance cars.
The most intriguing rumor surrounding Ford focuses on the GT, a mid-engine sports car that last appeared in dealers for the 2005 and 2006 model years. Ford is widely expected to relaunch the GT or a similar model, starting with an appearance in Detroit.
"Ford is trying to reassert their image as a global force for performance," said Matt DeLorenzo, managing editor of Kelley Blue Book's KBB.com. "They realize that they need a halo car in the order of the [Chevrolet] Corvette."
DeLorenzo also noted that Ford has visions of returning to the famous 24 Hours of Le Mans race in France. Ford's original GT40 won the race every year from 1966 to 1969.
Watch the FOX Business Network for live coverage from the Detroit Auto Show on Monday, Jan. 12.
Ford's renewed efforts on performance vehicles began with last year's launch of the 2015 Mustang. In November, Ford unveiled a track-ready version of the Mustang, the 2016 Shelby GT350.
The Shelby GT350 may climb one step higher at the Detroit Auto Show. Reports say a GT350R is slated for its debut, as Ford looks to go head-to-head with the Chevrolet Camaro Z/28 from General Motors (NYSE:GM).
The luxury segment is also doubling down on high-powered models.
The 2016 Cadillac CTS-V will make an appearance in Detroit following GM's announcement last month. The latest iteration of Cadillac's performance sedan is expected to launch late this summer. It will ship with a 6.2-liter supercharged V8 rate at 640 horsepower.
GM is looking to revitalize its flagship premium brand after Cadillac closed 2014 as the company's lone nameplate to post an annual decline in sales volume.
GM could also debut a Buick convertible based on the Opel Cascada, which is sold in Europe.
Another performance vehicle expected in Detroit is the Alpha Romeo 4C Spider, a convertible version of the two-seater sports car that arrived in the U.S. last year.
Lexus recently released photos of the redesigned GS F, a sporty version of the Toyota (NYSE:TM) division's luxury sedan. Meanwhile, Mercedes teased its AMG GLE63 coupe prior to the sport model's Detroit reveal.
"It's about differentiating your luxury car from everybody else's. People are looking for special badges like AMG or V versions," DeLorenzo said, referring to the sporty models from Mercedes and Cadillac. "Fuel prices are low, so performance is going to be hot."
Elsewhere in luxury automobiles, DeLorenzo said a revised Lincoln MKX crossover could give Ford's premium brand a "shot in the arm" if it's as good as the smaller MKC.
BMW has new 6-series cars, including the high-performance M6, on their way to Detroit. Fellow German luxury brand Audi, a division of Volkswagen, will debut the 2016 Q7 sport-utility vehicle.
Automakers continue to roll out revamped pickup trucks as well. Toyota and Nissan will pull the sheets off new trucks next week, and Fiat Chrysler Automobiles' (NYSE:FCAU) Ram may get into the act.
Truck fans will get a look at a long-anticipated redesign to the mid-size Toyota Tacoma. Toyota is facing tougher competition in the segment thanks to the launch of GM's Chevrolet Colorado and GMC Sierra. A new full-size Nissan Titan will also take the stage in Detroit.
The Tacoma and Titan "show the Japanese brands aren't going to be sitting down as Ford redoes the F-150 and GM reinvigorates the mid-size lineup," DeLorenzo said.
Some reports have suggested that Ram could have a refreshed 1500 light-duty truck, or a high-performance version, on display. A new Ford Raptor may be under the spotlights next week, too.
GM is almost certain to unveil the next-generation Chevrolet Volt hybrid. The company said the Volt, which will be in showrooms later this year, will offer better electric range.
"In the past, fuel economy has been a trend at Detroit. It's interesting that GM is coming back with an all-new Volt at a time when gas prices are dropping," DeLorenzo noted.
Hyundai will show its own electric vehicle, a plug-in Sonata sedan.
What's missing from the Detroit Auto Show? DeLorenzo is awaiting the new Chrysler Town & Country, saying it could offer some clues about the future of minivans. Fiat Chrysler Chief Executive Sergio Marchionne has said a plug-in hybrid version of the Town & Country will launch in 2015.
There's also no Cadillac CT6 yet. Cadillac is believed to be waiting for the New York Auto Show before unveiling the CT6, a new flagship sedan that was announced by GM last year.