Trucks, Luxury Brands Lift October Auto Sales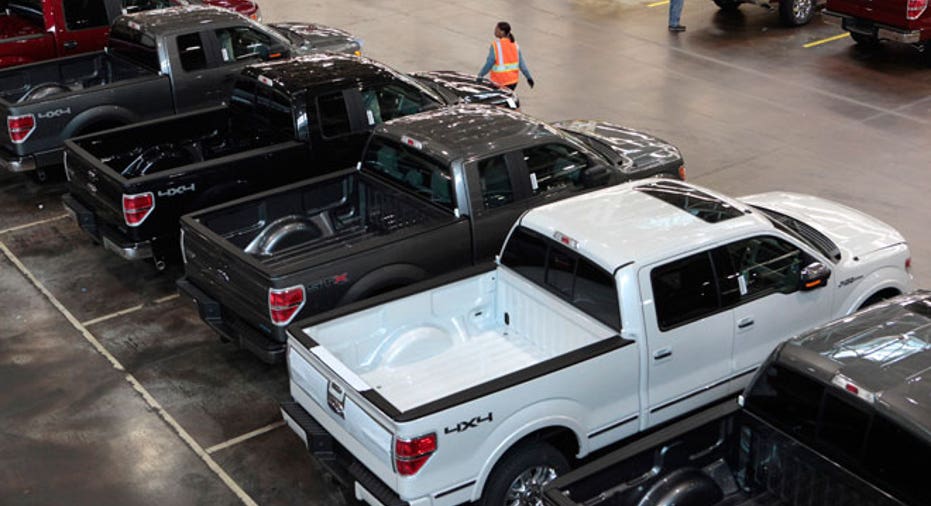 U.S. auto sales took a big turn to the positive side in October, as car makers posted double-digit gains amid strong demand for pickup trucks and luxury vehicles.
Auto sales have continued to race ahead, lifted by pent-up consumer demand, low interest rates and a rebound among home builders and energy firms.
Manufacturers have also ramped up launches for new and refreshed models. Chrysler Group began selling the much-anticipated Jeep Cherokee last month, while General Motors (NYSE:GM) is heavily promoting its redesigned Chevrolet Silverado and GMC Sierra pickup trucks.
"There's a pretty serious amount of pent-up demand for pickup trucks," Kelley Blue Book senior analyst Karl Brauer said. "Trucks represent a lot of registrations on the road. I don't see sales falling off anytime soon."
Car information providers Kelley Blue Book and Edmunds.com each projected new-vehicle sales across the industry would increase roughly 12% year-over-year, despite concerns the partial government shutdown would dampen consumer spending.
And in a positive sign for automakers' earnings, Kelley Blue Book said the average transaction price for light vehicles was $32,184 in October, up 1.2% from September. Prices edged 0.2% lower compared to October 2012.
Chrysler's U.S. auto sales jumped 11% in October amid the arrival of its Jeep Cherokee and booming Ram truck sales.
Chrysler met an estimate from Edmunds, while Kelley Blue Book was looking for 12.5% sales growth.
The Auburn Hills, Mich., automaker sold 140,083 vehicles sold last month, compared to 126,185 during the year-ago month. Sales declined 2.1% from September's total of 143,017.
Chrysler and Ford (NYSE:F) bucked a downward trend for the industry in September by recording positive sales, as most car makers suffered declines since Labor Day sales were reported with August results.
October had 27 selling days, one more than in 2012 and four more than in September.
Truck sales continued to lift Chrysler, climbing 15% over last year. That outpaced a modest increase for cars, which were up 0.8%.
Brauer said consumers are being drawn to modern pickup trucks that are substantially better than older versions. There's a good argument for upgrading based on financial reasons, he added, since owners of new, more fuel-efficient trucks will save money on gas.
The Ram brand led the way with a 22% surge, while Dodge sales were up 12%. The namesake line logged sales growth of 6%. Jeep sales increased 7%.
Chrysler said it finished the month with an 86-day supply of inventory.
On Wednesday, Chrysler reported earnings that were up 22% in the third quarter. The company had been under pressure from a delay in the launch of its revived Jeep Cherokee, as it pushed back delivery dates to resolve a transmission problem.
The 2014 sport-utility vehicle recently began shipping out to dealers, and CEO Sergio Marchionne said they should have adequate inventory of the Cherokee by mid-November.
Jeep sold 579 Cherokees in a partial month of sales for the SUV.
"After a choppy start to the beginning of the month, Chrysler Group sales accelerated in the second half of the month with renewed consumer confidence and the launch of our all-new Jeep Cherokee," said Reid Bigland, Chrysler's head of U.S. sales.
GM said its October sales were up 15.7% on gains across all brands, led by Buick.
The Detroit company sold 226,402 vehicles last month, up from 195,764 in October 2012. GM's sales climbed 21% month-to-month after a sluggish September that saw 187,195 cars sold.
GM, the largest U.S. automaker, handily beat Kelley Blue Book's expectations for an 8.3% gain. Edmunds was looking for 10% growth.
Buick, a luxury brand that is positioned below Cadillac, was the top performer for GM with 31% sales growth over October 2012. Chevrolet sales rose 15%, GMC grew 16% and Cadillac was up 9.5%.
"Chevrolet, Cadillac and Buick-GMC all performed well in the month, and the sales tempo really picked up after the government shutdown ended," said Kurt McNeil, vice president of GM's U.S. sales operations.
Truck sales were also a boon for GM. Deliveries of the Chevrolet Silverado and GMC Sierra light duty pickups rose 10% and 13%, respectively. Combined sales were up 62% over September.
GM said the premium Chevrolet Silverado High Country and GMC Sierra Denali will hit showrooms this month, followed by redesigned heavy-duty pickups. New SUVS will arrive in the first quarter, and later in the year, GM expects to return to the market for mid-size pickup trucks with the Chevrolet Colorado and GMC Canyon.
October retail sales were up 16%, while fleet sales rose 14%.
Earlier this week, GM reported a 6% decline in its third-quarter profit on one-time costs. Revenue rose 3.7% on stronger operating earnings in North America and a narrower loss in Europe.
Shares of GM rallied 1.76% to $37.60 late Friday morning. The stock was already up 28.1% on the year through Thursday's close.
Ford sales grew 14% on a sharp increase in car sales and another big month for F-series trucks.
The Dearborn, Mich.-based manufacturer sold 191,985 vehicles, above last year's 168,456 units and up 3.7% from September. Excluding heavy-duty trucks, light-vehicle sales were also up 14% at 191,267 vehicles.
The results fell short of expectations from Edmunds, which called for a 15.5% gain, while Ford scored a slight beat of Kelley Blue Book's estimate of 13.7%.
Car sales were up 19%, while trucks grew 14% during the month. Utilities sales climbed 9.3%.
Ford's namesake brand logged sales growth of 13%, while Lincoln sales revved 38% higher.
Brauer said an increase in leasing activity is of particular benefit to luxury brands, which still remain a small portion of total sales for the Big Three.
"It's good that they're growing," he said, "but it emphasizes that volume brands are really important. When they're successful, the companies are successful."
The Fusion and Fiesta each set record October sales, posting gains of 71% and 9%, respectively. The all-new Lincoln MKZ premium sedan was up 80%. F-series trucks topped sales of 60,000 for the sixth-straight month.
Overall retail sales were up 15% to mark Ford's best October retail performance since 2004.
Last week, Ford reported third-quarter revenue growth of 12%, although earnings fell 22%. The Fusion and F-series lineup helped boost sales in North America. The company also halved its loss in Europe.
Ford shares were down nine cents at $17.02. Since the start of the year, the stock had rallied 32% as of Thursday.
Toyota (NYSE:TM) trailed U.S. automakers with sales growth of 8.8% from a year ago, according to a preliminary report.
Bill Fay, general manager and group vice president, said consumers "showed resiliency" during the month, despite "headwinds caused by the government shutdown."
Toyota shares ticked nine cents lower to $129.33.
Although Subaru sales rocketed 32% higher, import brands have largely been overshadowed by their U.S. peers. Toyota was well short of Kelley Blue Book's estimate for a 15.9% increase in October sales. Honda (NYSE:HMC) also lagged behind the Big Three with 7.1% growth, while Volkswagen fell 18%.
There was a time when domestic brands saw volatile sales that ebbed and flowed with gas prices. But "they're not dependent on low fuel costs and high-profit truck sales" anymore, Brauer said.
"I feel like we're seeing real numbers now," he explained, noting how a number of outside variables, such as the financial crisis and 2011 tsunami in Japan, impacted auto sales. "The market is much more competitive. The only real factor now is quality, and domestics are far more compelling now."