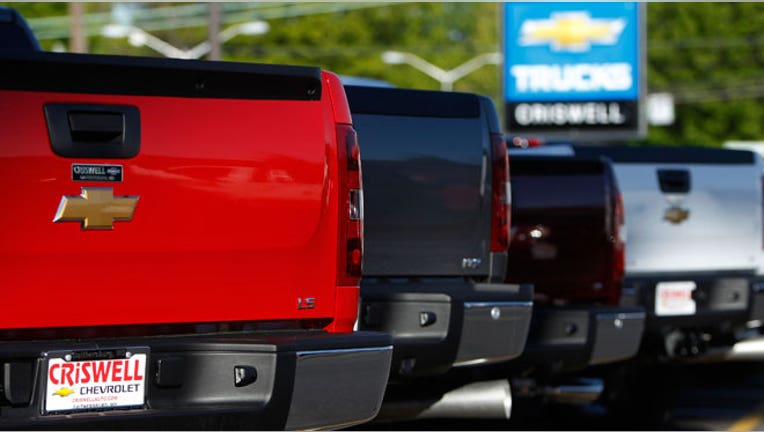 Pickup trucks drove auto sales in September, and the industry signaled that consumer demand remained upbeat after a torrid August.
Auto sales have been a bright spot for the U.S. economy this year. In August, the industry booked a seasonally adjusted annual rate of more than 17 million units for the first time in eight years.
Industry-wide sales in September reversed 21% versus the prior month but jumped 9.4% compared to September 2013, Autodata said. The SAAR hit 16.43 million units, well above last year's 15.42 million.
Kelley Blue Book and Edmunds.com expected another positive month in September, which had one extra selling day compared to the same month last year. The firms expected nearly every major automaker, with the exception of Ford Motor Co. (NYSE:F), to report significant sales gains.
According to TrueCar (NASDAQ:TRUE), incentive spending across the industry grew 13%. September was "truck month" for Chrysler Group and General Motors (NYSE:GM), both of which are looking to take advantage of Ford's transition to a new F-150.
Ford had to shut down its truck plants in preparation for the aluminum-bodied 2015 F-150. The Dearborn, Mich.-based company said its monthly sales "continue to be tempered by managed F-Series volumes," in addition to lower daily rental sales.
Ford said Wednesday it sold a total of 180,175 vehicles, down 2.7% compared to September 2013. Truck sales, typically an area of strength, were down 2.5%. The Ford brand posted a decline of 3.2%, while the company's luxury brand, Lincoln, logged sales growth of 12.5%.
Car sales fell 6.9%, although the Fusion mid-size sedan saw better results. Sales of Ford utilities ticked 1.5% higher. Stronger demand for the Ford Flex and Lincoln Navigator offset lower sales of Ford's Escape and Edge.
Ford is expected to get a boost from a redesigned Mustang, which recently began shipping to dealers. The pony car will also be sold internationally for the first time. Meanwhile, the 2015 F-150 is due out late this year.
But earlier this week, Ford lowered its outlook for the full year. The company expects pre-tax profits to check in at $6 billion, missing a previous forecast for $7 billion to $8 billion. Ford cited higher warranty costs and struggles in Europe.
Shares dropped 14 cents, or 0.9%, to $14.65 in recent trading.
Chrysler's Ram brand sold 36,612 pickup trucks, up 30% year-over-year. Truck sales accounted for 77% of Chrysler's total September sales, while rose 19% to 169,890 vehicles. Car sales were down 7%.
Kelley Blue Book and Edmunds were looking for sales growth of 17.5% and 15.4%, respectively.
Ram sales climbed 35% overall. The addition of the Jeep Cherokee sport-utility vehicle has also lifted Chrysler, and Jeep sales jumped 47% in the latest month. Chrysler's namesake brand rose 14% amid higher sales of the new 200 mid-size sedan. Dodge sales fell 9%, while Fiat logged 6% growth.
October will mark a milestone month for Chrysler. Sergio Marchionne, chief executive of Fiat Chrysler Automobiles, expects the merged automaker to make its debut on the New York Stock Exchange on Oct. 13.
GM reported a 19.4% increase in September sales to 223,437 vehicles, largely thanks to a big jump for pickup trucks.
The largest U.S. automaker by sales topped Ford, the traditional leader in pickup trucks, by delivering a combined 66,939 units of the Chevrolet Silverado and GMC Sierra. Ford sold 59,863 F-series trucks. According to GM, its share of the retail market for large pickups rose five percentage points to almost 40%.
GM also said nearly 80% of retail customers who purchased a large SUV last month bough a Chevrolet or GMC product. The company updated its lineup of large SUVs, including the Chevrolet Tahoe and Suburban, in time for the summer selling season.
The GMC brand led the way with a 27.7% increase in sales, and Chevrolet was up 20.4%. Buick sales improved 11.8% amid strong numbers for crossovers. Cadillac broke even for the month.
Total sales growth easily beat Kelley Blue Book's estimate of 15.9%, while Edmunds predicted a slightly better result of 22.2%.
"We will have improved availability of heavy-duty pickups and large SUVs in the months ahead, and the Chevrolet Colorado and GMC Canyon are arriving in showrooms as we speak. This sets us up to finish the year on a very strong note," Kurt McNeil, GM's U.S. vice president of sales operations, said in a statement.
Also on Wednesday, GM executives met with investors and analysts to outline its financial objectives. The company, which has been under scrutiny for a long delay in recalling vehicles with defective ignition switches, plans to meet a 10% operating margin by early next decade.
The forecast is more bullish than the one provided by Ford, which is eyeing margins of 8% to 9%. GM also expects to reach a 10% operating margin in North America by 2016 due to the introduction of new models, such as the Colorado and Canyon mid-size pickups and the Chevrolet Trax small crossover.
GM shares rallied 2.7% to $32.80 following the presentation. Through Tuesday's close, the stock had slumped 21.9% year-to-date.
Toyota's (NYSE:TM) September sales edged up 1.7% to 167,279 vehicles, falling short of Kelley Blue Book's estimate for a 7% gain.
Toyota, whose shares fell 98 cents to $116.55, said its namesake brand sold roughly the same number of vehicles as the previous September. Sales at the Lexus luxury division rose 11.9%.
Honda (NYSE:HMC) matched forecasts by delivering 118,223 units, an increase of 12% year-over-year. The Japanese automaker said the Fit and CR-V SUVs set new September records.
Honda's Acura brand saw sales jump almost 19% on a quick start for the TLX, a luxury performance sedan that hit showrooms about two months ago.
Nissan Group reported sales of 102,955 units, an 18.5% improvement over last year. Kelley Blue Book projected 17.4% sales growth. Strong demand for Nissan vehicles offset a 13.3% decline in Infiniti sales. Nissan said sales of the Rogue crossover were up 51.8%, while the Versa subcompact jumped 37.6%.
Volkswagen and Audi missed expectations amid ongoing weakness in Volkswagen-brand sales. Combined sales reached 40,913 units, a 9% drop, even as Audi sales increased 14%.
Hyundai Motor Group, which includes Kia, reported a 3.8% increase in sales to 96,638 vehicles, below estimates from Kelley Blue Book and Edmunds.
Kia deliveries rose 6.9%, wrapping up the brand's best-ever third quarter. Sales at Hyundai were up about 2%.