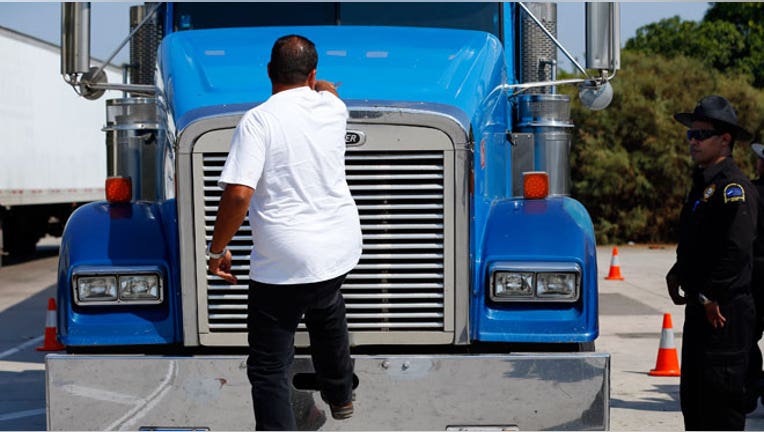 Vance Vergon has been driving 18 wheelers from coast to coast for 28 years. He's made a life on the road: he's carted fruit from California to New Jersey and has gone to Alaska during fish season. He's encountered all sorts of weather conditions and challenges on the road, but he now says his biggest battle is newly-imposed regulations.
"I've been doing this on my own for a long time now and for government officials to come in and try to tell us the best way to do our jobs, which is a very complicated and unforgiving occupation, is absurd," the 49-year-old driver says.
New rules went into effect in July that limit a trucker's work week to 70 hours from 82, require a 34-hour "restart" period extending over two nights after working 70 hours (which must include two 1 a.m. to 5 a.m. time periods) and mandate drivers take a 30-minute break during the first eight hours of a shift.
Proponents of the new regulations, which have and will continue to be debated in court and on Capitol Hill, say they help reduce driver fatigue and related accidents and fatalities. According to the Department of Transportation, fatalities involving large trucks dropped 25% from 2007 to 2011. And the Federal Motor Carrier Safety Administration expects the new rules to avert 1,400 crashes and 19 deaths a year.
But the trucking industry has a different take.
"That 34-hour restart requirement is the biggest bugaboo out there," says Lyndon Finney, editor of The Trucker. "Truckers are getting stuck on the road." He points to a recently released survey that shows a 2-4% loss of productivity since the regulations went into place.
"If they don't have the ability to go as far as they used to, that means they aren't making as much money. If you take a guy driving 700 miles a week and cut 5%, over time that becomes a huge money deal," he says.
Henry Jasny, vice president of Advocates for Highway and Auto Safety, says it's still too early to make any conclusions about the possible implications of the rules. "We don't have a lot of basic research to draw any sort of conclusions. What we hear from the industry is that the sky is falling, but we don't have any scientific or independent research to verify anything."
"That 34-hour restart requirement is the biggest bugaboo out there. Truckers are getting stuck on the road. If you take a guy driving 700 miles a week and cut 5%, over time that becomes a huge money deal."
In a subcommittee hearing on Capitol Hill last week, Anne Ferro, administrator of the Federal Motor Carrier Safety Administration, reportedly defended the hours-of-service rule. "It's absolutely data-based, research-based, fully vetted, with an unprecedented level of transparency throughout the development of this rule process," she said.
The necessity of the restart mandate is up for debate, but Vergon is more worried that it's costing him money.
Earlier this week he went from East Tennessee to Colorado Springs and then onto Denver, but the new law dragged out the process. "There was a good load for me in Denver to pick up Saturday but because of the new 34, I cannot pick it up and go with it Sunday night. My last 34 started on Saturday night which means I left Monday morning. My new 34 has to start and finish Saturday night to Monday morning. Now I must give up that load in Denver and wait until Monday morning to start looking for a load."
He explains that if he gets stuck "sitting" on a Friday because of a restart, he will lose the entire weekend since Sunday pickups are rare -- and that can cost him hundreds of dollars.
"It doesn't impact regional drivers, it's the long-distance drivers like me that gets hurt financially. We can lose thousands of dollars a month because of restarts," he says.
Some early anecdotal evidence is hinting that the regulations are pushing out long-haul drivers not wanting to deal with the hassle, and scaring off new drivers. "We will see an increase in drivers dropping out next year," predicts Finney. "The number of people employed in the long-haul segment has dropped about one to two thousand, and these rules won't help. We've seen a movement away from cross-country drivers to those that can be home every night."
Rebecca Reed, who is a regional truck driver and has been in the industry for 10 years, says the restart period doesn't impact her as much since she is home pretty much every night. She points to the required 30-minute breaks as more disruptive to her schedule,  and even to her paycheck.
"Some days I can take it no problem, but it's such an unpredictable industry. If I hit traffic or a supplier is late or slow loading up and I am forced to take that break, I could miss a deadline and that not only makes me feel bad -- I look bad."
She adds that there's more regulators can do than impose rest requirements to combat driver fatigue. "There are times where I will wait eight hours for a load that is late or not ready to go."
Experts have also said changing the pay by mile standard could also help reduce driver fatigue without imposing regulations, but that could be an uphill battle as well.
"You are never going to see that," says Finney. "You can squawk all you want to, but as long as the carriers are getting paid by the shippers by the mile, this payment style will stay. You can't disconnect from the methods of payments."