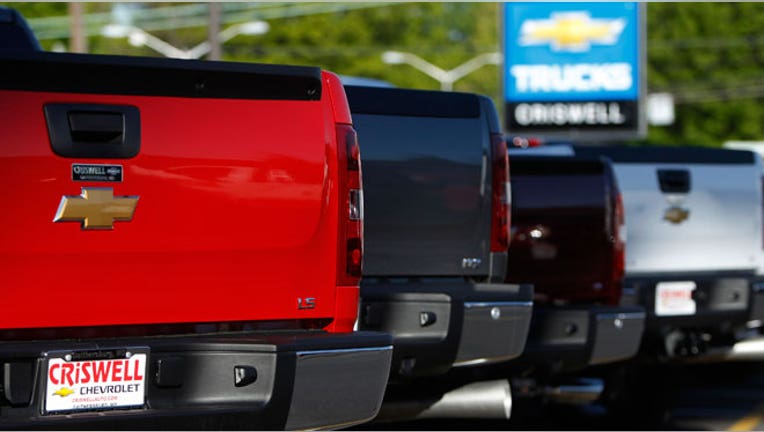 Another month of strong U.S. auto sales is in the books, as automakers on Thursday reported double-digit growth in July amid continued demand for pickup trucks.
Meanwhile, each of the Big Three automakers saw retail sales to individual buyers outpace overall sales growth, an indication that consumers are quickly returning to the auto market.
Car manufacturers have broadly seen surging demand for pickup trucks, thanks to a rebound in the home-building and energy industries.  Recovering home prices and pent-up demand from aging vehicles have also helped drive U.S. consumers to purchase new vehicles. Sales in July neared levels not seen since 2007.
Profits have also gotten a lift as the price tags for those vehicles have gone up. Pickup trucks in particular are more profitable for automakers.
Ford Motor Co.'s (NYSE:F) U.S. new-vehicle sales rose 11% in July, with the company reporting gains across most models including trucks.
The company sold 193,715 vehicles, up from 173,966 a year ago and down 18% from June's total of 235,643. July results just missed an estimate from car website Edmunds.com, which called for a 12% increase in July sales.
Total sales were at their highest level since 2006, and Ford said its retail sales were up 19%, the best since 2005.
July had 25 selling days, one more than last year.
"We saw continued strength and growth in our retail business, particularly in the coastal regions of the country," Ken Czubay, Ford's vice president of U.S. marketing, sales and service, said in a statement.
Car sales were up 4.4%, while SUV sales rose 9.3% and truck sales surged 20%.
Sales of Ford's F-series pickup trucks were up 23%. On Wednesday, Ford announced that it will introduce a version of its half-ton F-150 that runs on either gasoline or compressed natural gas.
The namesake Ford brand saw 12% sales growth, overshadowing a 0.8% decline in Lincoln sales.
Last week, the Dearborn, Mich., company reported a 19% increase in its second-quarter net income on higher earnings in North American. Ford also turned a profit in Asia and saw a narrower-than-expected loss in Europe, where the auto demand has lagged behind.
Shares of Ford were up 1.24% at $17.09 in late morning trading Thursday.
General Motors (NYSE:GM) continued to top its Big Three competitors in overall sales, reporting a 16% gain in July sales and higher deliveries to retail customers.
Edmunds was looking for a larger gain of 19%.
Like Ford, GM said retail sales outpaced overall sales growth last month. GM sold a total of 234,071 vehicles, compared to 264,843 in the previous month, a 12% decline, and 201,237 last July. Meanwhile, retail sales leapt 23%.
"For GM, July was the most well-balanced month of the year from a retail sales standpoint: trucks were hot, but so were small cars and family vehicles," said Kurt McNeil, vice president of GM's U.S. sales operations.
The month reflected across-the-board growth for GM, including gains for luxury brands Buick and Cadillac. Buick saw its sales climb 14%, while Cadillac, bolstered by ATS and XTS sedans, posted a 17% gain.
Sales of Chevrolet and GMC vehicles were up 17% and 14%, respectively. Full-size pickups, which include the Chevrolet Silverado and GMC Sierra, recorded 44% sales growth, the best July since 2007.
GM reported last week a second-quarter profit that beat Wall Street expectations, as U.S. sales of pickup trucks lifted North American results. And like Ford, GM said its European operations posted a narrower loss than expected. However, GM's overall profit fell 24%.
GM shares rose 2% to $36.59 Thursday morning.
Chrysler Group led off Thursday's slate of sales reports, saying its U.S. sales during the month of July jumped 11% amid demand for its Ram trucks and Dodge vehicles that offset weaker sales at the namesake brand.
Retail sales posted a higher gain of 17%, while Chrysler's results fell in-line with estimates from Edmunds.
Auburn Hills, Mich.-based Chrysler, the third-largest U.S. automaker, reported sales of 140,102 vehicles, up from 126,089 a year earlier but down from June's total of 156,686. It was Chrysler's 40th consecutive month of sales growth and best July performance since 2006.
Trucks sales rose 10%, led by 31% growth for the company's Ram division. Car sales were up 14%, as sales for the Dodge brand climbed 18%.
Jeep sales were up 1.7%, while the namesake Chrysler brand saw its sales drop 3.9%.
Chrysler has boosted its sales with new vehicles like the compact Dodge Dart, while the automaker is eyeing a second-half launch for the 2014 Jeep Grand Cherokee after delays in getting the sport-utility vehicle to showrooms.
"The second half is not doable without a proper launch of the Cherokee," Chrysler Chief Executive Sergio Marchionne said during a conference call Tuesday following the company's earnings report. "It's an absolute necessary condition for the achievement of the targets that we set for ourselves."
Chrysler reported a second-quarter net income that rose 16% to $507 million on strong demand for pickup trucks and SUVs, although the Big Three automaker did downgrade its full-year outlook slightly.
Also on Tuesday, Chrysler's Italian parent Fiat won a slight victory in its legal battle with VEBA, the United Auto Workers union retiree healthcare trust that owns the remaining 41.5% stake in Chrysler. A judge in a Delaware court ruled in Fiat's favor on a couple of key points but prolonged the case, saying testimony may be needed to fully resolve the dispute.
Fiat is seeking to purchase the remaining shares in Chrysler and has exercised options that would bring its ownership to 68.4%. It currently owns a 58.5% stake.
While Marchionne, who is also the CEO of Fiat, said earlier this week that the two sides were not close to a deal, an out-of-court agreement could be more likely after the partial victory for Fiat.