Truck Craze Poses Challenges for GM, Ford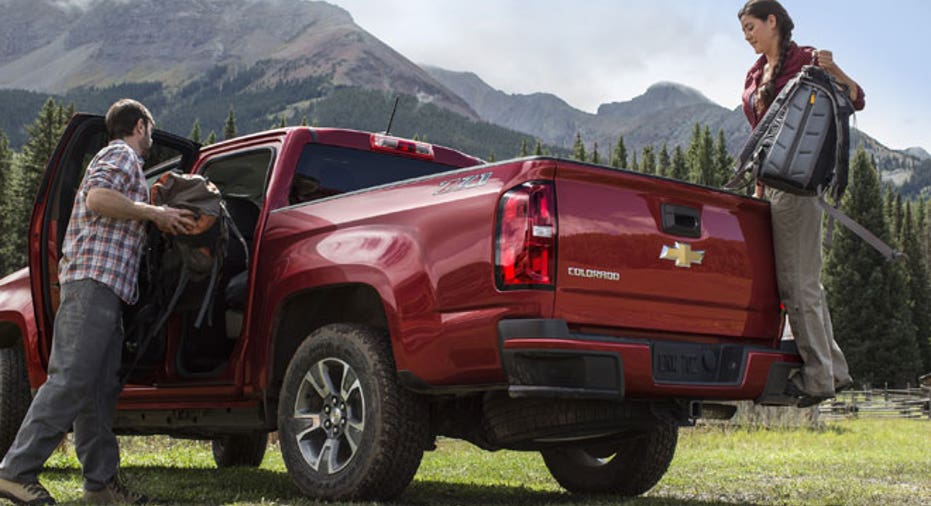 As Americans jump into pickup trucks at an accelerating pace, Detroit's automakers are working overtime to meet demand.
Cheaper gasoline and a cavalcade of new models have lifted sales of both pickup trucks and sport-utility vehicles. Combined, those segments have outsold cars by half a million units through the first five months of 2015—much larger than a margin of about 128,000 last year.
The pickup-truck craze is almost too much for General Motors (NYSE:GM) and Ford Motor Co. (NYSE:F) to match.
When reporting May sales last week, GM said demand for its new Chevrolet Colorado mid-size truck is "rising faster than GM's ability to increase production," even though a third shift was added at its Wentzville, Mo., plant.
According to GM, the Colorado has been the fastest-selling pickup in the industry, turning in just 13 days, and the Chevrolet Silverado is selling faster than all other full-size trucks.
Scorching Sales
"We're building as many trucks as we can," said Sandor Piszar, marketing director for Chevrolet trucks. "We're still not making enough to meet demand."
Ford, whose F-series trucks have led the segment for 38 straight years, is battling its own set of obstacles. The company is ramping up production of the 2015 F-150, which features an aluminum body for the first time. Mark LaNeve, Ford's vice president of U.S. marketing, sales and service, said Ford started the month with half its normal F-series inventory.
The Blue Oval will shorten its annual summer shutdown at certain plants, hoping the extra production will help satisfy demand for SUVs and trucks.
In a statement, Ford said it has reached full production of the new F-150 at its Dearborn, Mich., and Kansas City assembly plants.
"As with all our vehicle launches, we are working closely with our suppliers to meet customer demand for the truck," Ford added.
GM vs. Ford
The measured F-150 rollout opened the door for Ford's main truck rival. GM's full-size trucks, the Silverado and GMC Sierra, have posted sales growth of 11.5% so far this year, totaling 306,506 units. That is higher than F-series sales of 302,009, down 1.1% year-over-year.
GM also delivered 47,502 Chevrolet Colorado and GMC Canyon trucks. Ford does not produce mid-size trucks in the U.S.
Ram pickup trucks are hot sellers, too. The Fiat Chrysler Automobiles (NYSE:FCAU) brand has sold 179,384 full-size pickups this year, a 5% increase.
More consumers are considering pickup trucks for the first time, Chevrolet's Piszar said, noting how modern pickups offer more refinement and technology features. Piszar added that Colorado buyers are coming from car and crossover segments, not just rival mid-size pickups.
Redesigned versions of the Silverado and Sierra went on sale in 2013. The first 2015 F-150s arrived in showrooms late last year.
Checking Incentives
Of course, the current battle between supply and demand is a good problem to have for truck makers. Trucks are highly profitable for the Big Three and their import rivals. Analysts at Morgan Stanley have estimated that F-series trucks and related SUVs account for 90% of Ford's global profits.
Automakers could find room to keep incentive spending in check, thereby strengthening profit margins, as long as trucks maintain their momentum.
Across its entire portfolio, GM's incentive spending as a percentage of average price remained level year-over-year in May.
"We don't go overboard with incentives. Our trucks are selling strong and appealing with consumers," Piszar said.