Travel App Lets Users Customize Exploring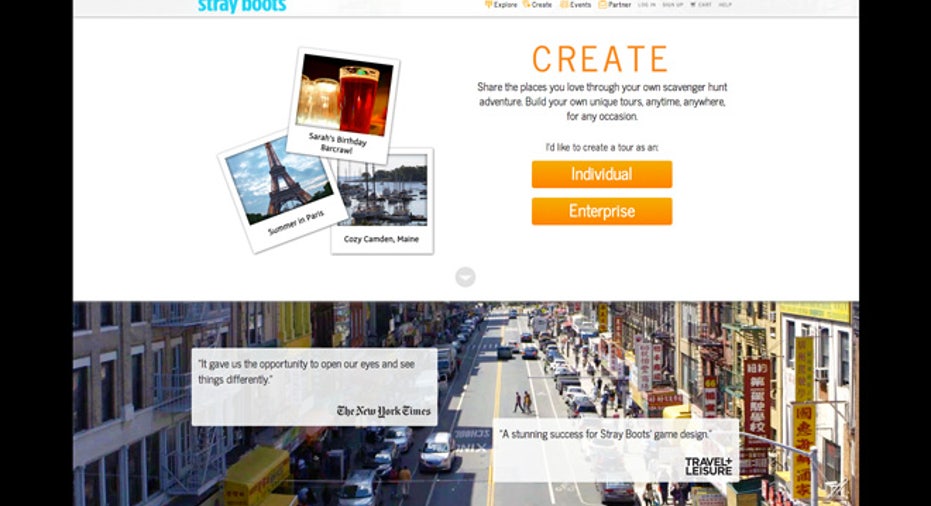 Locals always know the best places to dine, shop and be entertained in their hometown, and now, there's an app that allows them to cash in on their insider information.
Interactive tour guide app Stray Boots launched its "User Generated Experiences" platform on Wednesday that allows users to create customized interactive tours with the potential to earn revenue on them.
The six-year-old app originally offered employee-created mobile scavenger hunt tours within the United States and the United Kingdom, but CEO Avi Millman says global demand for more tours pushed the company to offer user-created tours. The app currently has more than 60 tours in 15 cities.
"The best way to bring Stray Boots to Hong Kong, Sydney, Barcelona, Buenos Aires was to piggy back on the local knowledge of others," says Millman. "It's an opportunity for local tour creators to monetize their expertise."
Millman says his team had been receiving an abundance of requests to personalize tours for various occasions, including marriage proposals, bachelorette parties and company team-building days, which proved there was pent-up demand for people wanting to "play tourist" in their own towns.
Users will still be able to browse tours by the Stray Boots team on the re-launched site, but they will also have the option to create their own. After logging in (either with an email or via Facebook), users will find tutorials and examples of custom tours before they start plotting points on a map of their own.
Personalized tours are private upon creation; creators have to submit a request to the Stray Boots team to have their map made public in order to earn revenue on their tour. Stray Boots decides based on a series of metrics and criteria (for example, no lewd or illegal activities), whether to publish a tour. Users can share and invite friends to go on their tour regardless of if it is private or public.
"If you create amazing content you should totally get the revenue," Millman says. "We think it's in our best interest to help everyone make money."
Millman says their company-created top-selling tours generate tens of thousands of dollars a year, and users whose tours are made public will earn 50% of the revenue earned on each tour. Stray Boots uses a pay-to-play model, meaning users only pay for the tours they take. It is free to create your own tour, and tours costs between $5 and $12 depending on location and if the user is logging on for the first time to "dip your toe at a lower price if you're new."
The young entrepreneur's favorite tour is the one of Chinatown in Lower Manhattan ("the spots that take you a little off the grid are more exciting"), but says their highest-rated tour is the French Quarter in New Orleans. Other popular ones include Greenwich Village, Times Square and Fifth Avenue in New York and Pike Place in Seattle.
Millman, his sister Noemi Millman and business partner Scott Knackmuhs co-founded Stray Boots in 2008. In addition to the website, the Stray Boots app is available on iOS and Android. The company has received a series of funding in the past few years, including the latest $2 million Series A round in November 2012 from a group including Milestone Venture Partners, Correlation Ventures, Great Oaks and several angel investors.
To build tours users have to log on to the website, but Millman says they plan to launch a mobile tour-creation platform in the future.
"It's an exciting time for us, we're pretty stoked."