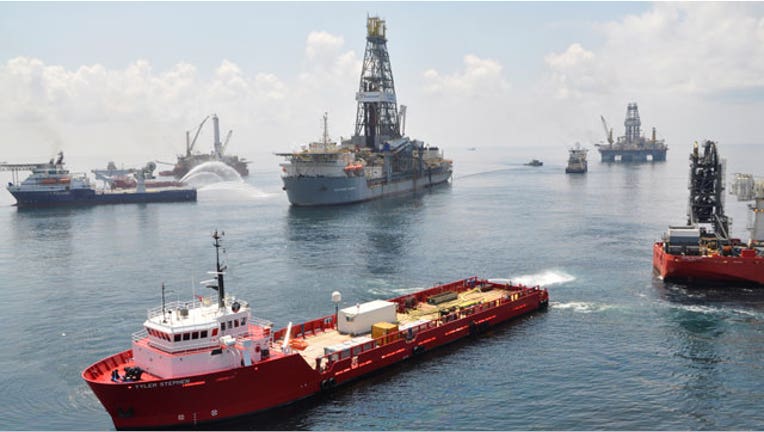 Transocean Ltd has agreed to pay $1.4 billion to settle U.S. government charges arising from the massive 2010 BP Plc oil spill in the Gulf of Mexico, a source familiar with the matter said on Thursday.
The settlement includes $1 billion in civil penalties and $400 million in criminal penalties, under terms scheduled to be announced later on Thursday, the source said.
Shares of Transocean, a Swiss-based drilling contractor, were up 5.6 percent at $48.84 on midday trading on the New York Stock Exchange. The Standard & Poor's 500 Index was up 0.1 percent.
Transocean did not immediately respond to a request for a comment on Thursday.
Transocean owned the Deepwater Horizon rig that was drilling a mile-deep well when a surge of methane gas sparked an explosion on April 20, 2010. The explosion killed 11 men and led to one of the largest environmental disasters in U.S. history.
BP and Transocean had "multiple safety management system deficiencies that contributed to the Macondo incident," and neither had adequate safety rules, according to a July 2012 report from the U.S. Chemical Safety Board.
Transocean and BP disagreed on who was in charge of interpreting what is known as a negative pressure test, which could have alerted workers to the well's instability.
BP in November agreed to a settlement with the U.S. government worth $4.5 billion, including the largest criminal fine ever at $1.256 billion. The London-based giant oil company also agreed to plead guilty to obstruction of Congress, a felony.
As of Sept. 30, Transocean had set aside an estimated $1.9 billion for losses related to the Deepwater Horizon.