Toys for Your Tots: 7 Inexpensive Options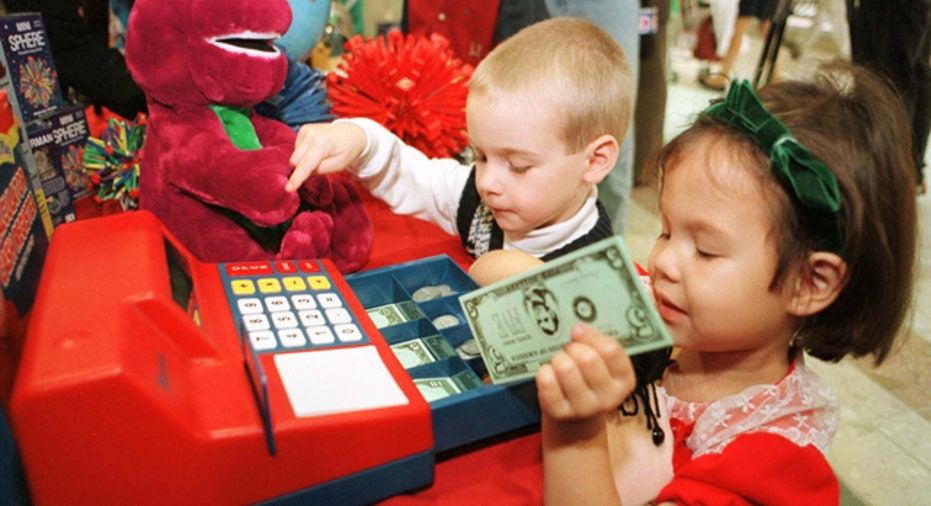 When it comes to fulfilling kids' wish lists during the holiday season, there's no shortage of toys for parents to choose from to put a smile on their children's face.
But in this economy, many people are still struggling to meet day-to-day needs and spending a lot of money on the trendiest toys isn't in the budget. Parents don't want to spend their hard-earned money on toys that will be forgotten once the new year rolls around; they want toys that will entertain and help their kids' learning and developmental skills.
When it comes to identifying toys that fit this bill, Brian Gordon, co-Founder eBeanstalk, an educational toy retailer, recommends identifying their play value and whether kids are likely to keep them around as they develop.
While navigating a toy store can be overwhelming, Gordon stresses there are plenty of toys on the market that will grow with kids--and often don't require batteries, making the lifetime maintenance cost of these toys much smaller.
The "hot" toys of the year often require batteries much more frequently than "classic" toys like a Slinky or Twister game (Hasbro, around $16.99), which help hone motor skills.
Big-sellers like Hasbro's LET'S ROCK! Elmo is on many retailers' hot list this season, which requires six AA batteries and includes the tambourine and drums—other instruments are sold separately. Fisher-Price's Disney Dance Star Mickey Mouse (18-24 months, about $60), is another big-ticket item this year. Mickey walks, talks and dances to six different songs, includes two interactive games, and requires six AA batteries.
"Stay away from toys that need extra ingredients or extra things," advises Marianne Szymanski, founder and president of Toy Tips, Inc, an independent consulting firm that conducts scientific research and reviews on the toy industry and does not take money from toy companies for endorsements. "Battery toys suck up a lot of money because a lot of times, batteries cost more than the toy itself."
For parents looking for electronics for younger children, experts point to LeapFrog as a company that consistently does well among parents and kids, because its toys tend to entertain and educate. It's Tag Reading System (ages 4-8, $34.99), for example, is a big seller.
"Parents and teachers love Tag because the reader helps promote confident reading skills and independent reading," says LeapFrog CEO John Barbour.
When it comes to games, Szymanski recommends classic board games, Legos, Hasbro's PLAY-DOH, or cheap card games like Go Fish that rely on competitive strategy.
"Kids love to challenge themselves, so toys that allow for single play and self challenge is always a good bet. That's a good value overall," she says.
Here are seven more toys that are budget-friendly that experts say provide solid entertainment and developmental benefits for kids this holiday season:
1.) LeapFrog's LeapPad - This learning tablet for kids comes with a library of 100-plus cartridges and apps, as well as a built-in camera and video recorder, eBooks and the added bonus of being portable for long trips in the car or other activities where the kids need to keep busy. "LeapPad is unique because it takes everything we know – combining learning with fun – and puts it into a kid's product that mirrors mom and dad's adult tablet but can be called their own," Barbour says. Kids will learn about letter-sound relationships within the context of real reading, and when they touch on a story word, they learn about letters and pronunciations, phonics and vocabulary. It also includes a visual dictionary. (Ages 4-9, @ $100; Leapster Explorer with 40+ games @ $50)
2.) Hot Wheels - For little boys, Hot Wheel cars or similar toys can't be beat. You can get a pack of 10 Hot Wheels on Amazon.com for around $10. "Ask any adult if they have their Hot Wheel cars - they always save them," Szymanski says, speaking to the longevity of these toys.
3.) Craft kits – A craft set or kit can provide long-lasting fun as kids can make bracelets, necklaces, or other crafts, improving their dexterity, familiarity with shapes and colors, and other skills. My Butterfly Bead Kit (Bead Bazaar, 5-7 year olds, under $25) offers 200+ pieces of environmentally-friendly, hand-crafted beads and accessories, a keepsake box divided to organize various shapes, sizes and textures, and includes some beads in the shape of butterflies and ladybugs.
"That's crazy amounts of dexterity and puzzle," Gordon says. "Their dexterity, their creativity, their sense of sharing - they [kids] can make something and give them away."
4.) Totem Poll Stackers - Babies don't need elaborate toys to make them happy or to help develop motor skills. Lamaze's Totem Poll Stackers (0-1 years, $17.99) features smart magnets, crinkle and rattle noises, and easy stacking to help baby develop dexterity and hand-eye coordination. A similar Stacking Toy and Ball Game (Tiny Love, 0-1 year, $26.99) is an electronic toy in which rings can be threaded on to the base. Babies can also drop a ball into the funnel-shaped elephant head at the top of the stack to hear entertaining sounds and see flashing lights when the ball comes out. "They're simple, they're obviously safe and the kid is going to be challenged, and they get a sense of enjoyment from them," Gordon says.
5.) John Deere Deluxe Talking Toolbelt - Little boys (or girls) can emulate homebuilders with this belt that has a "talking" feature that says things like "Nothin' runs like a Deere!" and "It's time to work on our John Deere tractors," operated by three AAA batteries. Includes a toy screwdriver, hammer, wrench and pliers, as well as a John Deere cap. It's one of the most popular sellers on eBeanstalk. (Lamaze, 2 years, @ 18-22).
6.) Hopscotch Rug - This rug allows kids to play the longtime favorite game of Hopscotch inside and outside. It includes three hopsctoch beanbags and can be used as a rug as well as a game. (Alex, 3-4 years, @ $30-$40)
7.) Buckley Panda - This cuddly panda includes three to five brightly-colored belts with buckles that help children develop fine motor skills and strengthen finger movement. (BuckleyBoo, 18+ months, $19.99 and up, depending on size)