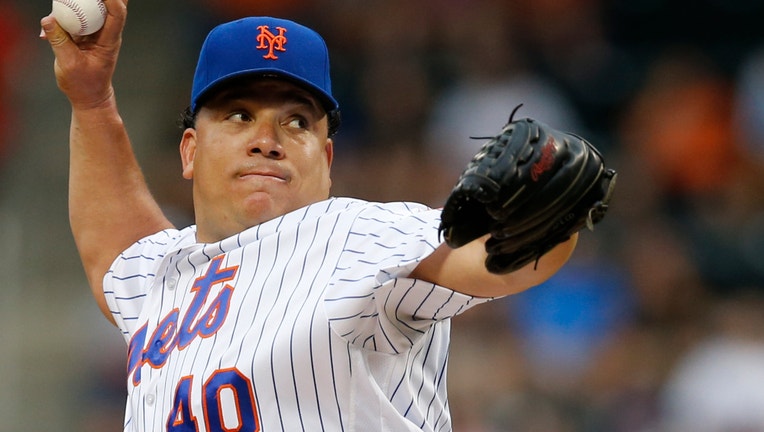 Bartolo Colon is a cult hero among baseball fans and a gold mine for Topps Inc. The 42-year-old New York Mets pitcher's improbable home run on May 8 was easily the top-selling card for the company's "Topps Now" on-demand card series through the first three months of the 2016 MLB season.
The card, which is titled "The Impossible As Happened" and features Colon admiring his blast, had sold 8,801 copies as of July 6 – a record total, and more than double the sales of any of the 190 other cards offered through "Topps Now" since the start of the season.
A card featuring Washington Nationals ace Max Scherzer's 20-strikeout performance in May 12 ranks second with 3,741 cards sold. That same day, New York Mets pitcher Noah Syndergaard slugged two home runs, threw eight shutout innings and generated 3,665 cards sold.
The "Topps Now" series is built around memorable moments from the MLB season. Each limited edition card is offered for just 24 hours and is made to order. Individual purchases cost $9.99, though cards are cheaper if purchased in bulk orders. Topps doesn't release its revenue figures, but sales from Colon's card alone would have totaled more than $87,000 if each card sold for $9.99.
Topps has sold 122,000 cards through its on-demand series since April. A player from every MLB team has been featured in at least one "Topps Now" offering. The Chicago Cubs lead all MLB franchises with 13 "Topps Now" cards this season. The Boston Red Sox, the Washington Nationals and the Los Angeles Dodgers are tied for second with 12 cards each.
On-demand cards are a key element of the venerable trading card company's push in recent years to revamp its business model in a struggling industry. A billion-dollar industry in the early 1990s, dwindling interest among fans has driven industry-wide sales figures down to around $200 million in recent years, according to various estimates.
As the popularity of physical trading cards has waned, Topps has increasingly turned to digital products to bolster its business. Aside from the on-demand MLB series, the "Topps Bunt" phone app combines card collection with elements of fantasy baseball.
Users can buy packs of digital cards that can be traded or "played" to gain in-game currency. Topps says it has sold more than 350 million digital baseball cards since the app launched in 2012.
A full breakdown of Topps' best-selling cards of the 2016 MLB season can be found below.
-New York Mets pitcher Bartolo Colon's first career home run, May 8: 8,801 cards sold.
-Washington Nationals pitcher Max Scherzer's 20-strikeout game, May 12: 3,741 cards sold.
-New York Mets pitcher Noah Syndergaard's two home run, 8-inning game, May 12: 3,665 cards sold.
-Chicago Cubs third baseman Kris Bryant hits three home runs, two doubles, June 27: 3,070 cards sold.
-Los Angeles Dodgers pitcher Julio Urias makes MLB debut at age 19, May 27: 2,987 cards sold.
-Miami Marlins outfielder Ichiro Suzuki sets global hits record, June 15: 2,793 cards sold.
-Philadelphia Phillies sign 2016 first overall draft pick Mickey Moniak, June 20: 2,748 cards sold.
-Chicago Cubs catcher Willson Contreras hits home run on first MLB pitch, June 19: 2,399 cards sold.
-Los Angeles Dodgers shortstop Corey Seager hits three home runs, June 3: 1,895 cards sold.
-Chicago Cubs pitcher Jake Arrieta throws first no-hitter of 2016 season, April 21: 1,803 cards sold.