Top 5 Pricey NFL Stadiums that Will Sack Your Wallet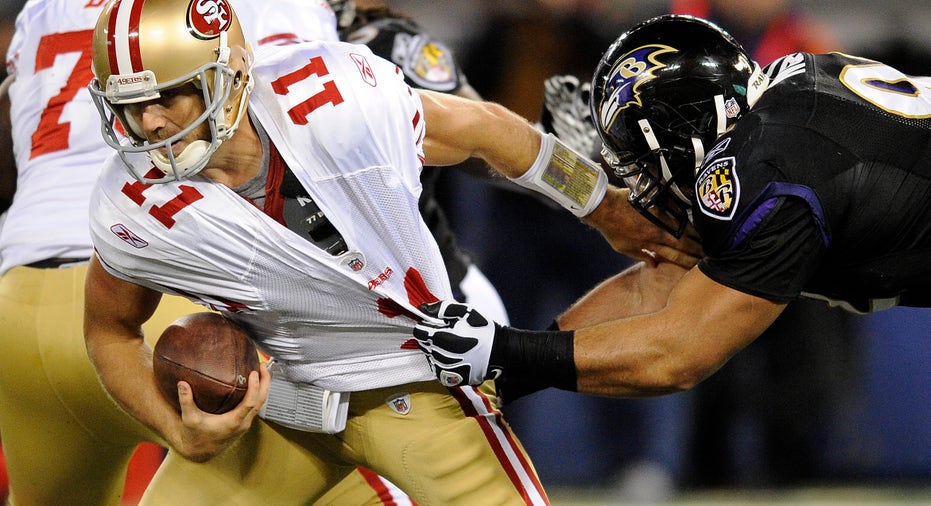 Take Me Out to the (Foot)ball Game
When was the last time you woke up on a Sunday morning and said, "You know what? Let's go to an NFL game today." Probably not recently, if ever, because attending an NFL game is not usually a spur-of-the-moment decision.
One of the reasons is there are only eight home games in a regular season, as opposed to the relatively endless opportunities to attend an NBA or MLB game. Knowing how few games there are to root for your home team, the NFL charges a hefty price to be in the stadium where your team could rack up a "W."
Team Marketing Report, a sports information publisher, released its 2011 survey of how much it would cost, on average, for a family of four to attend an NFL game per team. They use a measurement called the Fan Cost Index, which takes into account four tickets at average price, two small beers, four small sodas, four hot dogs, parking, two programs and two adult caps.
According to the report, the average amount it would cost to take a family to an NFL game for this season is $427.42. While that's up only 1.6% over 2010, it's still the kind of amount you'd usually plan ahead to spend. Since that's only an average, you would be right in assuming some stadiums cost significantly more. So, which five teams are leading the NFL curve in high-stadium prices?
Stadium: Soldier Field
Where located: Chicago Team: Chicago Bears
With the NFL record of more than 700 wins in one of the country's largest metropolitan areas, the Chicago Bears may have earned their right to be one of the more expensive fan experiences in the league. "Da Bears" rank as having the fifth most expensive stadium for 2011 with a Fan Cost Index of $557.18.
"We are the largest single-team market in the NFL with the smallest stadium capacity," says Jim Christman, spokesman for the Bears. "Those dynamics would normally lead to the most expensive tickets in a league."
The most recent version of Soldier Field opened in 2003. The third version in the stadium's long history, it accommodates a relatively small 61,500 fans. While the average ticket price of $101.55 is an 8.5% increase over 2010, second only to the San Francisco 49ers' 9.4%, the concession prices fall closer to the NFL average. Beer for $8 and hot dogs for $5 are something even the "Saturday Night Live" Super Fans could stomach.
"We need to set pricing so that we stay competitive within the NFL but make sure we retain our customers," Christman says. "We make efforts to compare (concession) prices to other venues to ensure they are comparable each season."
For fans who aren't looking to spend even that much money for an NFL experience, the Bears offer an annual Family Fest, allowing fans an up-close look at a team practice for around $8 per ticket with special pricing for kids.
Fans don't seem to have too much of a problem with the prices, though. The Bears have a 98% season ticket renewal rate and have sold out every game since 1984.
Stadium: MetLife Stadium (formerly Meadowlands)
Where located: East Rutherford, N.J. Team: New York Giants
Another one of the oldest and most-successful franchises in the NFL comes in fourth in Team Marketing Report's research, with the New York Giants having a Fan Cost Index of $592.26, up nearly 3% over last season.
The new MetLife Stadium opened last season as a joint project between the Giants and the New York Jets and is capable of hosting a league-high 82,500 fans. The $1.6 billion stadium is actually in New Jersey, just across the Hudson River from the teams' namesake, but that's splitting hairs -- one long, smelly, polluted hair.
Buying a beer at a Giants game will cost $8.75, tied for second-highest in the league behind the St. Louis Rams, who have the moxie to charge $9. Giants spokesman Pat Hanlon says that, as is common in professional sports, the team does not establish concession prices and instead goes through a third-party concessionaire.
However, chances are you won't be scoffing at the beer or hot dog ($5.75) prices if you are seating in the premium area -- the other price standout at MetLife Stadium. The average premium ticket is listed at $464.75, second-highest in the league, and about 16% more than the third-highest average. Hanlon says the ticket prices are determined two years in advance, and there hasn't been an increase over last season.
"We are essentially sold out on a season-ticket basis, so we don't scale pricing for individual games," Hanlon says.
For a franchise that once gave away thousands of tickets per game in its earliest days, the Giants are clearly not the little guys.
Stadium: Gillette Stadium
Where located: Foxborough, Mass. Team: New England Patriots
The Patriots hail from a part of the country that produces teams fans tend to either love or revile. In sports parlance, this region is referred to as "Boston." Perhaps in an effort to nip the stigma in the bud, 40 years ago the Patriots moved to a more ambiguous "New England" location with arguable results.
What is not arguable is the Patriots' success and draw among fans, which have helped catapult them near the top in fan cost, according to Team Marketing Report. As one of the most successful teams in recent years and a regular sellout at their home field, Gillette Stadium, the Patriots have the third most-expensive Fan Cost Index for the season at $597.26.
Their average ticket price of $117.84 is unchanged over last year, when it was tops in the NFL. The real standout of Gillette Stadium is the premium tickets, which Team Marketing Report defines as "any ticket with attached amenities or opportunities to partake in exclusive clubs." The average ticket there is a whopping $566.67, more than $100 over the nearest premium average. To be fair, the Patriots pull out the stops for its premium fans. The Putnam Club is three stories high, complete with high-definition TVs and "plush" seats, which translates to "comfy" for the average fan.
Whether paying average or premium prices, fans continue to come in droves. The 68,756-seat stadium has been filled to the brim this year and has a season-ticket waiting list.
Stadium: Cowboys Stadium
Where located: Arlington, Texas Team: Dallas Cowboys
In one respect, it's rather remarkable that the Dallas Cowboys are not the most expensive fan experience; its Fan Cost Index is second-highest at $613.80 in Cowboys Stadium. That's not exactly an alternative to taking the family to the movies, but this is Texas and this is the Cowboys. The Texas Rangers may have made the last two World Series, but in this state, that qualifies as "quaint." The Cowboys have appeared in a record eight Super Bowls, once sold out 160 consecutive games, and with a team value of more than $1.8 billion, are second in worldwide sports franchise value only to some "futbol" club known as Manchester United. Even so, the average ticket price of $110.20 for a game at Cowboys Stadium is second-most expensive in the league.
"Our fans seem fine with the price point, and we believe we have something for everyone with our pricing structure," says Brett Daniels, spokesman with the Cowboys, adding that the prices are unchanged since the stadium opened three years ago.
While a league-leading $6 for sodas may seem exorbitant, fans are probably less likely to scoff at a gilded pop than the $75 needed to park the family ride -- nearly $30 higher than the second-highest parking rate.
Daniels assures that while high prices are contingent on market demand, the Cowboys also offer "Party Passes" for $29, allowing fans a standing-room view of the game from corner and end zone platforms. Bet you didn't know that sitting is for party poopers.
MetLife Stadium (formerly Meadowlands)
Where located: East Rutherford, N.J. Team: New York Jets
The New York Jets share the same stadium as the New York Giants, the same average concession prices, and have an average premium ticket price that is $172 less than the Giants', yet they come in as the most-expensive fan experience in the league for 2011, according to Team Marketing Research. This is not a riddle, unless you're still confused about how neither team plays in New York. The Jets and Giants each set their ticket prices independently.
The difference in pricing doesn't even count the cost of premium tickets, which is excluded from the Fan Cost Index. With the average ticket price for a Jets game at $120.85, that pushes the Jets' FCI up to $628.90. That figure is 5.1% higher than their 2010 fan cost, one of the largest team increases, and nearly double the Fan Cost Index of the Jacksonville Jaguars' $319.06.
The average ticket to see a Jets game rose 5.4% -- the third-largest increase in the league -- to $120.85, and now the most expensive average ticket in the NFL.
That kind of cash won't even buy you a high-five in the Jets' West Great Hall Club, though. Along with seats near the 50-yard line, a private lounge, VIP parking, and bottomless food and soda, members get on-field access behind the visiting team's bench. Want to surprise your favorite Jets fan with something a step up from a personalized jersey? The minimum price for two seats in this club runs $24,340 for five years. Did we mention that soda is included?